Biscotti With a Difference
(Canesugar free)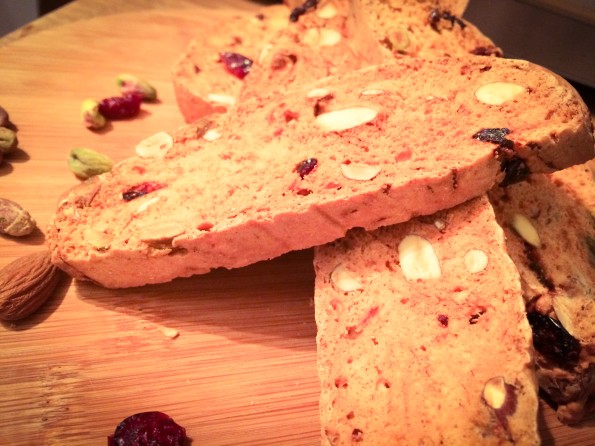 If I feel something sweet and quick to make, I usually go for biskotti. These crunchy berry and nut filled biscuits are perfect as a snanck with coffee . Date syrup used as a sweetener gives nice colour and rich flavour. Goji berries fills it with 'super food' power, as almonds and orange zest gives that traditional Italian Biscotti aroma.
So give it a try, as it takes only couple of hours to make and tastes truly simply delicios.
INGREDIENTS:
150g almonds (roasted)
100g pistatio
60g dried cranberies
80g goji beries(rehidrated in water)
3 tbsp of date syrup
65g Truvia
3 eggs
300g flour
1tsp baking powder
1tsp almond extract
zest of an orange
~~~~~~~
METHOD:
Preheat the oven to 180'C, line baking tray with parchment paper and set aside.
In the stand mixer beat eggs, Truvia and date syrup. In the separate bowl mix flour and baking powder. Add the flour in to the eggs and mix until combined. Take the bowl off the mixer, grab your wooden spoon and add the nuts and berries, and orange zest and mix until combined.
Remove from the bowl on to your lined baking tray, and form a log around 30cm long and 9cm  wide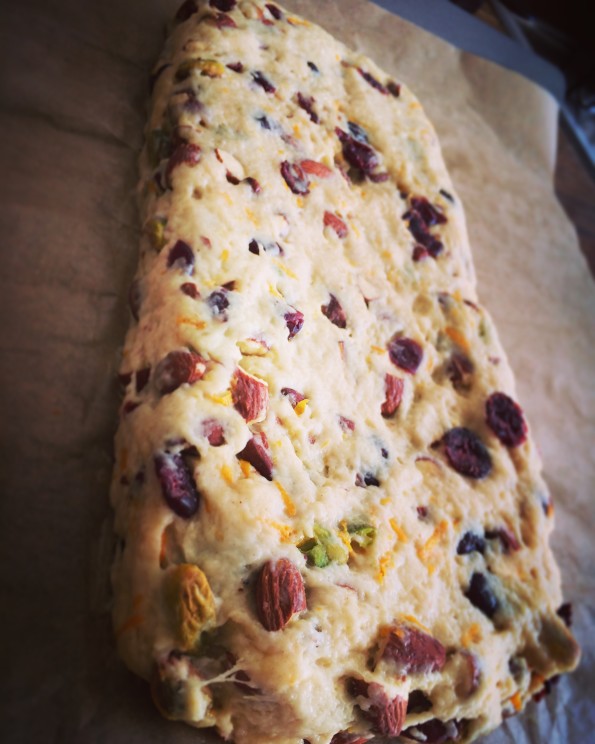 Bake it for 25min, or until ligt brown, take out of the oven, reduce temperature to 140'C.
Move the log to the board and chop in to 1cm thicknes slices. Put on the baking tray cut side upo, and bake them again for further 40 minuts turning half way through. When dry- remove from the oven and cool on a wire rack.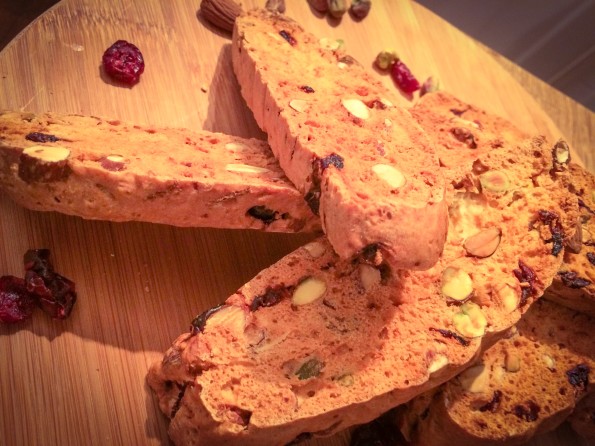 Enjoy with a nice cup of coffee 🙂
0
0
0
Please share