Fig, Walnut and Rosemary Dark Rye Bread (Filled with Pumpkin seeds, Milled Quinoa and Chia seeds) Sugar and dairy free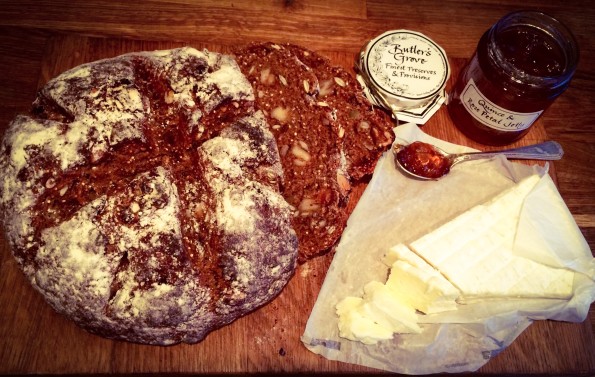 I love my bread, if not the current diet I'm on, I would indulge this yeasty delight every day. Absolutely LOVE the smell when it fills the house when it starts baking…mmm…
This time I went for nice Dark Rye loaf filled with seeds, nuts and fruit. It goes beautifully with cheese and nice quince jelly( not forgetting glass of wine or bubbly for this matter) 😉
I love my seeds  and nuts in many things I bake, as they are good source of fibre and vitamins. And this amazing bread in no different. So here is the recipe, and hope you will enjoy making it same as eating it.
~~~~~~
INGREDIENTS
300g Stone ground dark rye flour
200g wholemeal spelt flour
15g dried yeast
100ml almond milk
200ml warm water
pinch of fine seasalt
2 heaped tbsp of Organic sugar cane Molasses(I used Meridian)
1 tbsp of honey
200g dried figs (chopped)
100g sultanas
2heaped tbsp finely chopped Rosemary
150g walnuts( roasted and coarsely chopped)
80g pumpkin seeds (roasted)
30g Chia seeds
70g quinoa
some extra virgin olive oil for kneading
and flour for dusting
METHOD
Mix in the large bowl all the flours, add salt, yeast(different side of the bowl) mix through with fingers. Add the molasses and honey mix again, and then pour the luke warm milk and water mix and start combining it. I tend to use my hands when handling bread dough, but you can easily make it in the stand mixer with bread hook attached. Add the rest of the water and combine well.
Grease the work top with olive oil, tip out the dough and start kneading. Rye breads are tough to handle and needs tougher handling for gluten to develop, as contents of it is lower that in the white bread. Keep adding oil whilst kneading as the dough is rather sticky, but keep working for at least 10 minutes for gluten to build up.
After you done, transform in to a large greased bowl, cover with cling film and leave to rise for at least 2hr(as Rye breads takes longer to rise due to heavy flour) When its doubled the size, tip it our on the greased surface and flatten, add all the nuts, seeds and fruit, pbend the sides to make like a parcel, and need slowly to incorporate evenly in to the dough.
Preheat oven to 200'C
Place the bread on the baking tray, covered in floured baking paper, cover lightly with plastic wrap and let it rise second time for about an hour.
When its done, sprinkle the loaf with flour, slash the top and place in the oven with baking tray filled with water in the bottom of the oven to create the steam.
Bake for around 40 minutes, until when knocked on the bottom of the loaf it sound hollow 🙂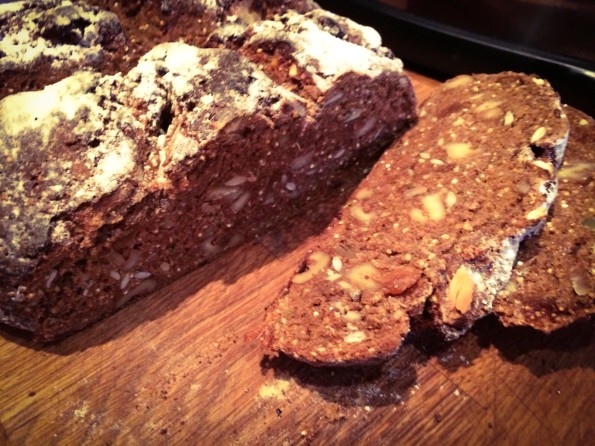 Enjoy with the cheese, or knob of butter… or anything you like really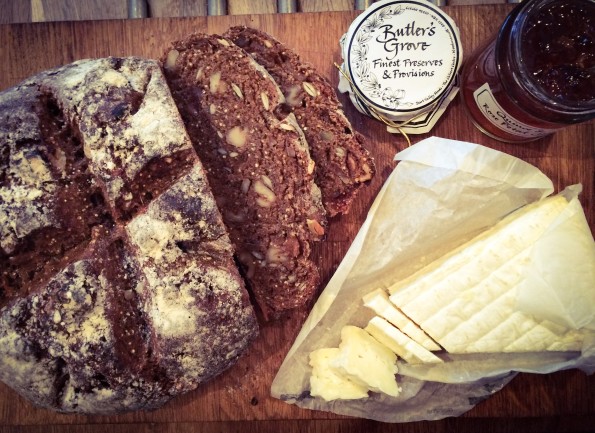 Nom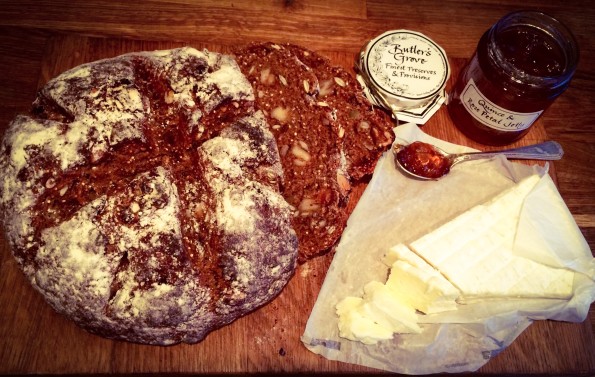 0
0
2
Please share