Salted Caramel Pecan Swirls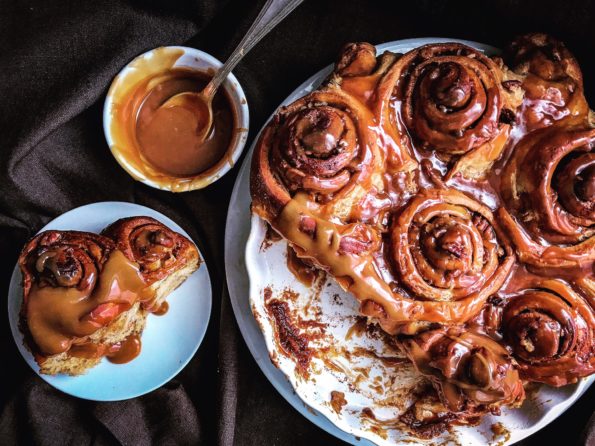 We all know that feeling…that ultimate indulgence feeling, when you tear a piece of still warm cinnamon smelling and studded with Pecan nuts bun…. soaking drenched in salted caramel sauce…. NO?! Oh my, then I'm sooo sorry for you 😌 but, be no longer sorry, and make these taste bliss swirls mmmmm…. I must say, it is yeast involved in this bake, there fore you can't rush in making it.. it will take few hours from start to finish, but oh dear Lord – trust me, every minute of waiting will be worth it!!!
Just say, if you start your dough in the morning, late afternoon can have your alone time with something very very special … with cup of tea… mmmm…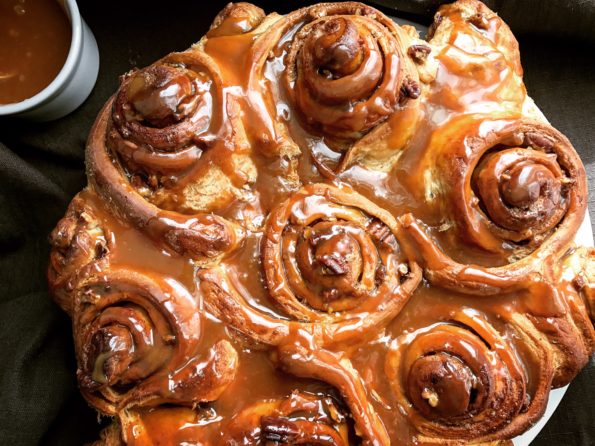 I should stop talking now, because my hand is reaching for another helping… and knowing how pathetically greedy I was thus far- I need to be strong… no no, not because I am full…just because I think it's only fair that I leave some for the rest of the family to try too 😝
So here, roll up your sleeves, and go make them!
~~~~~
INGREDIENTS
DOUGH
500g strong white bread flour
Pinch of fine sea salt
80g fine soft light or brown muscovado sugar
7g dry yeast
Now mix in the separate bowl following:
100ml Luke warm water
100ml Luke warm milk
2 large free range eggs
90g unsalted butter (melted and cooled)
SALTED CARAMEL
150g fine caster sugar
100ml water
180ml double cream
45g unsalted butter
Pinch corse sea salt (I used Malden)
FILING
150g soft unsalted butter
1tbsp cinnamon
70g golden caster sugar
(mix all above in the bowl to soft paste)
200g Pecan nuts (chopped)
METHOD
Firstly, let's prepare our dough. Pop all your dry dough ingredients in the stand mixer bowl. Give it a mix with a spoon and add prepared wet ingredients. Pop the bowl on the mixer with a hook attachment and knead for at least 10 minutes.
If you don't own stand mixer, use large bowl and wooden spoon to start off, then transfer the dough on to well-oiled worktop and knead with your hands for 10minutes. The dough is rather sticky, so you might want to oil your hands occasionally. I usually use extra virgin olive oil or neutral tasting oil like grape seed.
When done, cover the bowl with cling film and let it rise draught free space for hour/hour and half or until doubled in size.
Until our dough is rising we will prepare the caramel. It needs to be done now as will need to cool down completely before we can use it. To be honest, you can get this part ready day before if you wish. Just cover the caramel with food wrap or keep it in a container with lid.
Pour water and sugar in a large pan and heat on a medium heat. Let it bubble until the colour of the caramel will turn light amber (light brown)!don't let it go too dark as caramel will become bitter due to burned sugar!
Now remove from the heat add half of the cream, carefully, it will bubble a lot! Mix it well, place back on the stove and add the rest of the cream together with butter, add salt. Mix well again, heat until starts bubbling and pour your ready caramel in to container with lid and leave to cool down completely.
Time to make our swirls and fill them with pecan cinnamon and caramel filling.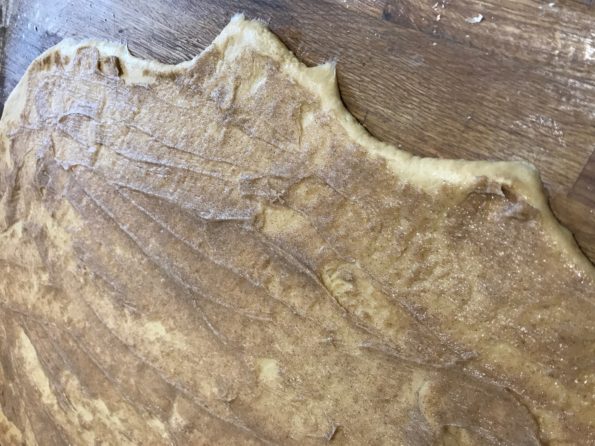 Lightly flour the work top and tip the risen dough out of the bowl. Dust with flour and roll out large rectangle shape. Around 80x40cm size. Take the butter and cinnamon mix and spread it over the top. Now take little bit of the caramel and drizzle over the sugar mix. Sprinkle chopped pecans and using sharp knife or pizza roll cut the strips vertically around 5-6cm width (they will be around 40cm length) and roll loosely each strip.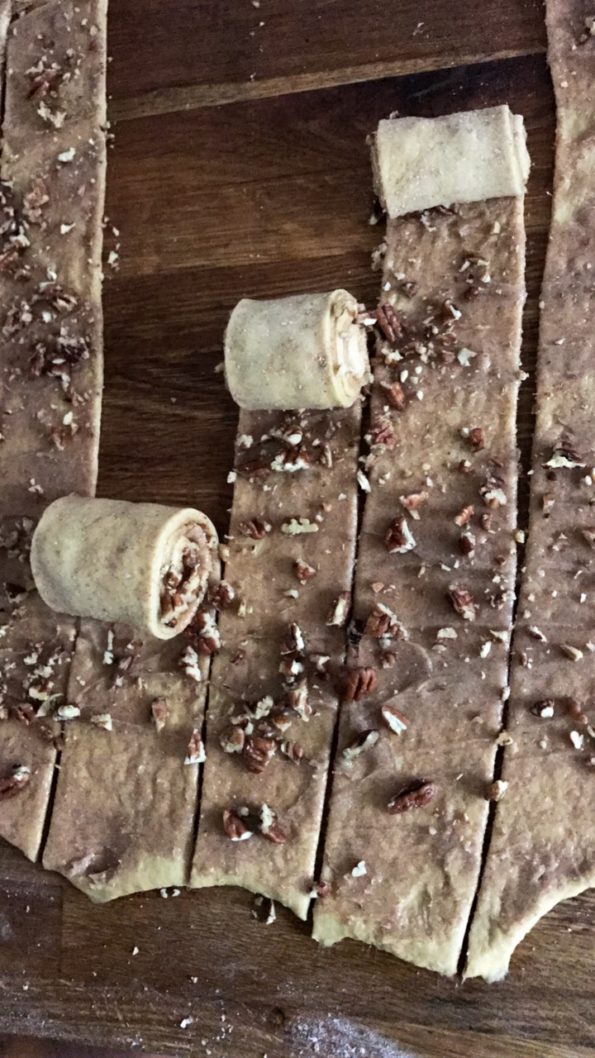 Take round minimum 26cm baking dish and lightly butter it. Pour one third of caramel on the bottom of it and arrange the rolled dough (swirls side up) make sure to leave gaps in between, as when the dough will rise- they will expand.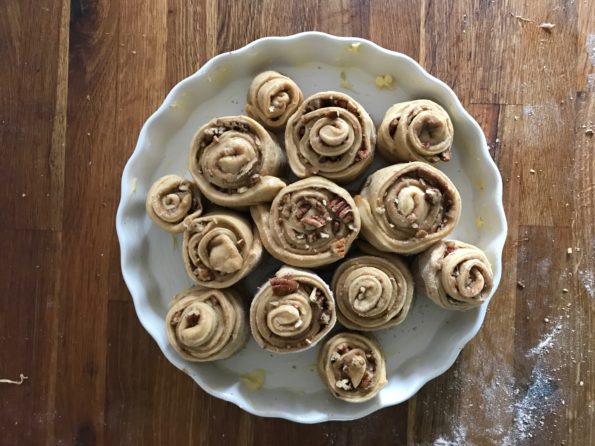 Cover lightly with cling film and leave to rise second time at least for an hour.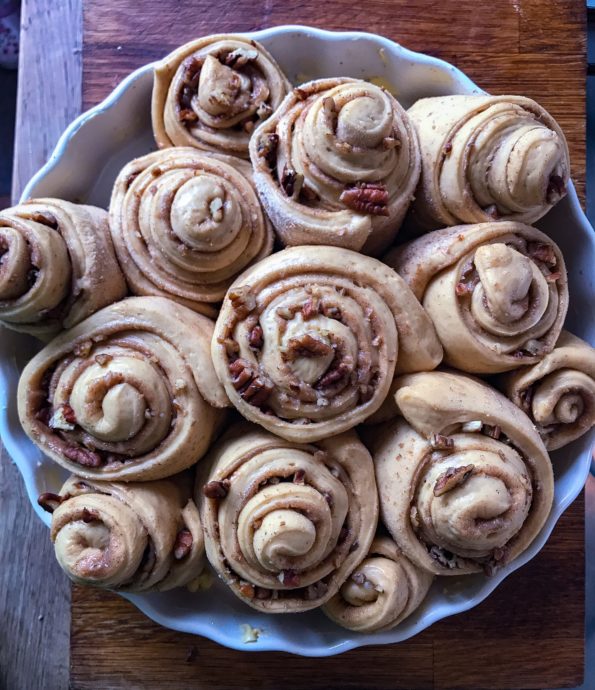 When your dough is nearly done rising, preheat the oven to 180'C.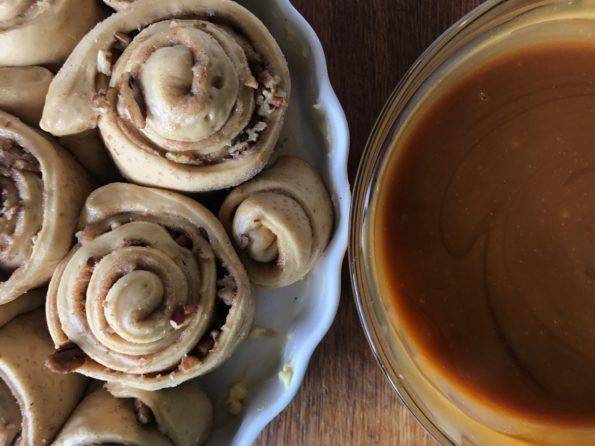 Brush the top of the risen swirls with beaten egg and pop in the oven for about 45-50minutes. I covered mine with foil half way through to stop it from browning too much.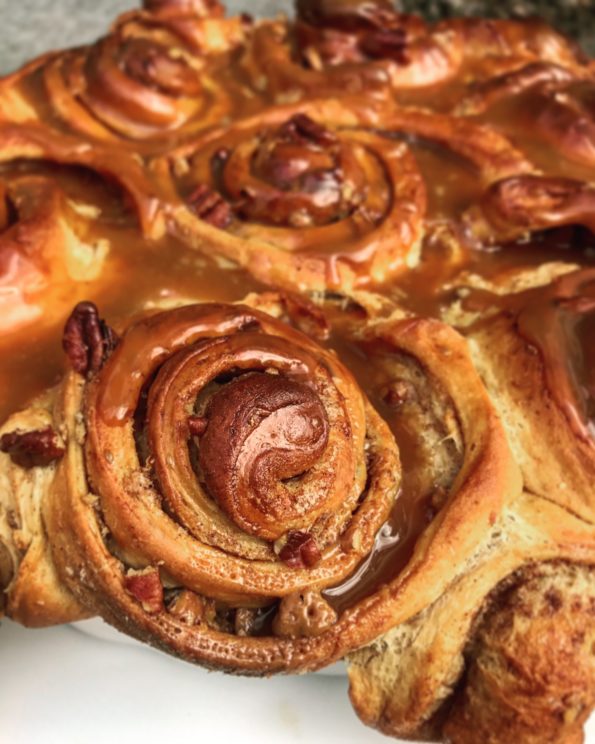 Take the buns out of the oven, and straight away when they still very hot pour the caramel over the top, so it soaks in the buns better when they still hot. Mmmm… if you have some caramel left, it will be perfect to pour over the buns when you tear them off to eat.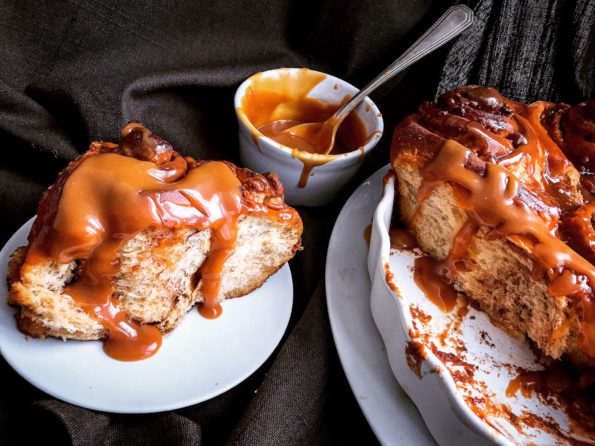 Mmmm… absolute bliss …. Best tastes when eaten still warm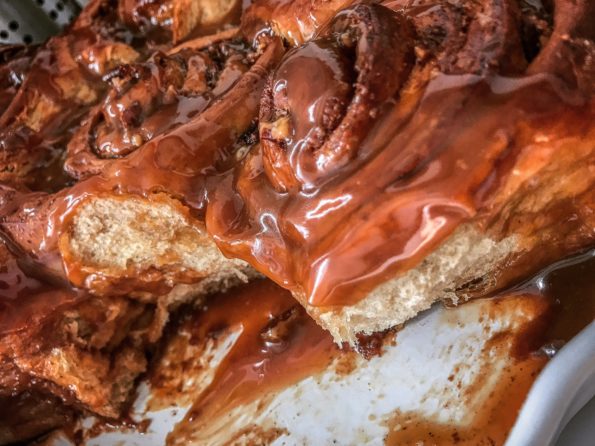 You'll thank me later 😀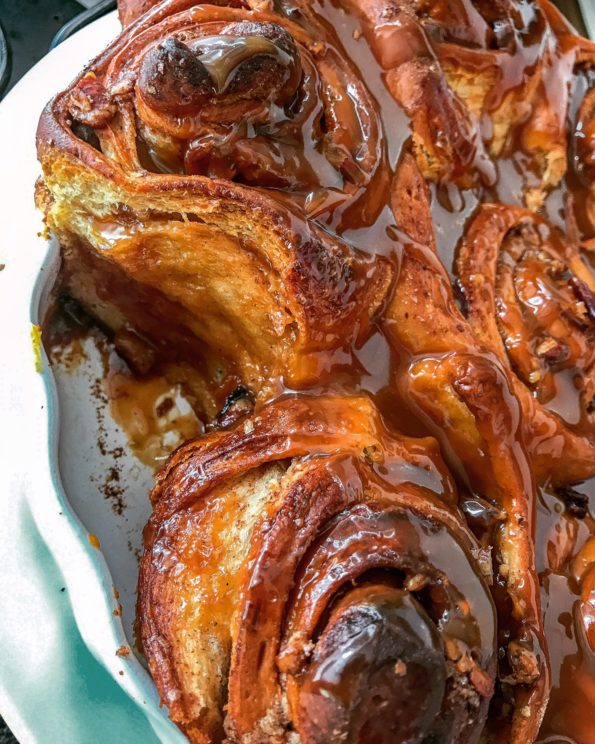 0
0
2
Please share