Ginger and Lime Curd Fudgy Chocolate Cake
(Gluten free, Dairy free, Paleo)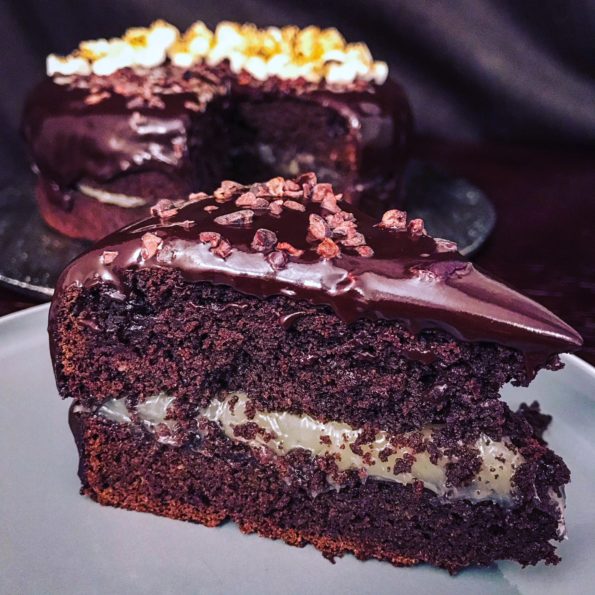 Ok, I have to say- this chocolate cake is something else. And I am truly excited to share this fabulous recipe with you guys. Especially now, when we are in cold season and want all things comforting and tingling our taste buds.This cake will do just the trick. Fudgy and rich chocolate sponge spiced with a hint of ginger, sandwiched with thick, slightly sour paleo lime curd and topped with shiny chocolate ganache.. also, if you wish, you can top it with vegan marshmallow fluff Recipe you can find HERE) and blowtorch it for some extra wow factor. To be honest, this cake is a wow anyway, so if you don't wish to make extra effort, can just top it with some cocoa nibs pr grated dark chocolate.
If you wish, you can substitute paleo lime curd with fabulously tasting Lime Curd from 'Butlers Grove' it tastes absolutely delicious.
~~~~~
CAKE SPONGE:
Dry ingredients
200g Sukrin fine ground fat reduced almond flour
40g fine coconut flour (I used Coconut Merchant)
85g raw organic cacao powder (I used FodThoughts)
150g raw coconut sugar (I used coconut merchant)
2 teaspoons baking soda
1 teaspoon salt
2tsp ground ginger
Wet ingredients
60g Raw extra virgin coconut oil, room temperature ( I used Coconut Merchant)
60g Meridian Smooth Cashew Butter
50g Meridian pure  honey
250ml almond or coconut milk, at room temperature
3 large eggs, room temperature
2 teaspoons vanilla extract
PALEO LIME CURD
2 large free range eggs + 2large egg yolks, room temperature
100g Extra virgin coconut oil (I used coconut merchant)
zest of 3 limes
120g Meridian pure honey
half a tsp fine sea salt
5-6 lime juice
CHOCOLATE GANACHE:
170g dark chocolate chips or chopped chocolate (dairy-free/vegan chocolate chips, if necessary)
60g milk of choice (I used almond milk for the paleo/vegan/dairy-free version)
60g Extra Virgin coconut oil or unsalted butter for a dairy-containing version
1 teaspoon vanilla extract
pinch of salt
1tbsp honey
METHOD
Let's start making the cake first.
Preheat oven at 160'C grease the bottom and sides of a 7-inch spring form cake tin with coconut oil and line the bottom with parchment paper.
In a large bowl mix together the almond flour, coconut flour, raw cacao powder, coconut sugar, baking soda, ground ginger and salt. Set aside.
In a separate heat proof bowl whisk together the coconut oil, cashew butter and honey and gently melt over the pan with simmering water or microwave stirring occasionally. When done, pour in coconut/nut milk, eggs, vanilla and give it a mix with a whisk until combined.
Now pour your wet mix in to dry ingredients and using rubber spatula, gently mix to form a thick batter. Do not over mix.
Pour batter into prepared pan and bake until a toothpick inserted into the centre comes out clean, approximately 45-50 minutes. If you feel you need to cook it longer, cover cake with foil to prevent burning the top. Cook until toothpick comes out clean.
Until the cake is baking, prepare the lime curd.
Add the eggs with yolks, coconut oil, lime zest, honey, salt, and lime juice to a medium non-stick saucepan . Using a hand whisk, whisk together until all ingredients are combined. If your coconut oil is at a solid state and doesn't combine right away, that's ok – it will melt when you heat it.
Continue to heat the mixture over medium-low heat, whisking constantly until thickened. The lime   curd will thicken (to pudding consistency) after about 8-10 minutes.
Remove from heat, transfer to the container with lid and cool to room temperature before refrigerating so you can use it.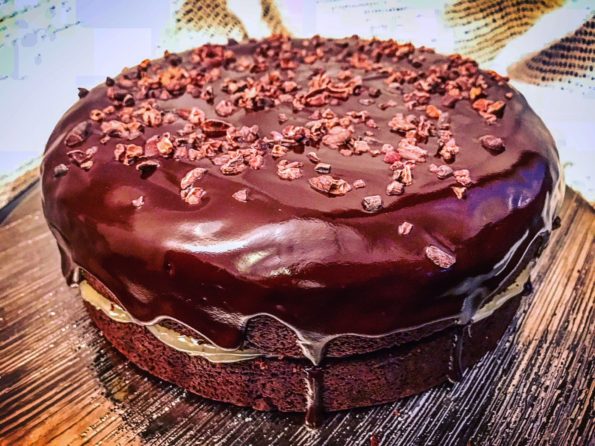 Now the cake should be ready.
When baked, leave to cool for 10 minutes in the tin then transfer the sponge in to the wire rack to cool down completely. Then using sharp or serrated knife cut horizontally through the middle of the sponge. You will end up with two heavenly looking sponges.
We are ready to make the ganache.
Place all ingredients in the heat proof bowl and melt over the pan of simmering water or in the microwave on a high setting stopping every 30 seconds and mixing all until it will become smooth and glossy ganache.  When done, place in the fridge to cool down and firm up slightly before using.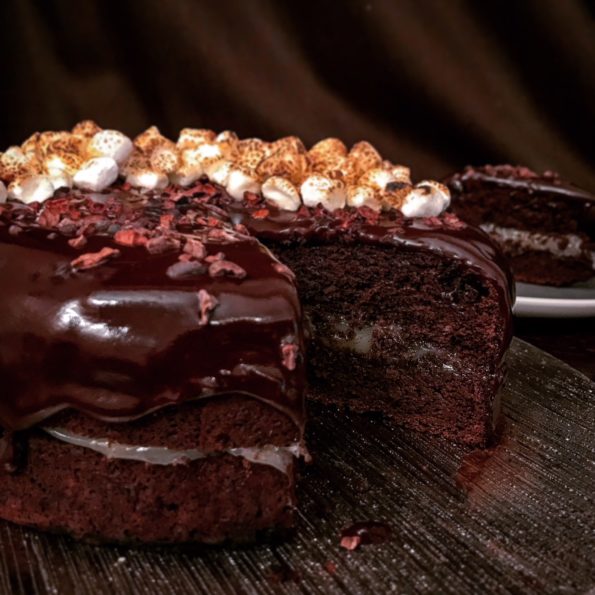 Assemble the cake by placing one sponge on the serving plate, spread the thickened lime curd over it and place second half of the sponge on top. Pour the ganache in the middle and spread it carefully to create drip effect. Decorate with cocoa nibs and marshmallow, or as your heart desires (fresh berries or fruit, grated chocolate or just leave like that- topped with shiny silky ganache) and place in the fridge to firm up.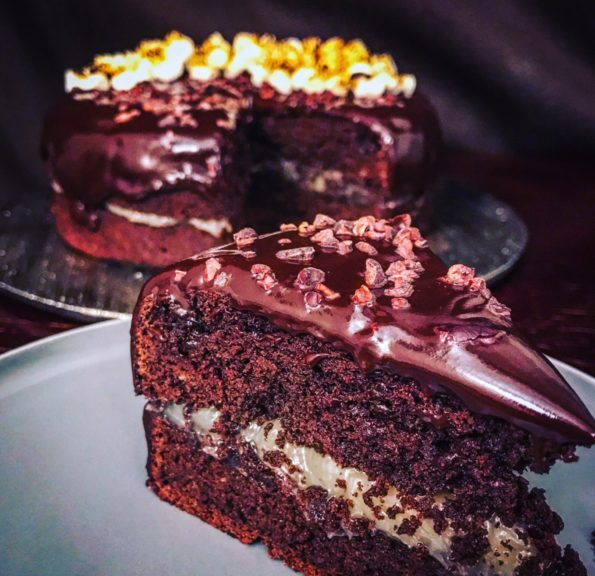 My mouth is watering just looking at it.. and trust me- it tastes even better than it looks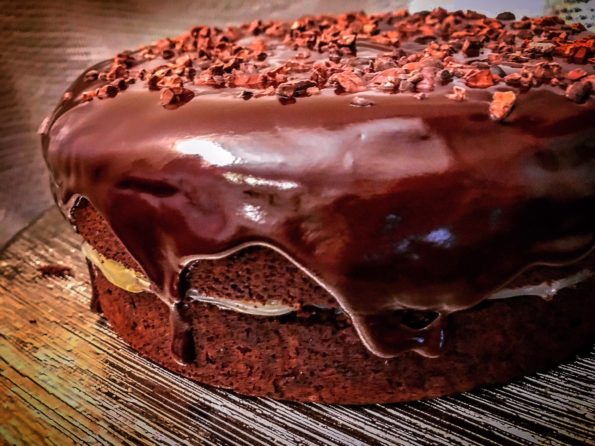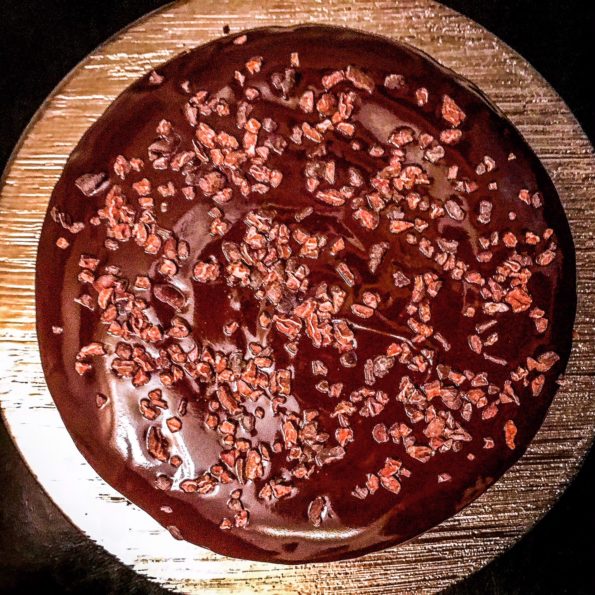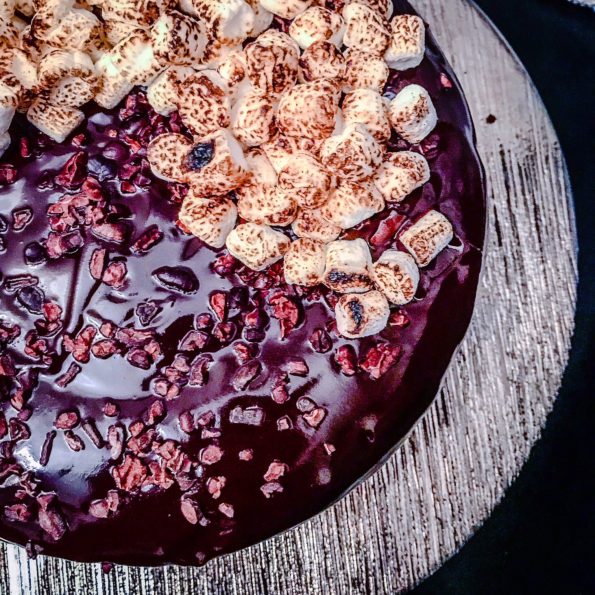 0
0
3
Please share