Honey Cake 
(Lithuanian traditional celebratory cake)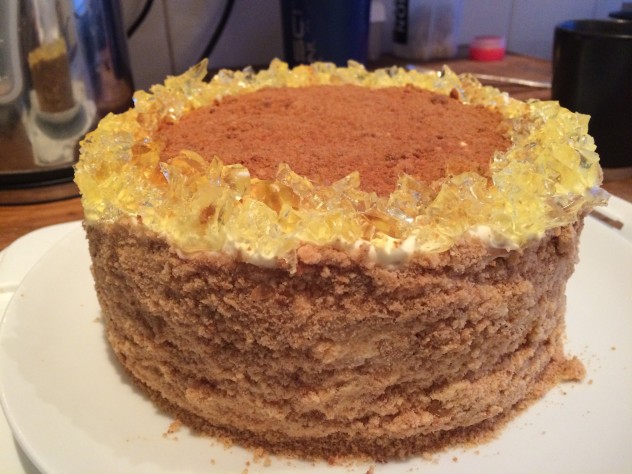 During my upbringing there have been quite a few dishes that were either embedded in my home culture or have always kind of always "been there" since I was just a little girl growing up , though none come as close to being a true memory of growing up as the very traditional Lithuanian Honey cake.  In Lithuania this cake is also strangely called the "retired one" (just for the record I want to say that I have absolutely no idea why would someone call a cake as lovely as this retired…, but life isn't always fair and we actually call this cake as "retired one" far more often than as "honey cake".).  By tradition this cake is made for special celebrations and occasions, meaning that I don't have a memory of any Christmas, Easter or birthday passing without it.   Probably if this cake would not be present at any of the above occasions back home, it wouldn't even feel as festive as having it: a centrepiece of thin honey flavoured layers, filled with luscious sweet and sour cream. The spiced layers that are quite dry to start with – biscuit like in its texture, it then absorbs the cream (usually left over night to do so), which not only moistens the layers but also elevates the flavours the  now sponge, resulting in a rich but still surprisingly light & fresh cake.
The best part here is that the longer this cake sits in a cool, dry place, the better the flavour will develop.  Allow for it to at least 'rest' overnight to ensure that the  sour cream can moisten the layers, but I like it best after 3-4 days, as it is that's when it is at its absolute best.  As lovely as this cake sounds, I do have to note that same as with a Napoleon cake, this is not a one-hour project. It will take some time, but trust me it will certainly be worth it. After all, not every single cake or dessert can and should be whipped in a matter of minutes. Some need time. Time to make them exceptional and fit for occasions.
This cake has a truly special place within my 'heart' as by just thinking about the cake, I see my grandmother baking the layers, my mum tasting the cream to perfection, and myself prepping the traditional crumbs for decoration. Baking it was something that has always required team work in some capacity so it brought our family together – it was special moments. I guess this is not just the cake that reminds me of growing up. The taste, the smell of it reminds me of home!
These days you can get many variations and 'add ons' between layers- like peace's of different flavoured jelly, fruit or nuts., Honestly, I love it just regular old fashioned way,but if making it for kids- I tend to add something extra to make it more 'eye appealing'
~~~~~~~
INGREDIENTS:
Cookie disks:
250 g of honey
200 g butter
2 tbl spoonfuls of cinnamon , cloves, nutmeg mixture(All Spice) + 1tbsp cinnamon
100 g of soft light brown sugar
100 g of brown muscovado sugar
2 tablespoons sour cream
2 eggs
750 g flour
2 teaspoons baking powder
Pinch of fine sea salt
The Cream Filling:
1200ml 30 % sour cream (if using double cream might want to increase lemon amount to 2 to give it more sharpness)
1 lemon zest and juice
100 g of sugar
METHOD:
Firstly preheat the oven to 180'C
Choose large chefs ring or a plate around 9in diameter (or the size you wish)
Sieve the flour and baking powder in the large bowl and set aside
In a heavy base pot combine butter, sugar, honey and place on on a medium heat. Heat it trough mixing in constantly until sugar has dissolved. Don't let it boil. Add the spices and salt and whisk in well. Take the pot off the heat, whisk in the eggs and and crème fraiche.
Pour all mix on to the flour and mix well with a wooden spoon until all combined and not too sticky. Separate in to 6 parts and refrigerate the dough at least an hour.
Take one peace at a time, flour the surface and roll out around 3mm thickness sheet, cut our the rings and bake in the preheated oven on the baking paper covered baking tray until golden brown- around 5-7 minutes. Take them gently off the parchment paper and let cool on wire rack.While the cookies baking, roll out other piece of dough and continue with the process until all dough been used and cookies are baked.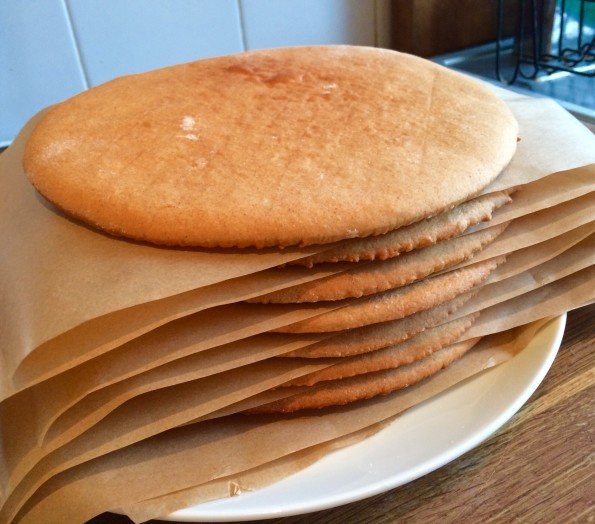 Now, prepare your cream, using an electric whisk mix the crème fraiche with grated lemon zest, confectioners sugar and lemon juice. This cream is rather subjective so start with less sugar and lemon juice and adjust along the way to your taste. It should have a light sweet-sour note.
To assemble the cake, layer each with cream (don't be modest), don't press the layers directly when layering as all cream will go out, let them soak up the cream. And when I place cookies, I do one good side up, and the next one up side down, so the cream will not leak and layers will look even. Then cover the sides and the top of the cake with cream and finish with crumbled leftover cookie pieces. Let the cake rest at least 1-2 days in the fridge to get the best results.
This cake is truly amazing flavour, and I really advise you to make it… as to be honest.. it took me through the selection to get to GBBO 😉 so must be worth your time to make…
Enjoy!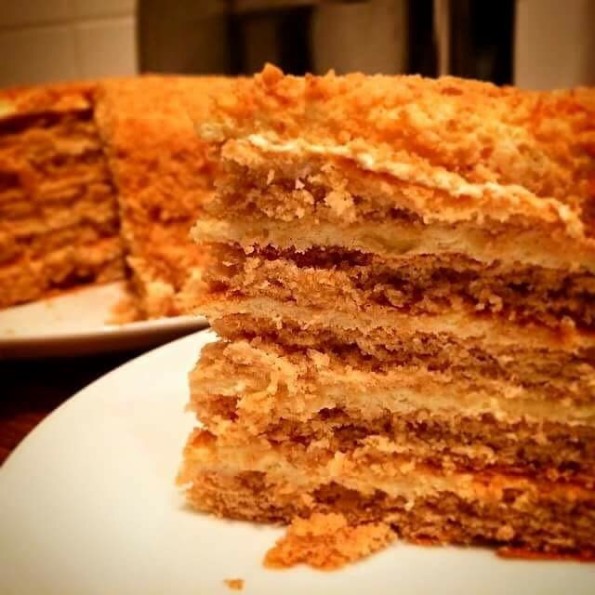 359
0
29
Please share