Orange and Pumpkin Bundt Cake with Coconut Maple Frosting
(Refined sugar free, fibrous flours)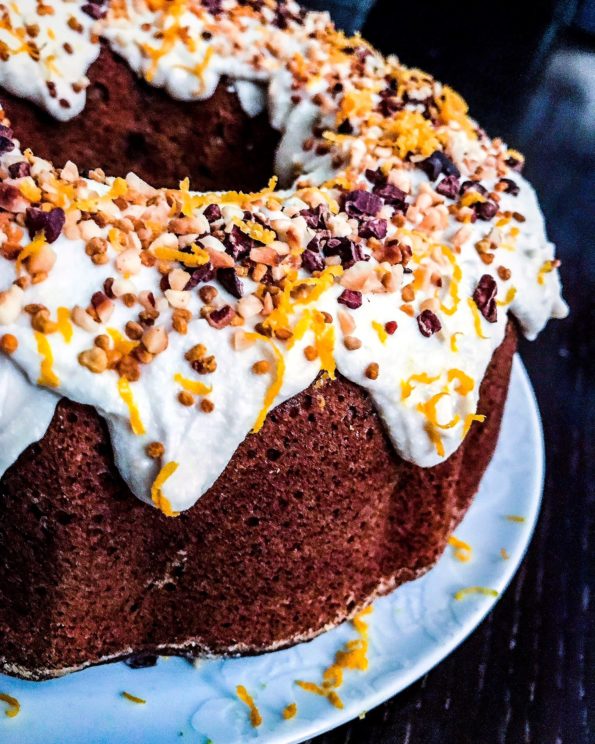 Well, as autumn is here and all things pumpkin is around. My house smells no different this time of the year. I love smell of cinnamon and cloves.. I love textures and flavours of fruits and autumn vegetables when baking or cooking. And I love experimenting with alternative ingredients and try to make flavoursome bakes but with little bit healthier ingredients.
This fabulous cake is moist and packed with autumn scent. Pumpkin and orange goes beautifully together, and light coconut cream frosting works extremely well with dense, but yet light cake.
I use coconut sugar as an alternative to refined white, and added Molasses and dates gives that caramel like taste. It is definitely a must try this autumn, there fore i truly recommend to make it as a bonfire night treat, or just like that, for the whole family to share with a cup of coffee on a cold afternoon.
Note: you can, ofcourse replace coconut cream with whipped cream and use melted butter instead of vegetable oil. And use muscovado or caster sugar instead of coconut sugar, but the flavour will change slightly.
~~~~~~~
INGREDIENTS
For the Cake
Wet ingredients
400g pumpkin puree (or roasted pumpkin)
200g very ripe bananas
160g Meridian grape seed oil (or any other flavourless oil)
60g Meridian smooth Cashew butter
85g soft pitted dates
3 large free range eggs
1tsp vanilla extract
Zest and juice a large orange
110g fat free natural yogurt
90g Meridian Organic Molasses
100g coconut sugar ( I use coconut merchant)
Dry ingredients
190g wholemeal flour
95g spelt flour (I use Doves Farm)
60g stone ground brown rice flour (or can use more wholemeal)
1tsp baking soda
2tsp baking powder
1heaped tsp mixed spice
1tsp cinnamon
½ tsp ground cloves
Pinch of fine sea salt
120g pecan nuts (chopped)
For the frosting
160g coconut cream (scraped of the top of the can of coconut milk kept in the fridge over night to set)
80g Meridian maple syrup
Zest of an orange and squeeze of the half
Pinch of ground nutmeg
For decoration
Zest of an orange, finely chopped pecans and cocoa nibs.
METHOD
Preheat the oven to 170'C. Grease well and dust with flour Bundt tin.
Firstly, place all wet ingredients in to the food processor bowl and whizz them together very well till all combines and no lumps left.
Now, grab large mixing bowl and sift in all the dry ingredients (except nuts) give it a mix with a wooden spoon or spatula.
Pour prepared wet mix in to the dry mix and fold everything carefully so there is no flour left. Now pour chopped pecans in and give another mix to evenly incorporate in to the batter.
Pop in to the oven and bake for 50-55min until golden brown and the wooden skewer inserted in the middle comes out clean.
Take out the bundt when done, leave in the tin for 10 minutes to slightly cool down and then run around the edges of the tin to loosen it and turn out on to a wire rack to cool down completely.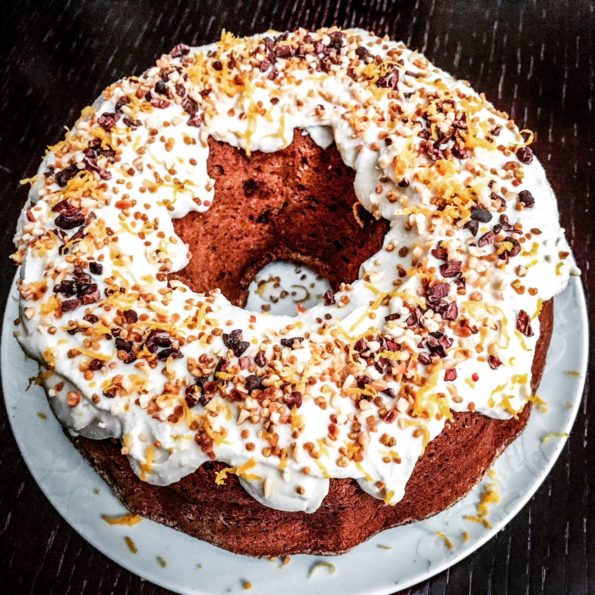 Now get the frosting ready. Take the can of coconut milk which was setting in the fridge thought the night, carefully open it and scrape the thick cream set on top in to a medium size bowl. Using electric mixer give it a mix to loosen up a bit. Add the maple syrup, orange juice and zest and mix well till nice and fluffy runny consistency.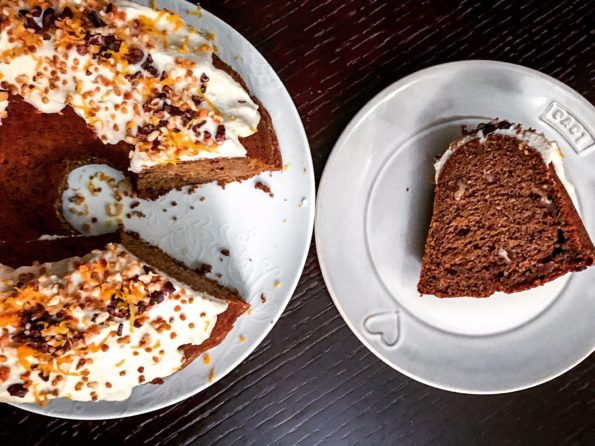 Put your cake on the serving plate and spread the frosting over the top. Decorate as your heart desires J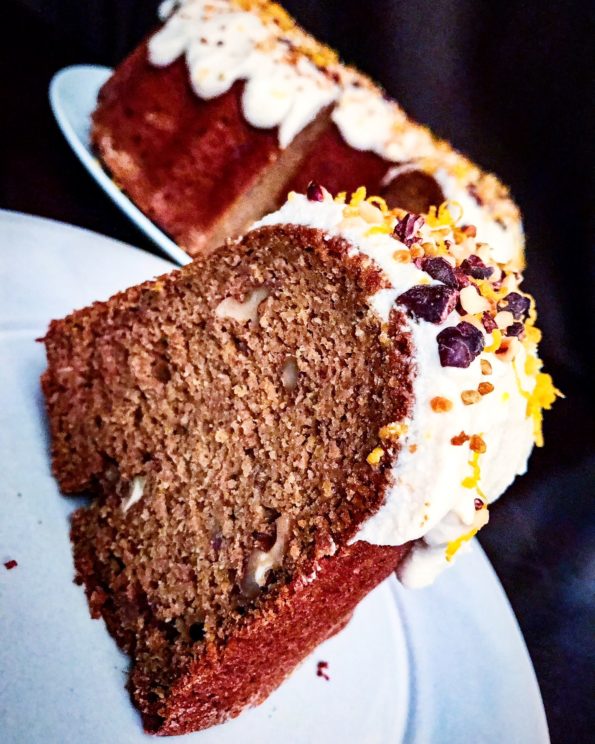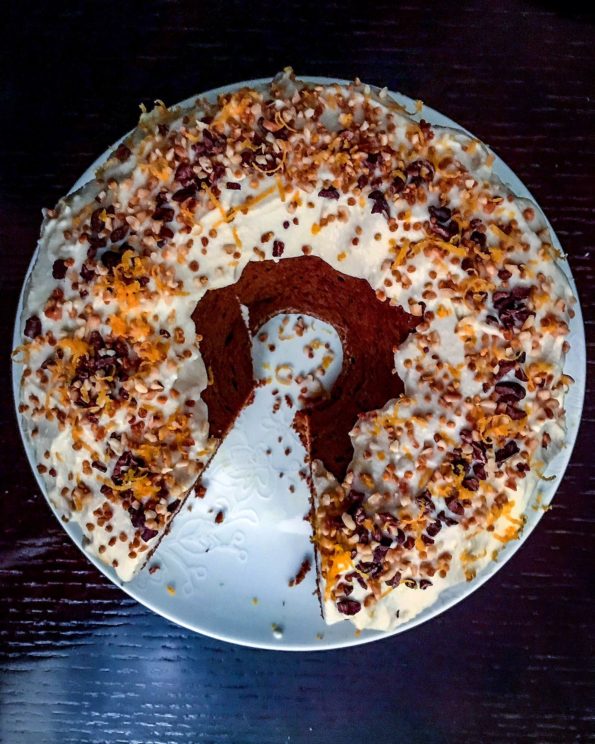 Happy Baking <3
0
0
4
Please share