Raw Peanut Butter Jelly Cake
(Raw, Vegan, Paleo)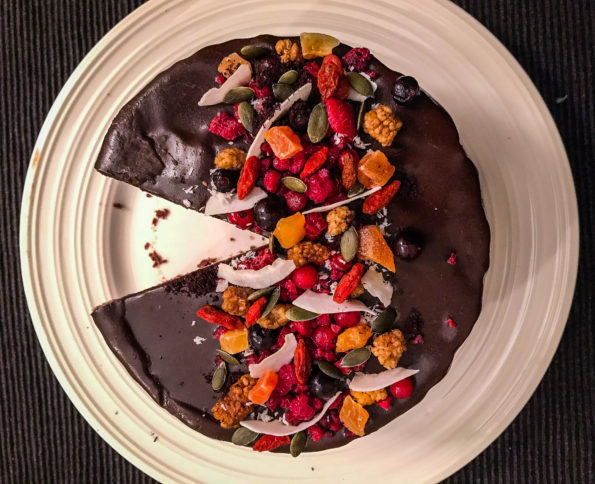 I do love foods which are unprocessed… I love ingredients which are naturally full of nutritious goodness brought from mother earth and never been cooked which take those qualities away.
This awesome cake is a combination of my favourite flavours and ingredients- chocolate, peanut butter and vitamin packed seasonal berries.
We all know fantastic benefits of nuts- they are source of mono and poly saturated fats, source of iron. Combined with other quality organic ingredients, this vegan raw cake is fabulous source of fibre, vitamins, and minerals.
So, without a further do- let's begin making it, I just want to highlight one thing☝🏼 do choose quality ingredients for raw desserts. Quality really does matter!
I made this cake using my tested and quality/flavour approved brands- like Meridian foods (who has variety of nut butters, natural sweeteners and other fabulous products)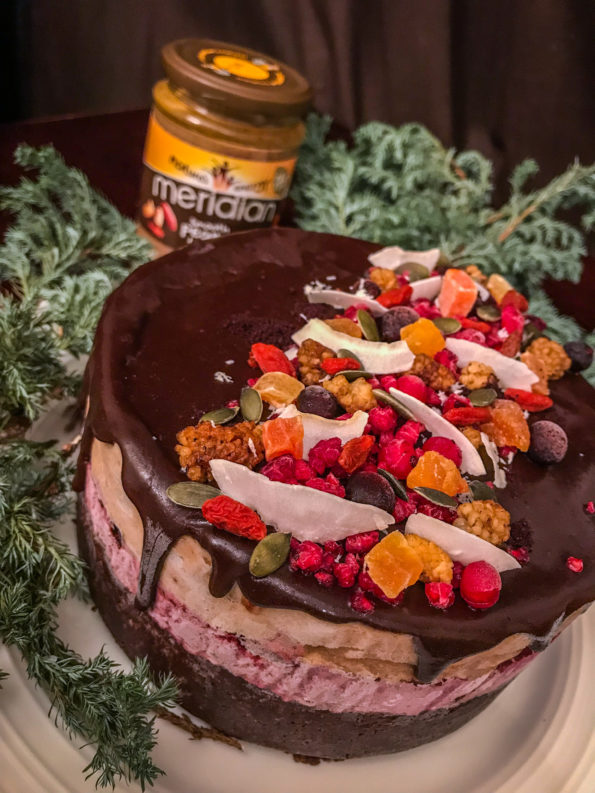 We will be making this cake by stages, as it will need to be left to set in the freezer for a short while whilst layered.
Before we start, line and grease with coconut oil 6inch cake tin with parchment paper and set aside.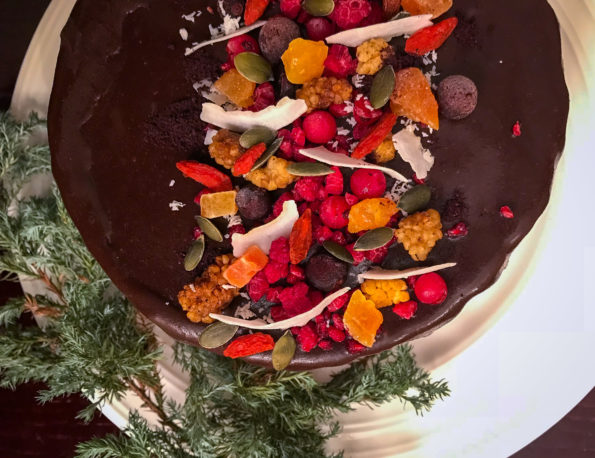 Firstly we will prepare nutty cake base.
For the base:
100g peanuts
50g walnuts or almonds
90g soft pitted dates
Pinch of salt
30g cocoa nibs
1tbsp Meridian peanut butter
2tbsp (20g) Raw cocoa powder
20g melted raw organic extra virgin coconut nut oil (I used Coconut Merchant)
1tsp vanilla bean paste
Pop everything in the food processor and blend till it forms sticky ball. Around minute or two. Then press firmly in to the prepared cake tin lined with parchment paper. When done so- pop in the freezer whilst you prepare the filling layers.
For the filling:
250g cashews
100g Peanuts
Soak the above in the warm water for about 6 hours for Nuts to soften (that will make blending process quicker and end up with smoother consistency) Drain well and pour them in to clean food processor bowl. Blend for a few minutes scraping the sides few times during the process. When the nut mix is creamy, they are done.
Remove half (around 230g) of creamy nut mix in to the bowl, cover and set aside.
In the remaining nut mix left in the food processor bowl add:
150g any seasonal berries (or even frozen will do)
2tbsp Raw extra virgin coconut oil (melted room temperature)
3tbsp Meridian foods maple syrup
1tbsp nut milk
And squeeze of lemon juice
Close the lid and blend until smooth and combined. Spread evenly over prepared base, tap the tin firmly on the work surface to get in to all corners on the base. Sprinkle some berries over the top and pop in the freezer for 30 minutes or so to firm up.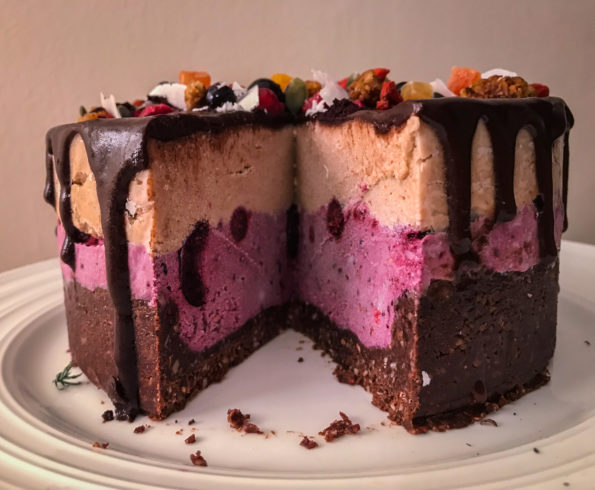 Now, in the clean processor bowl add second half of the nut mix, followed by:
35g soft pitted dates
120g Meridian Peanut butter
50g maple syrup
Pinch salt
2tbsp Raw Extra virgin coconut oil
6-7tbsp almond milk
Pour the mix over set berry layer, spread it evenly and tap the tin on to the work surface again to even the top. Pop the tin back in the freezer for at least 4-6 hours or even overnight.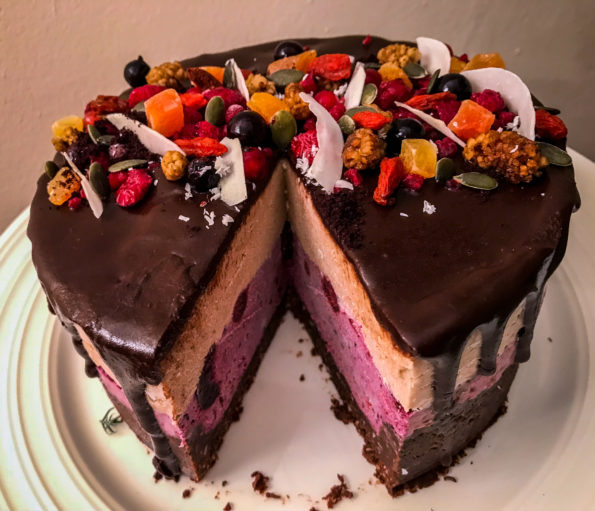 When ready to eat, remove the cake from the tin, place on the serving plate or a cake stand and quickly get the raw chocolate ganache ready.
Melt and mix well together:
2tbsp Raw virgin coconut oil
3tbsp Meridian Maple syrup
3 tbsp Raw cacao powder
Pour the ganache over the cake, gently pushing it down with the spoon towards the edges to create the drip effect. Decorate with whatever your heart desires, I did mine with dried fruits and berries.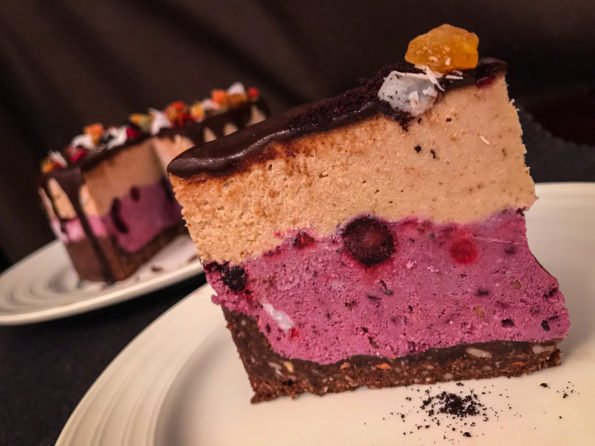 Let it thaw in the fridge for at least an hour before eating.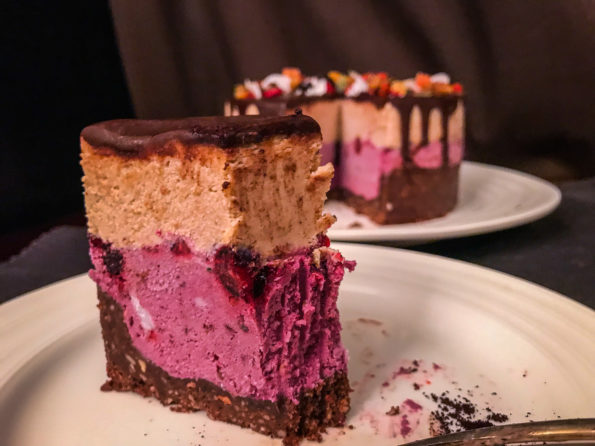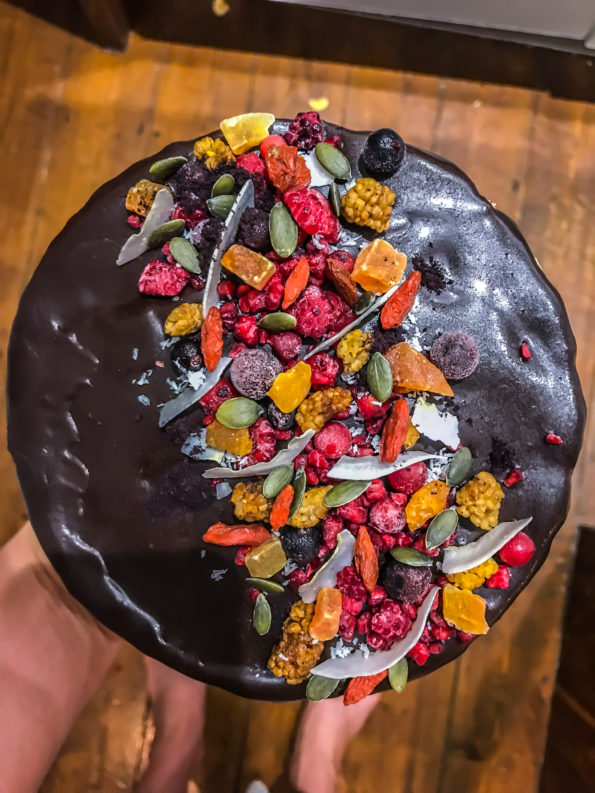 0
0
1
Please share