Rose, Lemon and Raspberry Cake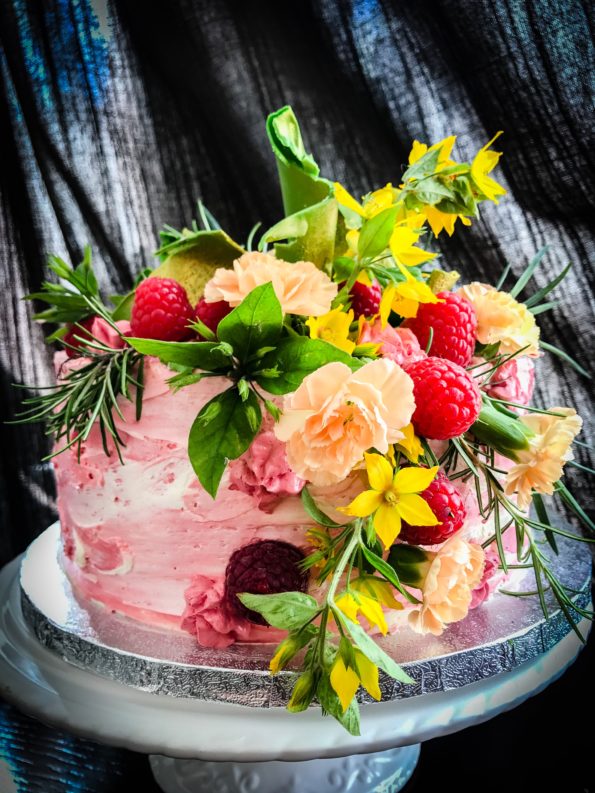 Little bit different take on Victoria sponge cake.. Fragrant sponges are layered with fresh raspberry jam and vanilla swiss meringue buttercream. Lovely hint of rose gives this cake a different edge combined with sour raspberries. I always tend to make meringue buttercream, as it is much lighter texture than regular buttercream, and if added some colour, you can create a beautiful table centrepiece for any festivities. I used butter in all around cake making, but if you are dairy intolerant, vegetable fat like 'Trex' will work same nice in the sponge and in the icing.
~~~~~~
INGREDIENTS
For the lemon sponge (all ingredients must be room temperature)
250g unsalted butter (or Trex vegetable fat)
250g golden caster sugar
3 large free range eggs
1tsp vanilla extract
2 large lemon zest and juice of one
250g self raising flour
For the rose sponge(all ingredients must be room temperature)
100g unsalted butter (Trex vegetable fat)
100g golden castor sugar
1tsp vanilla extract
1tsp of rose water extract
100g self raising flour
For the raspberry jam
200g raspberries
100g golden castor sugar
Juice of half a lemon
100ml water
1 heaped tbsp corn flour
Swiss Meringue Buttercream
6 egg whites, room temperature (around 180 g)
350g granulated sugar
500g unsalted butter soft at room temperature, cut into small chunks
2 tsp Vanilla extract
Gel food colouring- optional (I used red)
METHOD
Firstly, let's bake the sponges.
Preheat the oven to 180C/350F/Gas 4.
Grease and line 21cm cake tins with baking paper.
Cream the butter and the sugar together in a mixer bowl until pale and fluffy.
Beat in the eggs, a little at a time, and stir in the vanilla extract together with lemon zest and juice. (for the rose sponge add rose water)
Fold in the flour using a spatula, adding a little milk if necessary, to create a batter with a soft dropping consistency.
Pour the mixture in the cake tin and gently spread out with a spatula.
Bake for 35-40 minutes thicker lemon sponge and 20-25min rose sponge, or until golden-brown on top and a skewer inserted into the middle comes out clean.
Remove from the oven and set aside for 5 minutes, then remove from the tin and peel off the paper. Place onto a wire rack.
Until out sponge is baking, we can get that jam for the filling ready.
Take medium size pot/saucepan and pop all jam ingredients in it. Give it a stir with a spoon and place on a low heat. Stir occasionally and squish the berries as they soften when heating. Gently simmer for 5 minutes or so (add table spoon or two of water if the consistency seems to be too thick) Taste and see, you might need to add more lemon juice if like sharper tasting jam, or more sugar if it is already too sour. It really depends on the raspberries.
When your jam is nice and thick, run it through the sieve to get rid of all the berry seeds. Cover it and leave to cool completely.
And lastly, we will make our swiss meringue butter cream.
Make sure the bowl, whisk attachment, and hand whisk are completely clean and grease free.
Put an inch of water in a small or medium saucepan and place on stove on a medium heat.
Separate the egg whites into your heat proof mixer bowl being careful to not get any yolks into bowl.
Add sugar to egg whites and place mixer bowl over saucepan with simmering water.
Stir egg whites and sugar constantly with the hand whisk to prevent eggs from cooking until it won't be any sugar granules left- Rub egg whites between your fingers. If it's hot to touch and sugar has dissolved, it's ready.
Transfer bowl to mixer and using whisk attachment begin beating first couple minutes on a lower speed and then increase to high and beat until glossy stiff peaks form and bowl is completely cool (that will take around 10minutes).
Now start adding butter little bits at a time while the mixer is working on a high speed. When you will add all the butter let the mixer work. In the beginning it will look like the butter cream is splitting, but after minute or two you will see all come together in to light and airy butter cream. Now add vanilla extract, mix for another minute and voila- it's done.
Now, if you decide to do multi coloured decoration, take some out in separate bowls and add some colouring, mix well and set aside covered with cling film. (Don't put your butter cream in the fridge as it will harden and you won't be able to ice the cake)
When everything is ready, we are good to go with assembling the cake.
Firstly cut the lemon sponge in half lengthwise, you will end up with two lemon and one rose sponge.
Take your cake board put little dollop of buttercream in the centre of it and place lemon sponge on it, that will prevent cake sliding when you will work with it.  I like to use piping bag to pipe the icing on the cake, especially when we will fill the centre with jam, and will have to pipe buttercream border on the outside of the sponge for it not to leak. Spread some uncoloured icing over the sponge, then pipe the border and spoon in half of the jam in the centre. Spread it nicely around the centre (up to the border) and place rose scented sponge on top. Repeat the filling process by spreading some icing all over the sponge then piping the border and filling remaining jam in the centre. Place lemon sponge (bottom up) on top.
Lightly cover the cake with the butter cream to catch all the crumbs, and place in the fridge for 30 minutes or so to harden.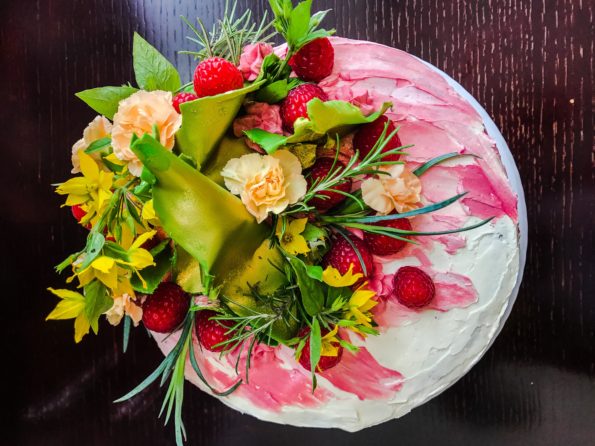 When it's ready, ice it nicely with remaining non coloured butter cream and create streaks with coloured one. To be honest, you can colour all butter cream, leave it as it is, plain. Or make whatever you wish design to decorate the top.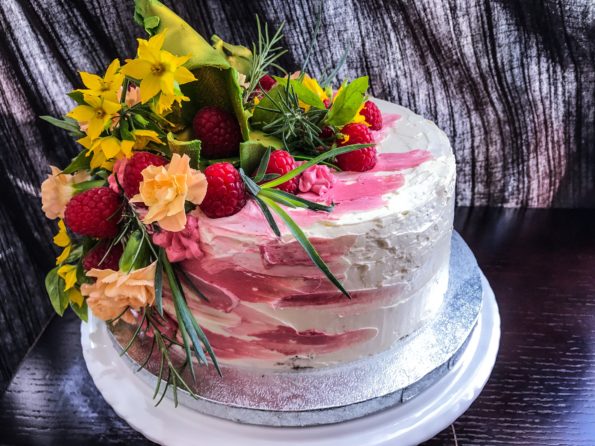 Enjoy with cup of tea or glass of bubbly on a birthday 🙂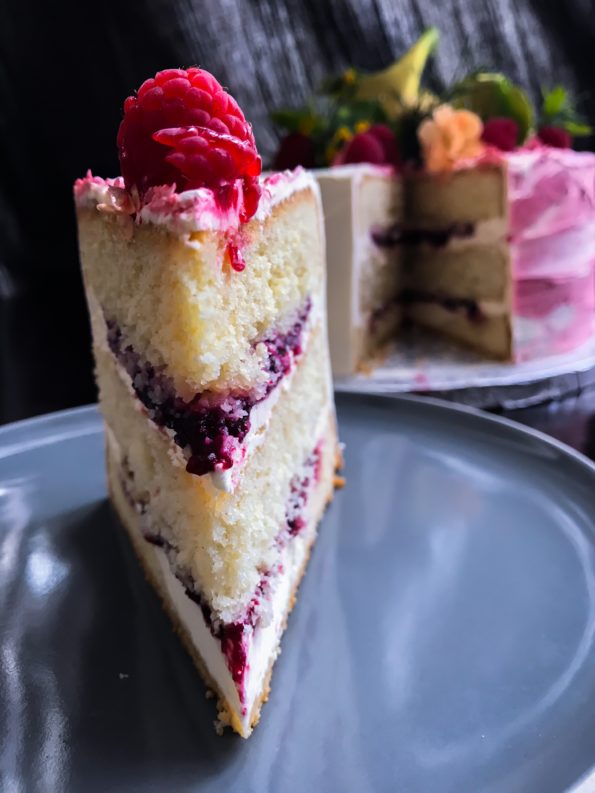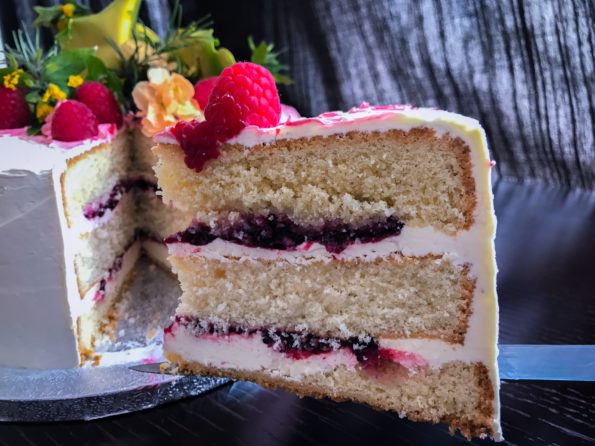 0
0
3
Please share