Rosemary and Orange Loaf Cake
(gluten free, dairy free and sugar free)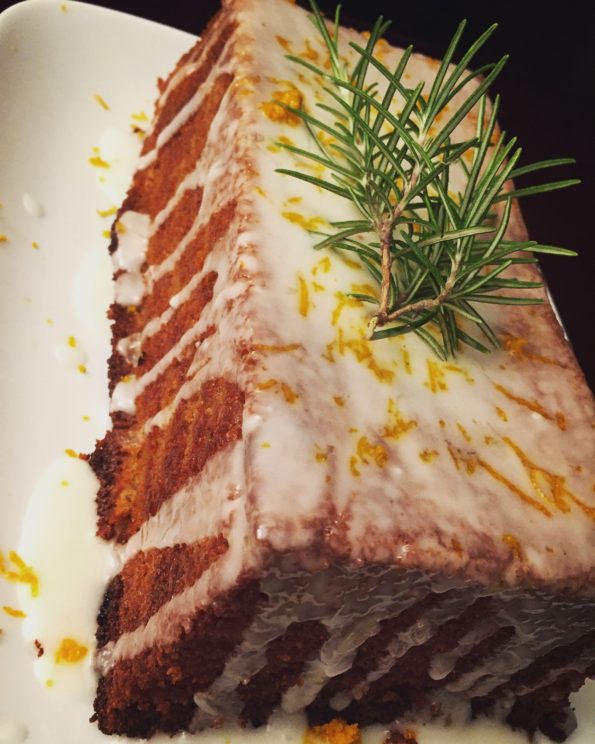 Today I went for light cake which bursts with zingy orange and aromatic rosemary fragrances. If you wish, you can make it in round cake tin and ice it same way as loaf.
INGREDIENTS
230g very ripe bananas (blended to mush)
1tbsp finely chopped fresh rosemary leaves
Zest and juice of 1 orange
150g Trex or other vegetable based shortening (room temperature)
150g soft coconut sugar
1tsp vanilla extract
3 large eggs
150g semolina
120g ground almonds
3tbsp coconut flour
1tsp baking powder
For the Frosting
Some Sukrin powder sugar alternative and a squeeze of orange juice. Mix all in a little bowl to make thicker paste.
METHOD
Preheat oven to 180'C, grease and line medium sized bread tin with parchment paper ( you can easily use a normal 23cm cake tin for this one if you like)
In the bowl or stand mixer bowl place shortening together with sugar and beat well on a high speed until light and fluffy, that will take around 5 minutes.
In the separate bowl combine flour, ground almonds and semolina together with baking powder. Add your orange zest and chopped rosemary and mix everything with a spoon.
Now, in the shortening and sugar mix add eggs one by one beating well in between each addition, followed by vanilla extract.
Now slowly little bit a as time whilst your beater is on add the dry ingredient mix. When all added, take the mixer bowl off the stand, add blended bananas and orange juice. Mix all well with a spatula to combine. Transfer the batter in to prepared tin and bake around 45-50minutes, or till toothpick comes out clean.
Take the cake out the oven, let it sit in the tin for 10 minutes then transfer it out on the wire rack to cool completely.
When its room temperature, place on the serving plate and coat the top with prepared glaze. Grate some zest on the top.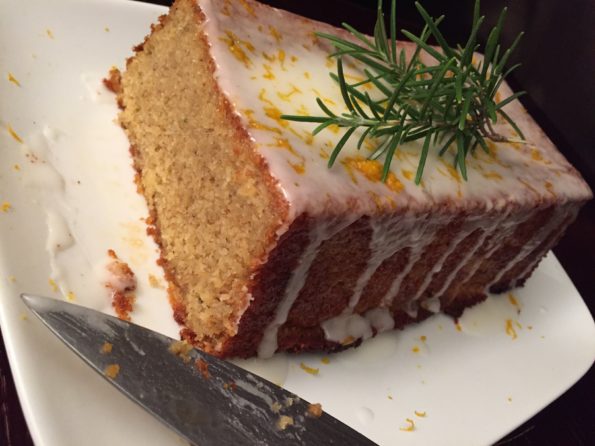 TIP: If you wish, you can make it with light muscovado sugar instead of coconut sugar and use ordinary powdered sugar to make glaze.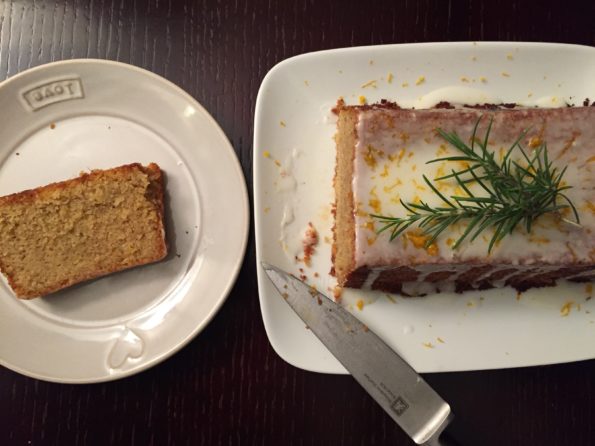 0
0
4
Please share