Spooky wooky Chocolate and Peanut Cake
(Gluten free)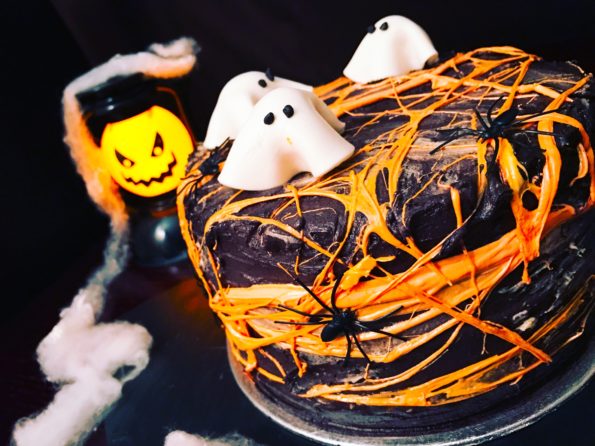 As it is Halloween, I thought I will make a cake… nothing taste better with a cup of tea those chilly autumn nights than comforting chocolate, and when you combine it with salted peanuts and caramel- it's absolute heaven! This truly magnificent flavour cake is rammed packed with Meridian peanut butter cream, as well as crunchy roasted peanuts, layer of sticky caramel and moist chocolate sponge…mmmm.. what can be better than that? .. oh.. and it is gluten free too whoop!!! 😀 so here is the recipe, crack on if you want to experience ultimate indulgence:-D
~~~~~
INGREDIENTS
Cake sponge
220g unsalted butter
250ml unsweetened nut milk, like Alpro
60g dark unsweetened cocoa powder, i used Food thoughts
1tsp instant coffee
300g dark muscovado sugar
3 eggs
220ml fat free yoghurt or buttermink
1 tsp vanilla paste or extract
340g gluten free flour blend,
2 tsp guar gum of Xanthan gum
1-1/2 tsp baking soda
1 tsp baking powder(heaping)
60g ground almonds
1/2 tsp salt
Thick  Caramel
80g unsalted butter
140g light brown sugar (you can use cator sugar too)
100g light corn syrup
120g condensed milk
1 tablespoon whipping cream
0.5 teaspoon salt
140g peanuts (slightly roasted)
Peanut butter frosting
200g unsalted butter, room temperature
200g Meridian smooth peanut butter
250g icing sugar
food colouring of your choice(if making coloured icing
METHOD:
Firstly preheat the oven to 170'C and grease and line two 18cm/7in round cake tins with parchment paper.
For the cake
Place the butter in heat prove bowl and melt in the microwave, or alternatively place in the saucepan and melt on the low heat. Now add the milk and cocoa powder and coffee.
Bring the mixture to the boil occasionally whisking with a whisk to incorporate cocoa powder.
Now, in the cocoa mixture add your sugar and whisk to dissolve sugar and set aside whilst preparing dry ingredients.
Sift the gluten free flour and guar gum/ Xanthan gum, baking powder and bicarb soda in the stand mixer bowl (or any other large bowl in not using stand mixer) add salt and mix through.
Add the eggs, fat free yogurt, and vanilla in your warm cocoa and butter mix and wish all with a hand whisk to incorporate.
Switch on your mixer on slow speed and start mixing dry ingredients whilst slowly adding your wet mix. When all added, increase mixer speed to medium and work unlit all incorporated. For a minute or so.. Divide the batter between 2 prepared pans and pop in the oven for around 45-50 minutes. Check whether it's done with a skewer- inserted it has to come out clean.
When done, let cool in pan for 10 minutes.
Transfer on to wire racks and let them cool completely before assembling.
While your sponges are  baking, get your caramel ready.
Caramel
In a heavy saucepan, bring butter, brown sugar, corn syrup and sweetened condensed milk to a boil over medium heat, stirring.
Carefully stir in whipping cream. Attach a candy thermometer to your pan. Continue to stir until the caramel reach 114'C degrees, or the soft ball stage. Remove from heat and add vanilla and salt. Blitz the nuts in the food processor or chop them finely with the knife and stir in the caramel. Set aside.
Your sponges should be done by now and nicely cooling on the wire rack.
Prepare your peanut butter frosting
Place the butter and peanut butter in the large bowl or a stand mixer bowl with a beater attachment. Beat everything until nice and creamy, about 5 minutes. Now add powdered sugar adding it little bit by little mixer setting to minimum speed until incorporated, otherwise your sugar will dust out everywhere. When all becomes one creamy mass, increase the speed to maximum and beat for couple minutes until fluffy.
You can separate third for the filing and add food colouring to the rest if you wish to make coloured icing. Cover with cling film and set aside until needed.
Prepare your cooled sponges by cutting off the risen dome, and then cut each in half horizontally to make four even size sponges.
Place one sponge on the serving plate, spread half of the nutty caramel, put second sponge on top and spread some uncoloured peanut butter icing on top. Place third sponge on top and spread the remaining nutty caramel and place the last sponge on top.
Now spread thin layer of frosting all over the cake to catch all the crumbs and place in the fridge for at least 30min to harden.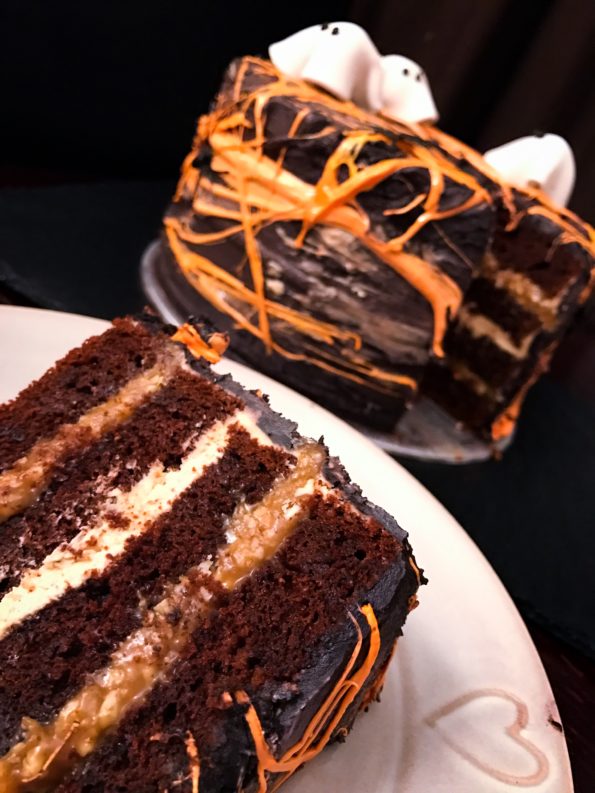 Now you can spread the remaining icing nicely over the whole cake and decorate as desired.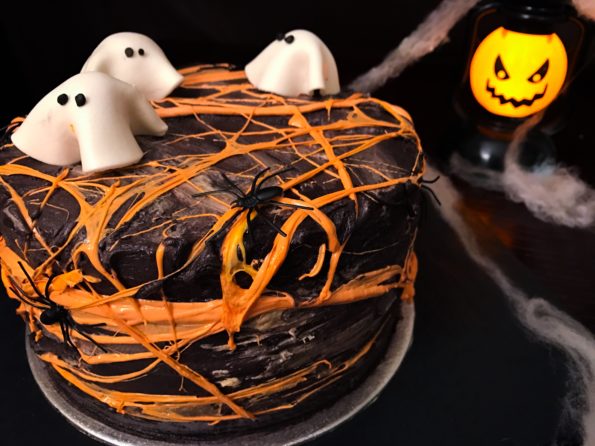 Absolute heaven!!!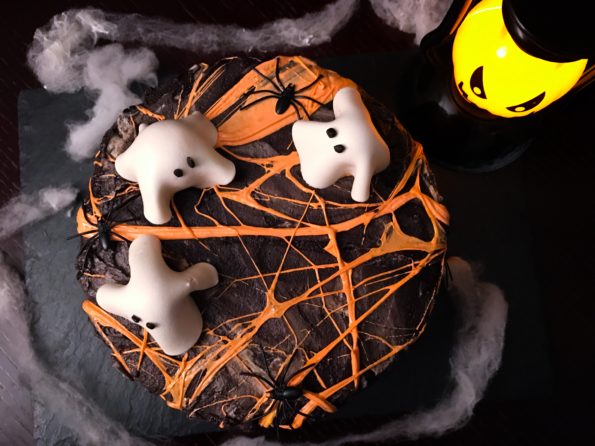 0
0
1
Please share