White Chocolate and Lemon Berry Cake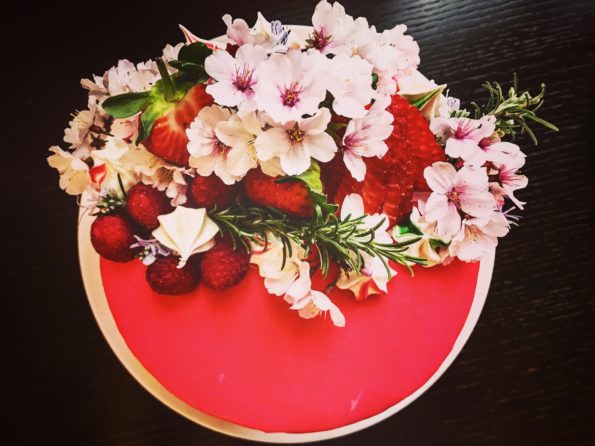 Beautiful, not overly sweet light and fluffy lemon flavoured sponge, layered with zingy lemon curd and white chocolate berry Swiss meringue buttercream. Absolutely divine tasting cake, and as many tried- guaranteed flavour satisfaction.
Perfect for any occasion, just decorate it with some fresh cut flowers or berries to create a show stopping dessert table centrepiece.
~~~~~
Firstly we will prepare quick and easy to make lemon cake sponge. Make sure all the ingredients are at the room temperature before starting. We will use All in One method which is used making Victoria sponge.
~~~~
Lemon cake
INGREDIENTS
320g Unsalted butter (room temperature, cubed)
280g caster sugar
320g (around 5 large) eggs, slightly beaten
Pinch of salt
1tsp vanilla extract
320g self raising flour (sifted)
Zest of 2 lemons
Preheat oven to 190'C and grease and line two 18 or 19cm cake tins with parchment paper and set aside.
In a large bowl place butter with sugar and beat until pale in colour and airy. Slowly add slightly beaten eggs together with vanilla and salt. Beat well between each addition. When all incorporated, add sifted flour little bit at a time, lemon zest and slowly beat to incorporate. Divide batter evenly between two prepared tins and bake for 30-35min or until golden brown and skewer inserted will come out clean.
Remove the tins from the oven and set the oven temperature to 100'C (we will dry our meringues in it later)
Loosen the sponges from the sides of the tin with a knife and transfer them on a wire rack to cool completely.
~~~~
Until the sponges are baking let's prepare our
Lemon curd.
INGREDIENTS
2 unwaxed lemons, zest and juice
120ml water
1heaped tsp corn flour
100g unrefined caster sugar
50g unsalted butter, room temperature and cut into cubes
2 large free-range egg yolks (keep the white for our meringues)
In a medium size pot place lemon juice and zest, sugar, water, corn flour, whisk with a hand whisk to incorporate. Place pot on medium/low heat. Bring to light simmer stirring occasionally until thickens. Now add pieces of butter and mix until combined. And lastly, add egg yolks- one at a time and heat on a low heat whilst whisking with a hand whisk. It will start to thicken in around a minute's time. Take off the heat, transfer the curd in to the bowl and cover with cling film not to form a skin when cooling. You can put it in the fridge after 10-15 minutes to speed up the process.
~~~~
As first 2 parts of the cake are ready and cooling, we now need to whip up our Swiss meringue buttercream. We will be using fresh berries for this one.
~~~~
Swiss meringue buttercream
INGREDIENTS
6 egg whites (180 g)
300g granulated sugar
350g unsalted butter at room temperature, cut into small chunks
1 tsp Vanilla extract
150g mashed and sieved berries (raspberries or strawberries)
100g white chocolate melted and cooled
Make sure the bowl, whisk attachment, and hand whisk are completely clean and grease free.
Put an inch of water in a small or medium saucepan and place on stove on a medium heat.
Separate the egg whites into your heat proof mixer bowl being careful to not get any yolks into bowl.
Add sugar to egg whites and place mixer bowl over saucepan with simmering water.
Stir egg whites and sugar constantly with the hand whisk to prevent eggs from cooking until it won't be any sugar granules left- Rub egg whites between your fingers. If it's hot to touch and sugar has dissolved, it's ready.
Transfer bowl to mixer and begin beating using whisk attachment until glossy stiff peaks form and bowl is cool completely (around 10minutes). Take 100g of meringue out in the bowl and set aside.
Set to lowest speed. Add butter slowly, one piece at a time.. Important – butter must be room temperature. Because that's an arbitrary temperature. Do NOT microwave butter to soften, instead, cut into small chunks before starting recipe and it will come to room temperature faster. 
Mix on lowest speed and butter and meringue will slowly but surely emulsify and make the silkiest butter cream you have ever had. Warning: it make look scary as it mixes, but be patient and I promise it will come together!
Now it is the time to add your melted chocolate, beat well to incorporate, take out couple table spoons of butter cream in the separate clean bowl, cover with cling film and set aside.
Add strained from seeds berries to the remaining big batch of butter cream, beat well another minute to incorporate. Set aside
Take the meringue, put it in the piping bag fitted with a nozzle and pipe small meringues of the shape you desire, Place in the oven and let them dry for an hour or so.
Time to assemble the cake. Cooled sponges, cut off the dome horizontally and then cut the sponge same way in half. We will be left with 4 sponges.
Place berry buttercream and curd in to separate piping bags.
Place one sponge on a cake board, pipe our little bit of butter cream, smooth it around the sponge and then pipe the 'border' of buttercream around the edge of it for the curd not to leak. Pipe in the curd, spread, place other sponge on top and repeat the process with the rest of the sponges.
When all layered, take the plain buttercream and cover the cake with a light coating to collect all the crumbs before covering it in berry buttercream. Place in the fridge until you prepare the drip.
White Chocolate drip
120g chocolate
60g double cream
Gel food colouring, shade of your choice. Preferably Wilton brand
Melt chocolate and double cream in the microwave stirring every 30 seconds. When it's done, add couple drops of food colouring to the mix until desired colour reached. Set aside to cool.
Take the cake out of the fridge and cover evenly with remaining berry butter cream.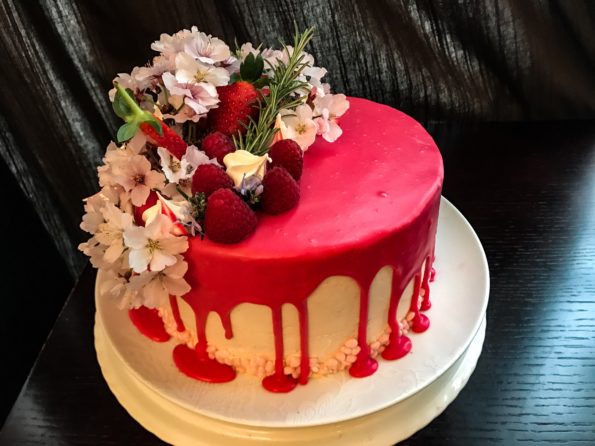 When done, pour with a spoon your trip on the edges first to create drip, then fill in the top too. Decorate with meringues and fresh berries (strawberries, raspberries and even fresh cut flowers)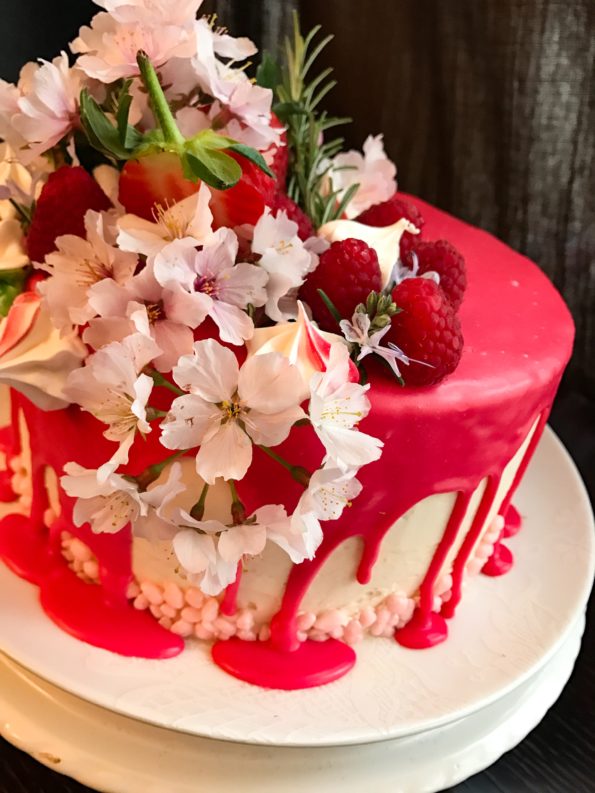 Little shot of light buttercream and curd layers 🙂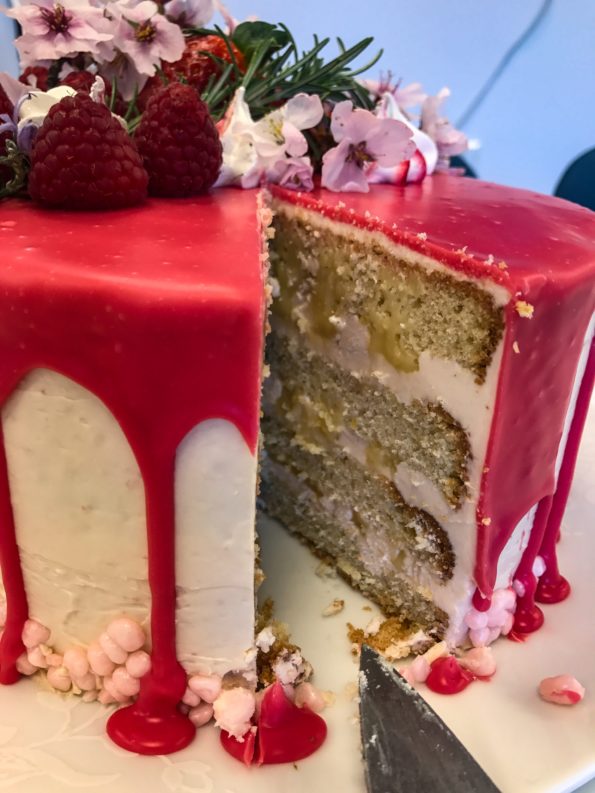 0
0
1
Please share