Bobotie & Caramelised Bananna Vol-au-vents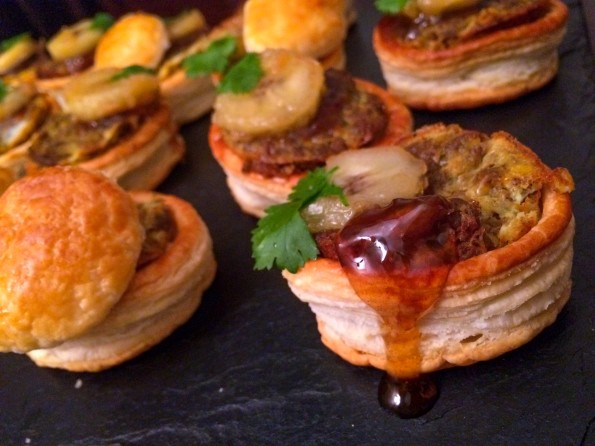 The British have long-standing love affair with food with a bit of bite and 200 years ago, an Indian migrant opened Britain's first curry house to cater for the fashion for spicy food. "Indian dishes, in the highest perfection… unequalled to any curries ever made in England." – so ran the 1809 newspaper advert for a new eating establishment in an upmarket London square popular with colonial returnees. This was the country's first dedicated Indian restaurant, opened by an entrepreneurial migrant by the name of Dean Mahomed. But Britons already had a taste for curry long before then as some wrote out their own recipes; others may have used one of the many editions of Hannah Glasse's The Art of Cookery, first published in 1747, which contained recipes for curries and pilaus!
With this great British love of all things 'curry' in my mind,  it inspired me to rework one of my favourite spicy dishes, 'Bobotie' into a Vol-Au-Vent.  "Bobotie" originates from South Africa and is a dish made up of spiced/curried minced meat baked with an egg-based topping.   It is an infamous dish in South Africa and is commonly spoken of as one of their national dishes. It is thought to have originated from the Indonesian dish "bobotok", which consisted of meat with a custard topping that was cooked in a pan of water until the egg mixture set.  It is thought that Colonists from the Dutch East India Company colonies in Batavia probably introduced "Bobotie" to South Africa as the first recipe for this dish appeared in a Dutch cookbook in 1609.  Afterwards, it was taken to South Africa and adopted by the Cape Malay community.  Therefore, dish has been known in the Cape of Good Hope (in modern day known as Cape Town) since the 17th century.  Originally it was made with a mixture of mutton and pork mince but it is much more likely to be made with steak mince these days.  Traditionally, Bobotie incorporates dried fruit like raisins or sultanas and is garnished with walnuts, fruit chutney and bananas upon serving.
Although not particularly spicy, the dish incorporates a variety of flavours (due to the Spices used) which adds to the complexity and depth of flavour.  The dried fruit (usually apricots and raisins/sultanas) contrasts the curry flavouring. The texture of the dish is also complex, with the baked egg mixture topping complementing the milk-soaked bread which adds moisture to the dish.  In modern day it is served with yellow rice and a good dollop of Mrs Balls Chutney (a very traditional South African Chutney made from various spices/sultanas and peaches).
Therefore, I have recreated this dish as I think it tells a bit of a story and it is unique in its own way, the flavours explode once they hit your palate, it is a must try – even more so if you love indian/malay food!
~~~~~~
INGREDIENTS:
Puff pastry:
500g plain flour
500g very cold butter, cut into small cubes –unsalted
1 tsp fine sea salt
250ml ice-cold water
Bobotie Vol-au-Vents:
2 slices white bread (few days old so it will crumble well)
120 ml whole milk
20 gram unsalted butter
5 white medium onions, finely chopped
2 cloves garlic, crushed
500 g  15% fat steak (beef) mince
45 ml (3 Tbsp) Mrs Balls original recipe chutney (South African Brand)
10 ml (2 tsp) garam masala powder
2 ml (1/4 tsp) ground coriander
15ml (1 Tbsp) Madras Curry powder
3 ml (1/2 tsp) ground turmeric
15 ml (1 Tbsp) red wine vinegar
10 ml (2 tsp) dried mixed herbs
4 fresh bay leaves
75 g dried and seedless sultanas or raisins (roughly chopped up)
Couple of pinches of Maldon sea salt
Freshly ground black pepper to taste
Savory Custard topping for bobotie ingredients:
200 ml full fat milk
2 extra-large free range eggs
Dressing ingredients:
2 ripe organic bananas finely sliced. And slices coated in juice of the lemon.
1 juicy and ripe organic lemon, juiced
Half a bunch of organic coriander leafs
200ml Mrs Balls original recipe Chutney (authentic South African peach chutney)
METHOD:
For the pastry:
Put the flour in a mound on the work surface and make a well. Put in the butter and salt and work them together with the fingertips of one hand, gradually drawing the flour into the centre with the other hand.
When the cubes of butter have become small pieces and the dough is grainy, gradually add the iced water and mix until it is all incorporated, but don't overwork the dough. Roll it into a ball, wrap in cling film and refrigerate for 20 minutes.
Flour the work surface and roll out the pastry into a 40 x 20cm rectangle. Fold it into three and give it a quarter-turn. Roll the block of pastry into a 40 x 20cm rectangle as before, and fold it into three again. These are the first 2 turns. Wrap the block in cling film and refrigerate it for 30 minutes.
Give the chilled pastry another 2 turns, rolling and folding as before. This makes a total of 4 turns, and the pastry is now ready. Wrap it in cling film and refrigerate for at least 30 minutes before using.
In the meantime whilst pastry is chilling and in between of turns, you can prepare your fillings.
For the Bobotie
Whilst oven is heating to 180'C, soak the bread in the milk.
Heat the butter in a large frying pan and sauté the onions until soft and starting to colour. Add the garlic and beef and sauté until mince begins to take colour. Add the remainder of ingredients, including soaked bread which you will tear finely into the mixture once you have squeezed out the excess milk from it. Now mix the mixture through thoroughly to combine all the ingredients paying attention that the soaked bread has totally blended into the mixture, as it serves as a binding agent. Now cook the mixture until the mince is brown and near enough cooked (another 6-8 Mins).
Beat the eggs with the 200 ml milk.
Now, Scoop the meat mixture into the greased mini muffin tins and top each with some of the egg custard mixture.
Bake in the preheated oven for until the custard is set and a golden brown. This should take 12-15 mins.
Whilst the Bobotie is baking slice your banana into thin slices and caramelise them in a mix of 20g sugar and 20g butter (very quick process) – set aside on parchment paper once done.
Leave in muffin tin for 10-15 minutes to set them. Carefully remove from tin.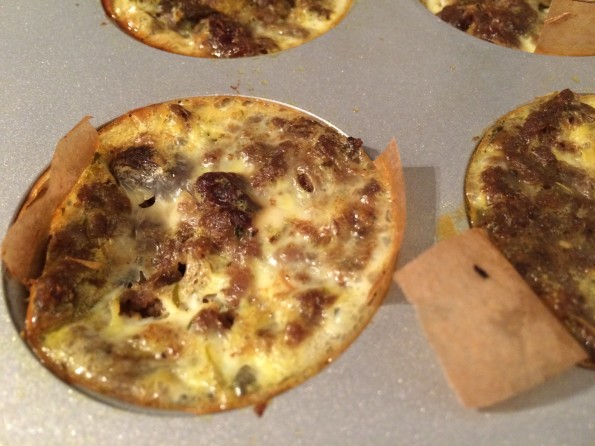 Baking your pastry:-
Oven should stay on 180'C.
Divide pastry in to two equal parts. Roll each of them in to 2 even size rectangles 3-4mm thick, cut out 24 circles with a pastry cutter and from another rolled sheet- another 24 circles with the same cutter, and then, with a smaller cutter, cut those circles again to make rings.
Put the circles on the tray, lightly brush with egg glaze put the pastry ring on top and egg brush gently and lightly again the top of it. Proceed with the rest 23. Bake for 10-15 mins. until puffed up and golden brown.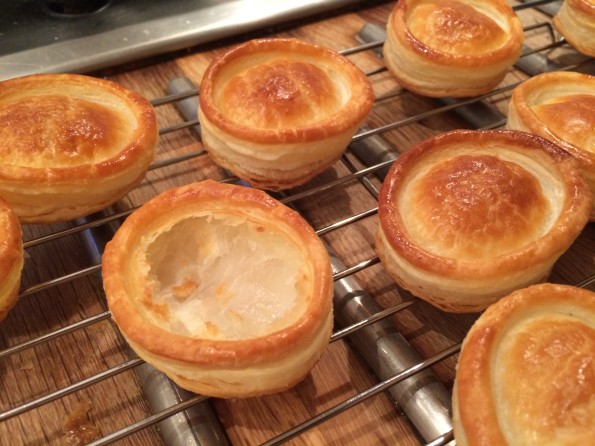 Bake the small left over circles separately for the 'caps' as a decoration.
Transfer to a wire rack to cool.
When done cooling, carefully remove central piece of pastry from each one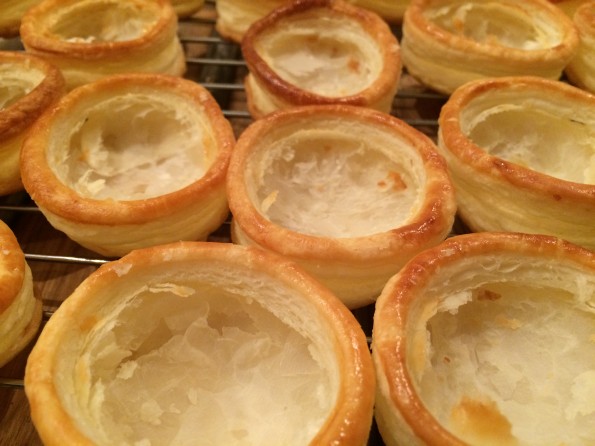 Assembly:-
Once the Boboties have been removed from tins, continue to trim the edges to a size and fit into your vol au vent casing, dress each vol au vents with 1/4 teaspoon of the the chutney, a thin slice of banana and a coriander leave.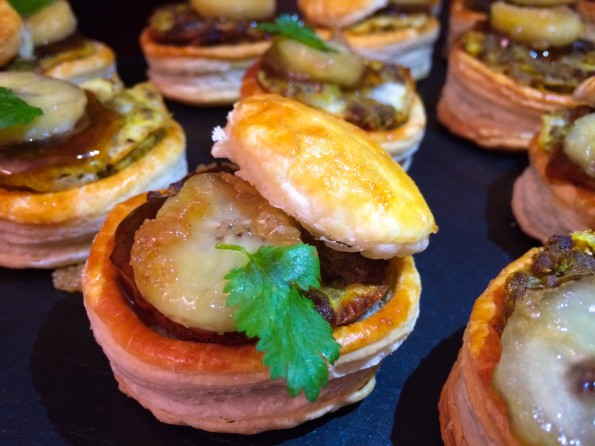 Enjoy hot or cold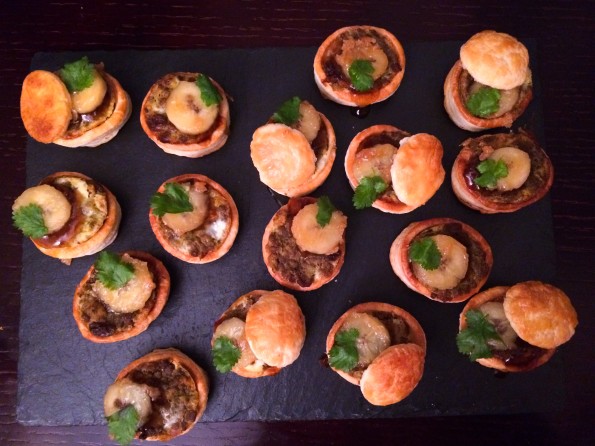 As a canapé or a starter for any dinner/lunch table 🙂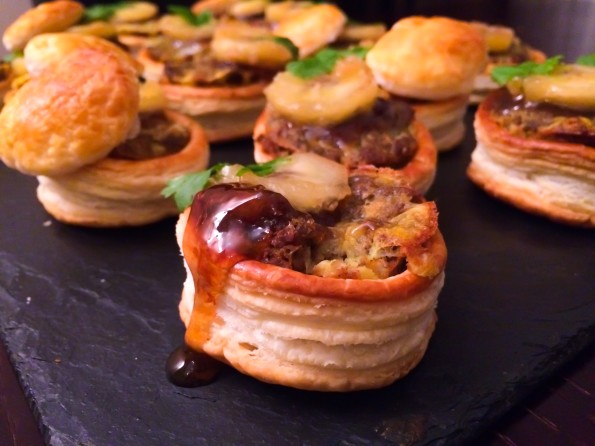 91
0
0
Please share