Salmon, Goats Cheese and Asparagus Soufflé Tart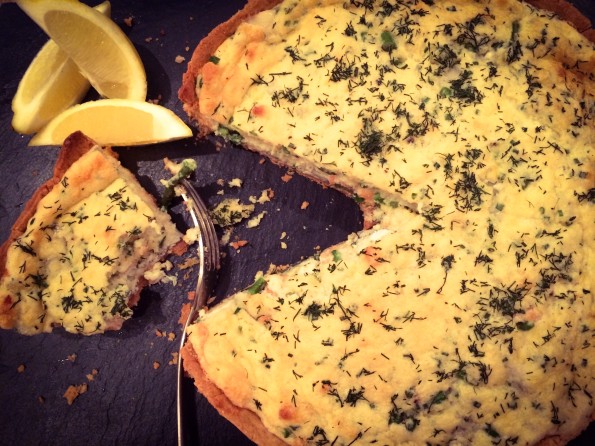 This is a more sophisticated 'quiche' as such, I call it a Soufflé Tart as it is much lighter than a standard quiche.
The Soufflé base gives it a nice lightness and it is delightfully rippled with Wild Smoked Salmon slices, good quality Goats cheese, organic Baby Asparagus with hints of fresh dill and chive.  Remember that the flavour of your Tart will depend on the quality of your ingredients so try to source the best ingredients which you can afford.  You can experiment with the ingredients e.g. replace the Goats cheese with Feta Cheese or the Salmon for Smoked Mackerel.  It makes for a fantastic mid-week dinner served with a fresh watercress salad or you can opt to serve it cold on a picnic with a squeeze of lemon juice.
Do give this a try – especially if you love smoked salmon like I do!
~~~~~
INGREDIENTS:
Block of short crust pastry (you can make your self, please see HERE)or shop bought will do as well.
150g wild smoked salmon
150g good quality crumbly goats cheese
120g baby asparagus
Handful chives(finely chopped)
50g plain flour
50g butter
300ml full fat milk
3 large eggs(separated)
zest of 1 lemon
1tbsp finely chopped fresh dill
salt and pepper to taste
METHOD:
Heat oven to 200C/180C fan/gas 6. Roll out the pastry on a flour-dusted surface and use to line a 22cm tart tin, leaving the excess pastry overhanging the edge. Line with baking parchment and baking beans, and bake blind for 15 mins. Remove the paper and bake for 10 mins more.
Meanwhile, make the filling: put the butter, flour and milk in a pan. Heat, stirring all the time, until it makes a very thick, smooth sauce. Stir in the egg yolks, lemon zest, chives and seasoning. remove from the heat.
Beat the egg whites in a clean bowl with an electric hand whisk until soft peaks form, then fold carefully into the sauce.
Cut the salmon in to small pieces, cut baby asparagus in to small around 1cm chunks. Arrange half of the fish and asparagus over the base of the tart together with half nicely crumbled goat's cheese. Spoon over half of the soufflé sauce, then arrange the remaining salmon, asparagus and cheese on top with some black pepper. Spoon the remaining soufflé mix on the top, even nicely and scatter finely chopped dill over the top.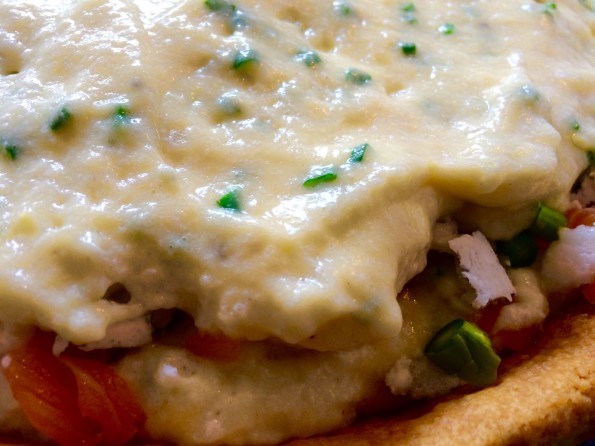 Bake for 25-30 mins until puffed up and golden. Take out of the oven, trim the pastry edges. Serve with a slice of lemon and salad of your choice.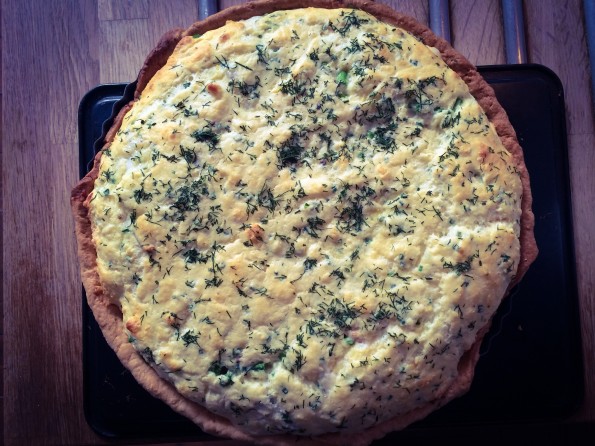 Taste great still warm, or can be transported in the tin cut in to slices for a lovely picnic snack 🙂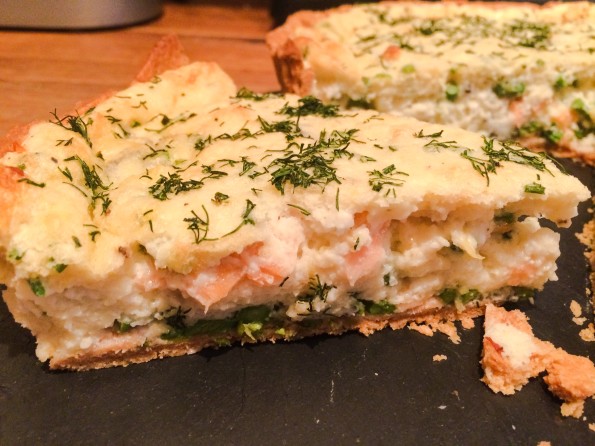 Nice, fluffy and light texture perfect with glass of chilled crisp white wine…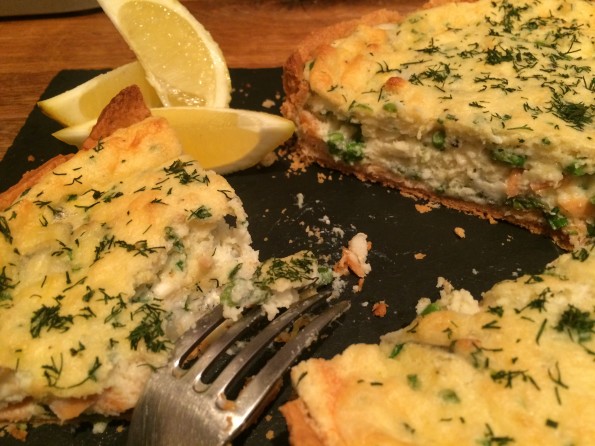 13
0
1
Please share