Cardamon, Rosemary Plum Frangipane Tart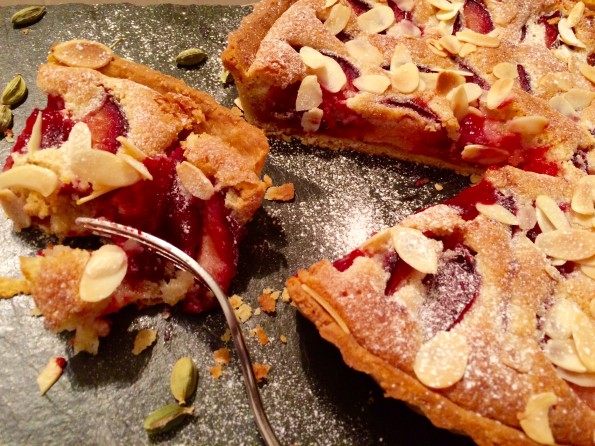 When you have Rosemary bush growing in your garden, it is a shame to put it in use… It's been bugging me to bake something with this beautifully fragrant herb.
I had a punnet of nice and juicy Damson variety plums( which are actually perfect for tart making) in the fridge, and came up with an idea of a tart..not just ordinary tart- Frangipane Plum tart.. lovely golden brown short crust pastry shell, filled with deliciously smooth and fragrant cardamon infused almond cream and topped with lovely rosemary and brown sugar grilled plums. Absolute bliss 🙂
Please try this, as this tart is perfect during fruit season…
~~~~~~
INGREDIENTS:
Short Crust pastry
250g Plain flour
125g cold butter
pinch of salt
100g powdered sugar
4tbsp cold water
2 egg yolks
Almond Cream
100g Room temperature butter
100g Powdered sugar
100g ground almonds
10g Cornstarch
1tbsp Calvados
6 pods of cardamon
Around 10 plums cut in thirds
150g soft demerara sugar
100g honey
3 springs of rosemary,
1 star anise
METHOD:
Firstly prepare your short, sift the flour, salt (and if using powdered sugar) in a large bowl. Add very cold butter diced in to small cubes. and rub them between your fingers and palms of the hands until it resembles fine breadcrumb texture. Now it is time to add your liquids- beaten egg yolks and water. Bring everything together gently, and please please don't start kneading or working hard the dough as it will loose it texture and become very brittle and crumbly when baked. So there you go- one of the main tips- gentle handling and not overworking!!!. Shape the ball, wrap it in cling film, pat it to make it thinner and place it in the fridge for at least an hour to rest.
Slightly flour the surface, and roll out the circle bigger that your tin. I usually tend to aim for 2-3mm thickness. Stack nicely in the tin by transferring the dough overt he rolling pin and packing it in the corners and around the edges. I like to do it with a piece of dough, so bare fingers wouldn't damage or tear the shell.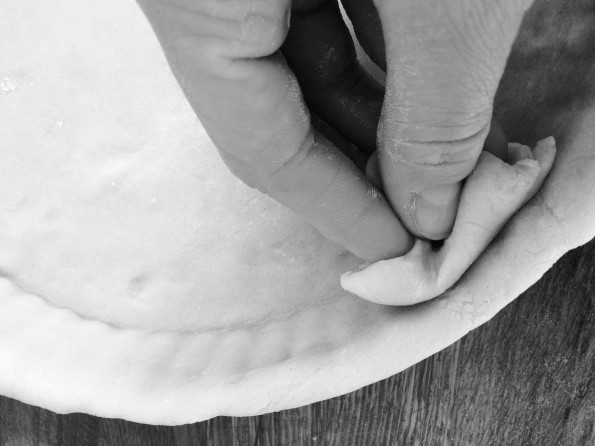 Leave some access dough hanging overt he edges of the tin and place it back in the fridge for 30min to an hour.
When you are ready to bake it, prick the base with a fork, that will let the air escape, and stop from bubbling. With the rolling pin roll off over the top of the tin to take away access dough. neatly press the edges again to slightly go over the top as it shrinks when bakes.
Place crunched up parchment paper with baking beans in it and bake in the
180'C Oven for 20min
Now, move on to plum preparation. cut them in half, de stone, and then cut each half in to 3 pieces. Place in the oven safe dish, scatter sugar, honey rosemary springs and anise over them. Toss around to cover well.
Now, the tart shell is baked, take it out and increase oven temperature to 200'C. Remove the beans out and let the shell cool completely.
Place the dish with plums in the oven and roast them for 20 minutes. After they done, place the strainer over small saucepan and put plums in it for the juices to run off. remove rosemary and star anise and put them in the pot with juices. Now place over a medium heat and boil to reuse and caramelise. With a pastry brush, spread over the cooled pastry shell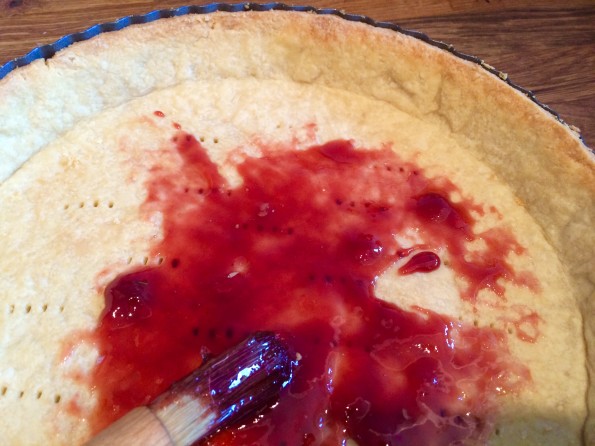 To prepare Almond Cream, place soft room temperature butter on the mixer bowl, add the rest of the ingredients and beat well until nice and fluffy. Spread over the 'jammed' up pastry shell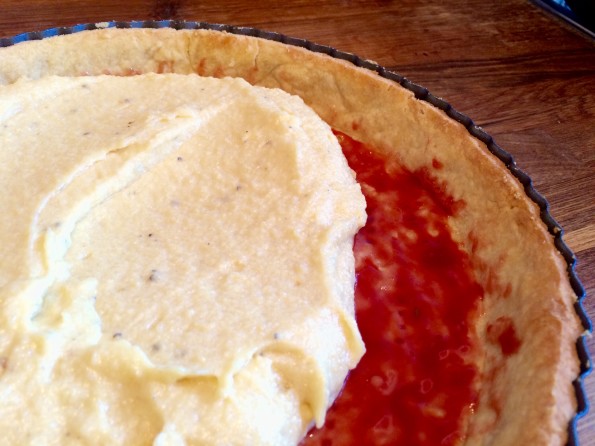 Spread it evenly and fan around the plums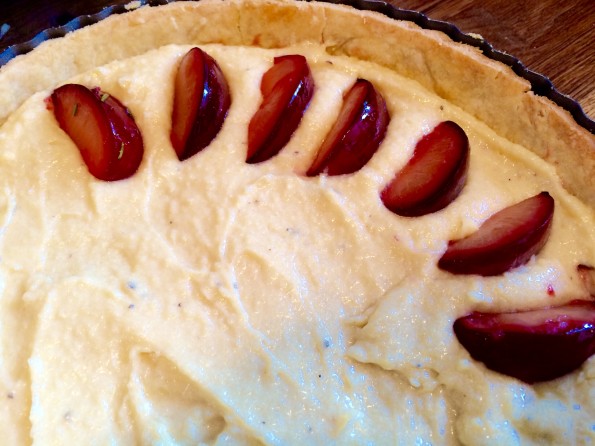 When all nicely packed, place it in the oven and bake in the same 180'C for 30 minutes. Take the tart out, scatter flaked almonds and place back in the oven for another 10 minutes until it's nicely fully baked.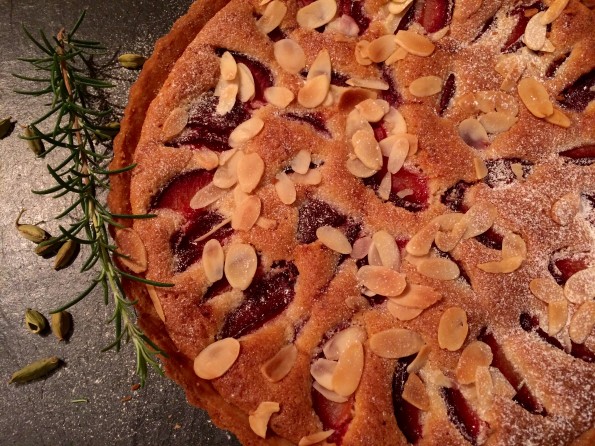 Take out of the oven, let it cool slightly and dust with powdered sugar.
Enjoy… because I certainly have.. the aroma of the herbs and spices really livened this seems rather simple tart…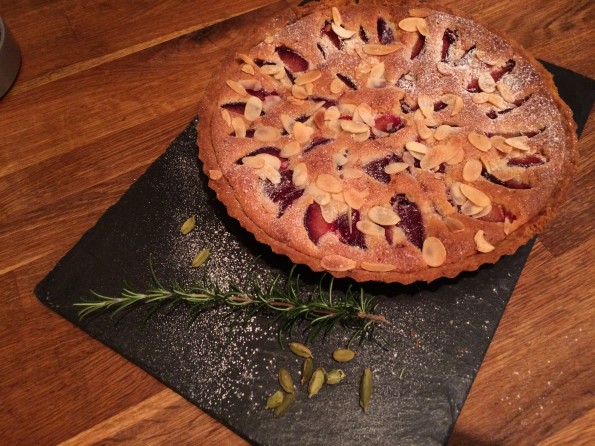 Voila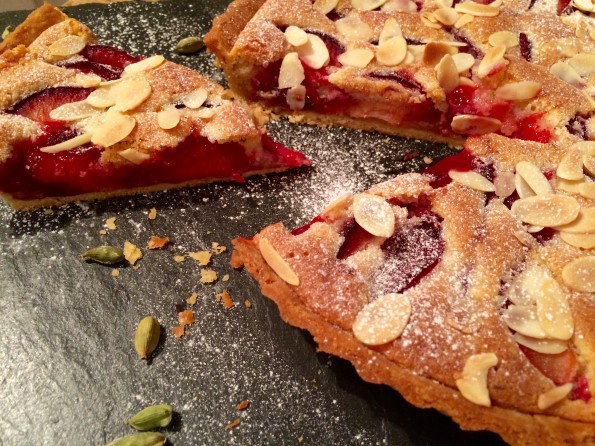 0
0
6
Please share