Coloured White chocolate and Peanut Butter Cups
Makes around 16 cups (depending on the size)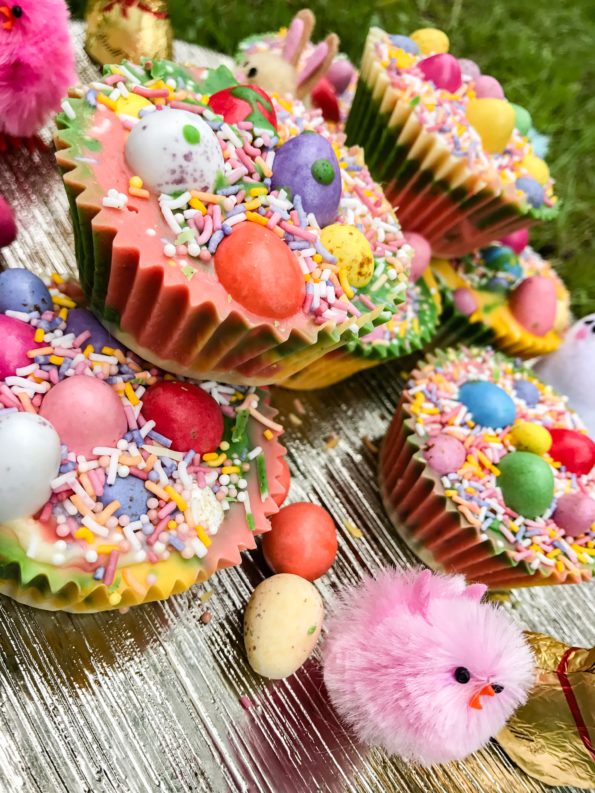 We all love chocolate during any festivity- be it birthday, Easter, christening or Christmas. In this case, why not to combine two perfectly matched combos- chocolate and peanut butter? Creamy and sweet Meridian Foods peanut butter filled in colourful white chocolate shells and decorated with all sorts of colourful goodies 😃 I must say- it is good entertainment for kids to get involved, let their imagination run wild decorating those cups.
If you wish to make them for any other occasion, but Easter- more than welcome to keep chocolate uncoloured, or use dark/milk chocolate instead 🙂 or still colour and still use sprinkles
So, let's get cracking
~~~~~
INGREDIENTS
Peanut butter filling
120g Macadamia nuts (soaked in warm water for an hour)
85g soft Medjool dates
Blend the above in the food processor until smooth. Around 2-3 minutes. Scrape the sides of the bowl occasionally to incorporate well.
170g Meridian smooth peanut butter
25g Coconut Merchant coconut butter
4tbsp Meridian maple syrup
9tbsp plant based milk, like Alpro
Add the above ingredients to date and nut mix and blend well until smooth. If you notice that the mix is rather thick, add another table spoon of milk.
Chocolate cups and decoration
400g white chocolate (I used Lindt)
100g cocoa butter
Mix white chocolate and cocoa butter in a heat proof bowl and melt in the microwave on a high setting mixing it every 30 seconds to melt evenly. When done, set aside for 10 minutes or so to cool down slightly before adding colouring.
Divide chocolate In separate bowls and pour some food colouring in each batch ( I chose yellow, green and red)
Get yourself all sorts of mini chocolate eggs, sprinkles or other colourful sweeties to decorate. Or opt for nuts and dried fruit and berries for healthier option.
Now line the cupcake tray with paper cases, using teaspoons add different colours of chocolate on the bottom of the cup, then put some peanut butter filling in and top up with more chocolate.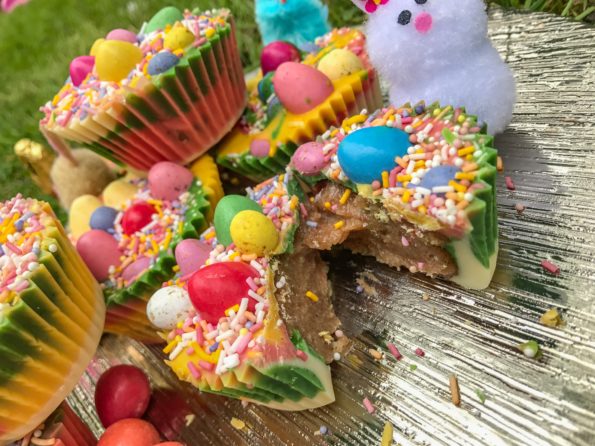 Decorate as desired.
Refrigerate at east for an hour before removing from cases and serving.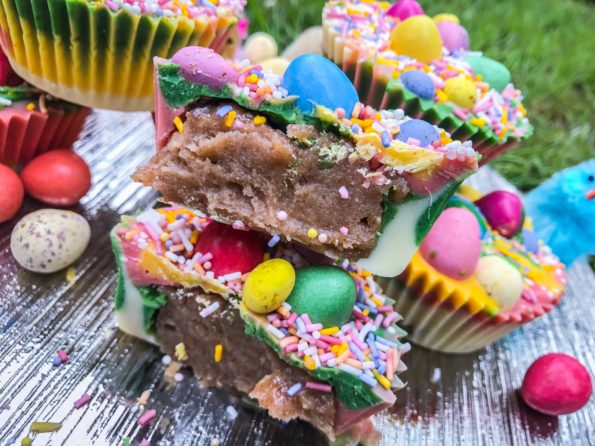 0
0
0
Please share