Madeleines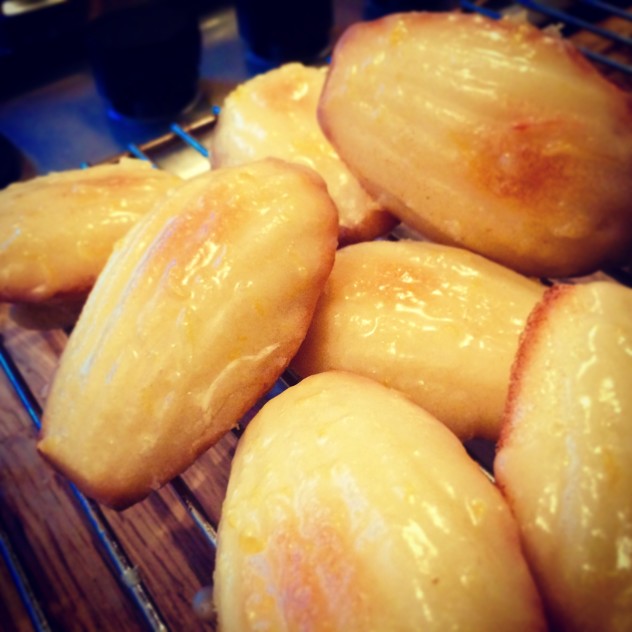 I've found this fantastic recipe from the Laduree "Sucre" book. What a beautiful book! The Madeleines came out golden brown around all the edges, slight crispy on the outside, soft and warm on the inside with a hint of lemon. I love that everything is done by hand in this recipe… no stand mixers, no electric beaters, all you need is a metal bowl and whisk!
You can as well glaze them with lemon/sugar glaze to give bit more zing 🙂
~~~~~~~~
Makes around 40 Madeleines
INGREDIENTS
Zest of 2 lemons
160g granulated sugar
175g all purpose flour
10g baking powder
180g melted butter, cooled to room temperature
4 eggs, at room temperature
35 grams honey
Glaze
150g powdered sugar
2 tablespoon freshly-squeezed lemon juice
2 tablespoons water
METHOD
In a medium-size mixing bowl, sift together flour and baking powder. Set aside for later use. In a large mixing bowl, rub lemon zest with sugar between fingers until fragrant. The sugar will turn a pale yellow colour.
Add eggs and honey to sugar mixture. Whisk by hand until combined. Add flour mixture all at once. Whisk until smooth. Finally, add cooled melted butter. Stir until combined. The batter will be silky and quite runny. Cover with plastic film and refrigerate at least 12 hours.
Remove batter from refrigerator when it has chilled for at least 12 hours.
Preheat oven to 200°C.
If using tin moulds, brush the insides of the shells with melted butter, making sure that all the nooks and crannies are covered. Dust with flour and tap out excess. If using silicone moulds, skip this step.
Spoon batter into Madeleine moulds (fill the 3/4 of each shell) and bake for 9-11 minutes until golden brown. While they are baking, make a glaze in a small mixing bowl by stirring together the powdered sugar, lemon juice, and water until smooth. Take Madeleines from oven,cool on wire rack and unmould once cool enough to handle.
The moment they're cool enough to handle, dip each in the glaze, turning them over to make sure both sides are coated and scrape off any excess with a dull knife. After dipping, rest them on the cooking rack, scalloped side up, until cool and the glaze has firmed up.
Beautiful eaten same day with cup of Earl Grey or cup of coffee for afternoon boost.
Enjoy
0
0
1
Please share