Malted White Chocolate and Orange Cake Soaked in Calvados
Can make it as a dairy free with substitute products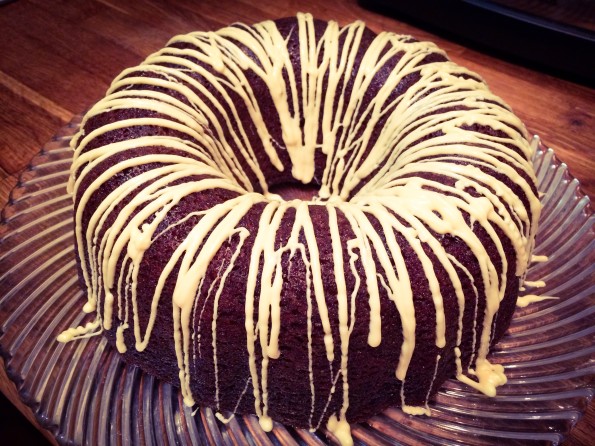 After a few tiresome and at times stressful weeks, I was searching for some inspiration to do something a little bit different yet simple over the past weekend.  Looking through my pantry for ingredients I could use, half a bottle of very fine Calvados struck my eye.  The rest is history as I simply had to come up with something which I could use that in and the next thought which came to mind was aaaaahhhh ,  'Baba au Rhum' (even though I was going to do Calvados instead) – so here it is my 'Baba au Rhum' inspired cake.
The North American Bakers also do what they call 'Monkey Bread/Cake' in a similar style yet they prefer to play around with all kinds of caramel / fudge / and brownie based sponges instead of a light fluffy sponge as is in my recipe. I used a Bundt tin for the bake as I felt it would give a nicer aesthetic to the bake and easier for soaking purposes.  Many people think the 'Bundt tin' originated from Europe, yet it is indeed the Americans were the first to Bake with the Bundt tin during the 1950s and 60s, after cookware manufacturer, 'Nordic Ware' trademarked the name "Bundt" and began producing Bundt pans in the US.  The original recipe 'Bundt cake'  derives in part from a European brioche-like cake called "Gugelhupf" which was particularly popular among Jewish communities in parts of Germany, Austria, Poland and the Czech Republic during the time of the Second World War.
As mentioned I started my cake with a 'blank canvas', which I usually do as I prefer to 'build ' the recipes myself out of the knowledge I have acquired over the years – yes, using a recipe book is good at times, but I rather create than follow trend.  So without further ado, I give you my Malted White Chocolate and Orange Cake with Calvados.  This is a superb and light Calvados-syrup  soaked sponge, its absolutely deliciously moreish a real must try!  What makes this unique is the use of Barley Malt Extract not just as a sweetener, but also for its distinctive flavour it gives to the cake!  Without the Barley Malt Extract the sponge would not have that deep/rich flavour.  I used Meridian's Barley Malt Extract which is superior in its quality to other brands I have come across, but as long as you use Barley Malt Extract you should get a great bake out of this recipe.  This is not a recipe to rush as even though it looks simple to the eye it does take some time and the temperature of the sponge when soaking is of the utmost importance, so do take your time as it will be worth it. It can be made dairy free as well.
Shall we start and get those ingredients ready?
INGREDIENTS:
Cake
225g Butter ( you can use Vegetable spread alternative like Trex or Pure)
160g Soft light brown cane sugar
3 large heaped tbsp Barley Malt Extract (I used Meridian)
4 large eggs
1 large orange zest and juice
180g good quality white chocolate with vanilla seeds(melted)
2 tsp bicarb soda (if making dairy free version- use baking powder instead)
190g fat free greek youghurt( or soy/almond yoghurt alternative)
290g plain flour
100g white chocolate(melted) and 1 tsp of Calvados for decorative piping on top
Calvados Butter Sauce
100g butter( or again substitute)
60ml water
150g soft light brown sugar
100ml calvados
METHOD:
Lets start with pre heating the oven to 180'C and thoroughly greasing and flouring the tin for cake to come out easier. Set aside.
In the stand mixer, beat well butter, sugar and malt extract until light and fluffy. I tend to give it at least 10 minutes for properly aerate the butter, that indeed makes the sponge lighter in texture. Scrape the sides of the mixer couple of times during the process.
Lightly beat the eggs in the separate bowl, and add little bit by little in to the butter mixture beating for a minute or two in between each addition. Add the zest and juice of an orange, yoghurt and melted chocolate, beat for a minute to incorporate.
Sift the flour and soda(baking powder) in the separate bowl.
Remove butter mix from the stand mixer, add your sifted flour and baking soda(powder) and very gently fold in the batter. Transfer it in to your buttered and floured tin, and bake for 40-45min or until toothpick comes out clean.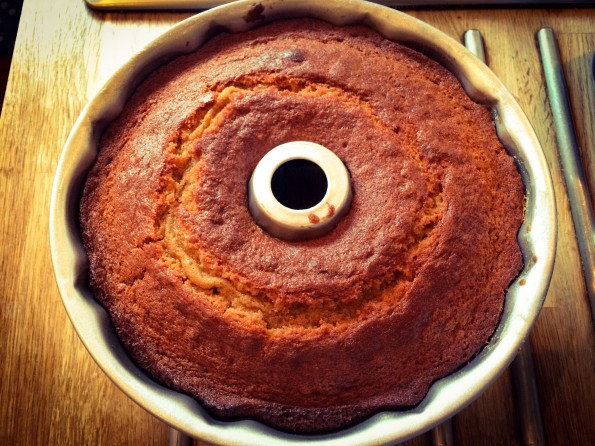 Whilst your cake is nearly done baking, prepare your butter Calvados soak by adding sugar, water and butter in to a small saucepan and bring it to the boil. Leave it to simmer on a low heat for at least 5 minutes and until sugar is dissolved completely. Remove from the heat, add your Calvados (be careful as it starts bubble again as you do) and whisk well with a whisk. Set aside.
Take the cake out the oven, keep it to stand for 10 minutes, then prick the top with a skewer or tooth pick and gently brush half of the syrup over the top and let it soak in properly before removing from the tin.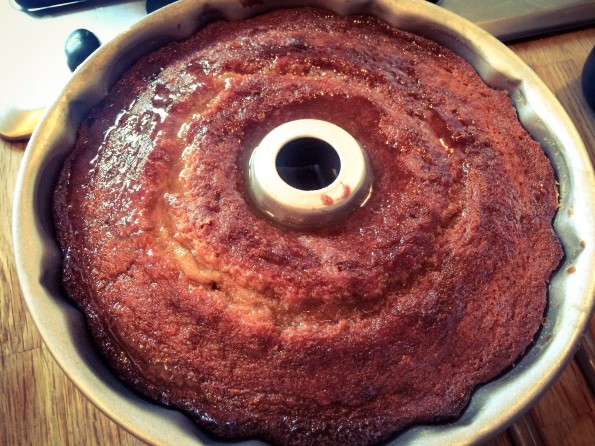 After 10-15 minutes, tip it out on to a serving plate and brush left over syrup gradually all over the top letting it soak in between additions.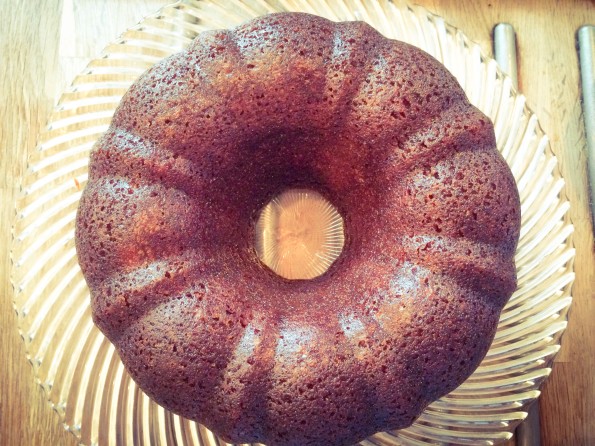 Don't worry if some syrup will run down the plate, it will be absorbed eventually whilst the cake is cooling down.
Now, when cake completely cooled, melt your remaining chocolate in bain marie, take it off the pot, mix in Calvados and let it cool to room temperature before piping (or just drizzling over with the spoon) over the cake…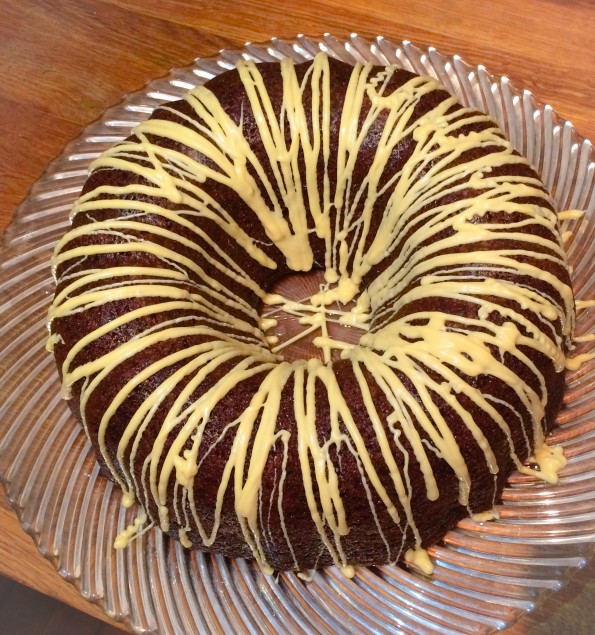 Enjoy!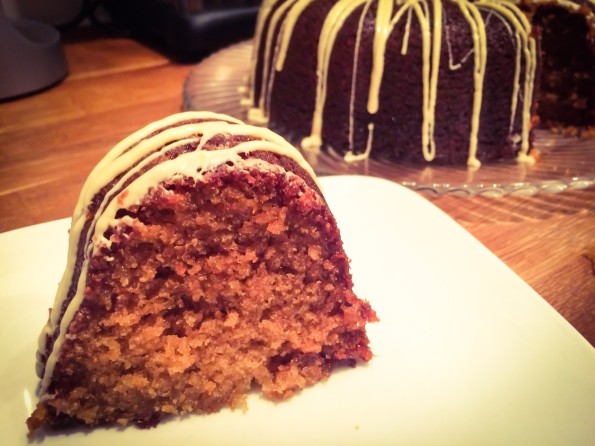 This soft and melt in the mouth delightful cake with nice cuppa 🙂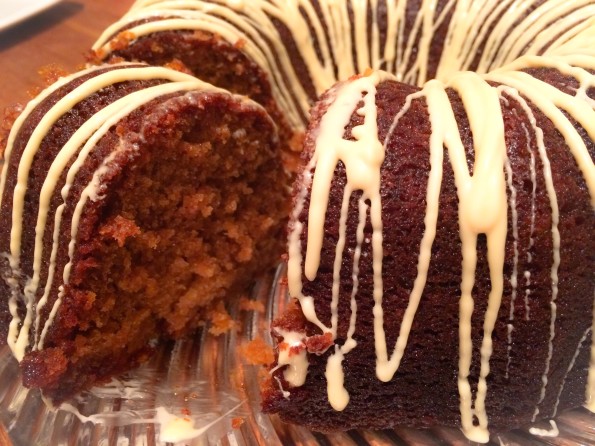 P.S. Might not be suitable for children as it is rather boozy 😛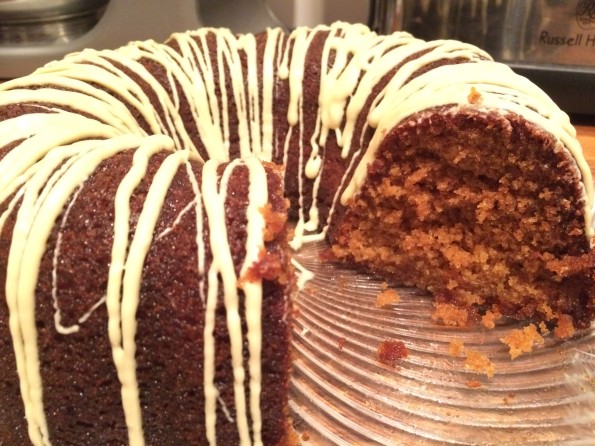 0
0
3
Please share