Nutty Calvados Apple Strudel
                                                      (refined sugar free, reduced fat)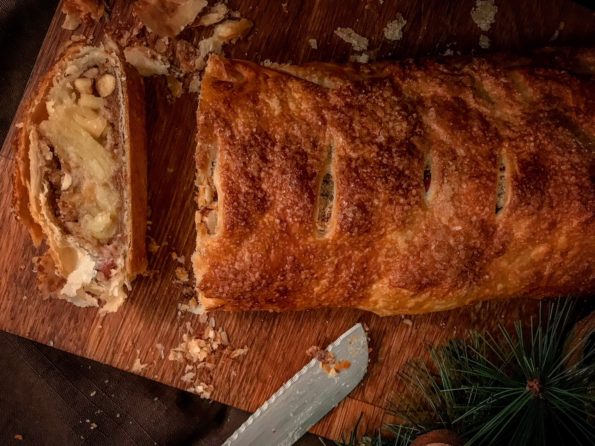 Now that Christmas is coming I've gone all creative in festive baking. This is one of the easy and quick alternatives to festive puddings on a Boxing day or maybe even Christmas day. I must admit, as most of us has enough things to do on the day, the least thing we want is to sit in the kitchen with sometimes so time consuming desserts after big meal. So here, I give you recipe for a cheats strudel.. why cheats? Because it is made with shop bought pastry (to make it lighter i opted for Light puff pastry, which contains less butter)
This beautiful flaky pastry is filled with light filling containing no butter, which is made with ground almonds instead of bread crumbs and has coconut sugar inside it to sweeten them tangy apples. If you wish, serve it hot with custard, or even brandy cream or sauce, which can be easily found in the shop during festive season.. or you can enjoy this tasty treat on it's own just with a nice cup of coffee.
INGREDIENTS
For the filing
100g raisins
Zest of half an orange
3tbsp calvados, brandy or dark rum
2tbsp (40g) corn flour
2tsp cinnamon
120g ground almonds
80g coconut sugar or light muscovado sugar
70g chopped nuts, like pecans or walnuts
400g of apples, cored and peeled and thinly sliced (I love baking with Braeburn, they keep the shape perfectly and is just right tanginess)
Juice of half a lemon
Packet of ready rolled puff pastry (I chose light puff)
Some egg wash and more coconut sugar for brushing and sprinkling on top.
METHOD
Place your raisins and orange zest in the small bowl and pour the Calvados over them. Let soak for an hour or so.
Now, preheat the oven to 180'C and line baking tray with parchment paper and set aside.
Core and peel your apples. Like mentioned before I always choose Breaburn variety as they perfect for baking and is just right tanginess without the need to add much sugar to sweeten them up. Slice them thin slices and squeeze the lemon juice and toss around that will stop apples from browning.
Now in the second bowl mix your cornflour, ground almonds, cinnamon and chosen sugar. Add chopped nuts and set aside.
Take the bowl with apples and pour soaked raisins together with the alcohol liquid in to them. Mix well with the spoon.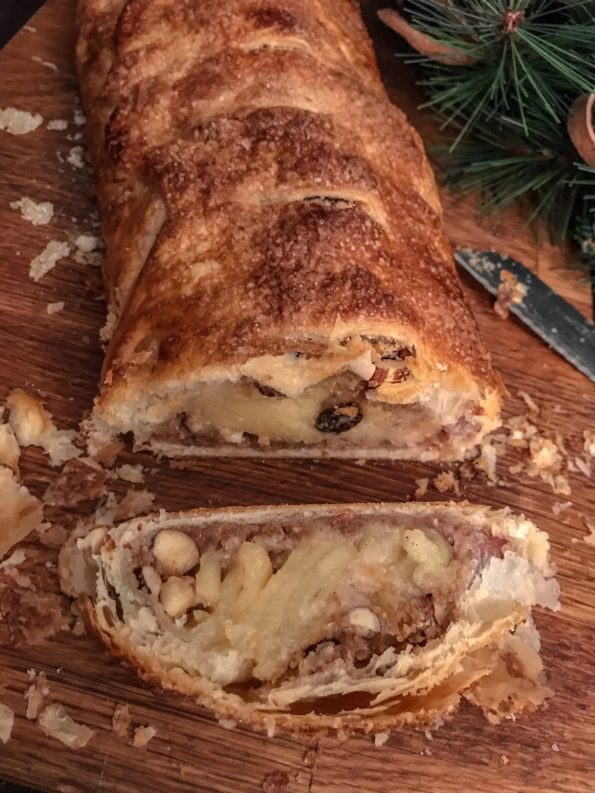 Roll out your pastry sheet, stretch it a bit. Spoon half of your nutty flour mix in the middle of the pastry sheet length wise, stack apple and raising mix over the top and spread the remaining nutty flour mix. Now stretch one side of the pastry over the top of the filling and then the other side, so the pastry sheet over lap. Press them tightly to stick together. Press the ends and tuck them under the warped strudel.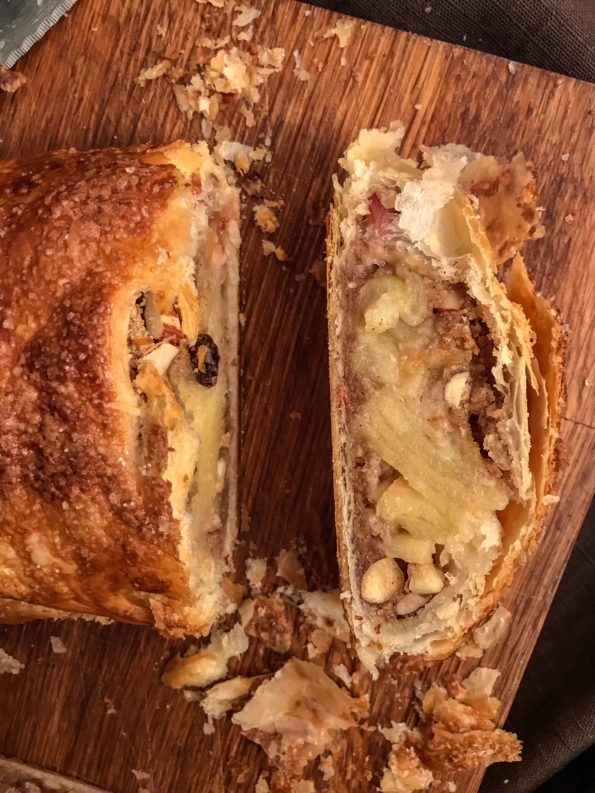 Brush the top of the strudel with beaten egg and sprinkle generously with sugar. Score with a sharp knife and pop in to preheated oven for 35-40 minutes until pastry is nicely browned and filling is baked.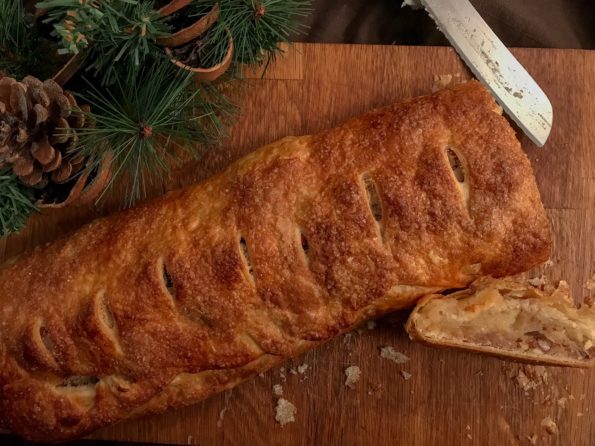 17
0
2
Please share