Nutty Chocolate Log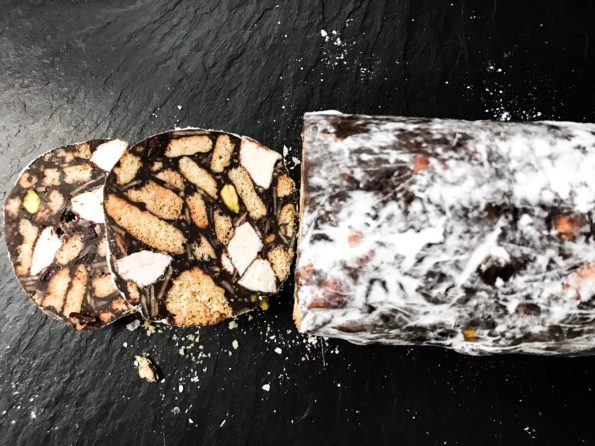 This incredibly easy to make recipe will leave you repeating it time and time again.. not because of the easiness of it, but because of how good it tastes! Creamy chocolatey and sweet log packed with crunchy digestive biscuits, sharp cranberries and nuts and cheeky hidden marshmallows.. bliss… not only for the kids, but for the sweet loving grown ups.
~~~~~
INGREDIENTS
Dry ingredients
250g digestive biscuits
150g roasted flaked almonds
50g pistachio nuts
100g dried cranberries
Handful of mini marshmallows (or cut to small pieces bigger ones)
Wet ingredients
300g condense milk
200g unsalted butter
40g Meridian Smooth peanut butter
75g cocoa powder
pinch of salt
1tsp of fine instant coffee (opt out if making as a treat for kids)
METHOD
In a large bowl crush the biscuits, add the rest of dry ingredients and set aside.
In another heat proof bowl add wet ingredients and pop them in the microwave to melt on a high setting. Give it a mix every 30 seconds until butter is melted. Now grab a hand whisk and whisk in cocoa powder, coffee and salt. Pour the mix on to biscuits and nuts and hive it a good mix with a wooden spoon until all coated.
Grab couple sheets of cling film, lay them on each other so you can wrap the log firmly. Spoon in the mixture and wrap in in cling film pressing tightly and forming a sausage look log. Tight the ends, you might need more cling film just to keep it secure and tight. Make sure to press it hard so there are no gaps left as it will not harden solid.
Place in the fridge over night, or at least 3-4 hours.
When harden, take out of cling film and coat with icing sugar.
Keep in the fridge air tight container.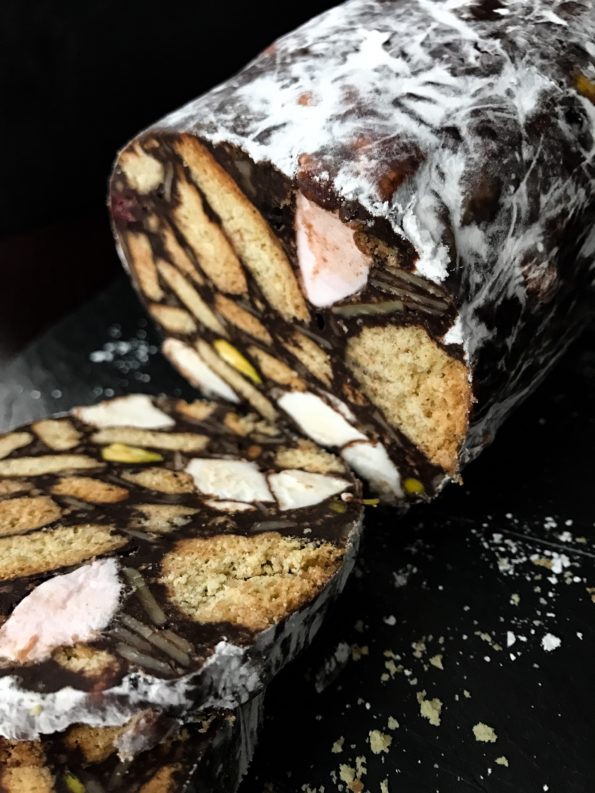 Enjoy
0
0
4
Please share