Peanut butter Popcorn and Mulberry rocky road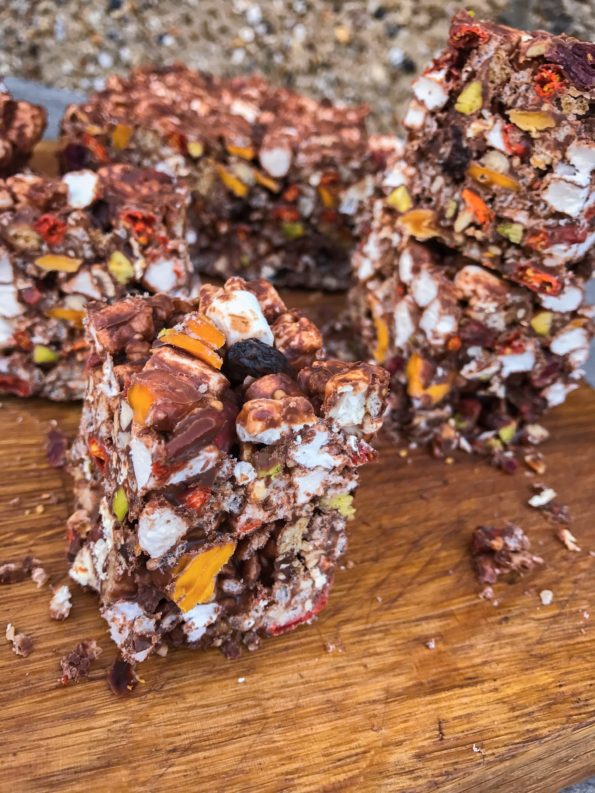 We all have one dessert which we love to whip up with minimum effort, but with a maximum flavour outcome? Here, I am sharing one amazingly easy and beautifully flavoursome rocky road recipe you will thank me for sharing the recipe.
INGREDIENTS
45g goji berries
80g dried cherries and or cranberries
70g dried mango, sliced small pieces
110g dried white mulberry
45g pistachio
55g hazelnuts
20g popcorn
2 handfuls mini marshmallows
35g rice pops
150g white chocolate
300g dark chocolate
65g coconut oil, melted, I used Coconut Merchant
150g Meridian crunchy peanut butter
2tbsp Meridian maple syrup
~~~~~
METHOD
Start by lining around 30x12cm size, or similar bread tin with cling film.
In one medium sized heat proof bowls add your white chocolate together with coconut oil and melt over the ban marie or in the microwave on the high heat, mixing it every 30 seconds to melt evenly.
In another medium bowl do the same with dark chocolate and maple syrup. Add the peanut butter on the last heating burst to soften it up a bit. Set both bowls aside.
Now take the largest bow you have, as we wouldn't want to make a mess mixing it would we? Place all of the dry ingredients, mix them through with a wooden spoon. Grab melted dark chocolate with peanut butter, pour over the dry ingredients and mix to coat well. Now add white chocolate and mix all again.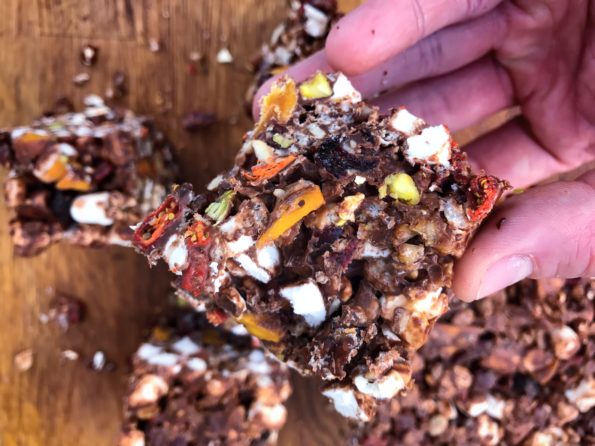 Transfer rocky road mix in to the prepared tin, place sheet of parchment paper or cling film over the top and press well with a palm of your hand to compress the mix for it to stich well together and not break when set and cut. Now place the tin in the fridge for t least couple hours, preferably overnight.
Cut in to squares or bars of the size you desire 🙂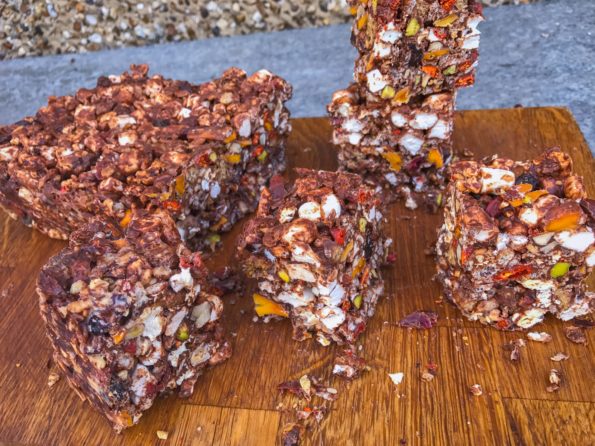 0
0
1
Please share