Chocolate Fondant
(with Raspberry cooley, or scoop of vanilla ice cream)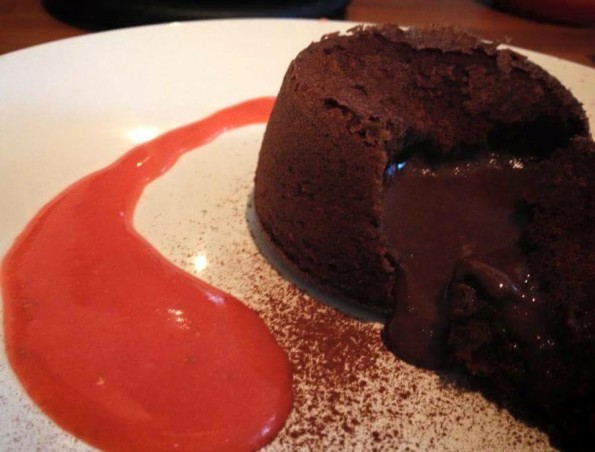 ~~~~~~
INGREDIENTS:
130g plain chocolate (at least 70% cocoa solids), broken into pieces
130g unsalted butter, plus extra for greasing
4 large free-range eggs
75g caster sugar
50g self-raising flour, extra for dusting
1 heaped tbsp cocoa powder, extra for dusting
METHOD:
Melt the chocolate and butter together in a heatproof bowl placed over a saucepan of gently simmering water. Stir until combined then leave to cool.
Preheat oven to 180C (350F) and lightly butter and flour 6 x 200ml pudding basins. Whisk the eggs and sugar together until light and pale and doubled in volume. Fold the egg mixture into the cooled chocolate.
Sift in the flour and cocoa then fold until combined. Spoon the chocolate mixture into the prepared pudding basins and bake for 6-7 minutes until risen. Take care not to overcook these light chocolate puddings – the centres should ooze when cut into. Loosen the puddings with a knife and carefully turn out. Dust with cocoa powder and serve with whipped cream, or, if using- raspberry cooley.
Enjoy 🙂
0
0
2
Please share