Sage, Apple and Raspberry Frangipane
(Gluten free, Dairy free)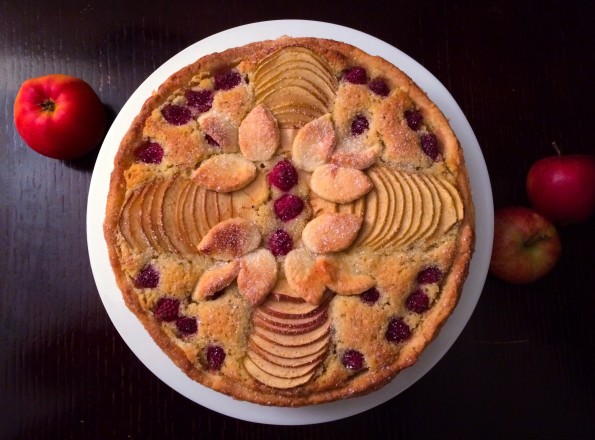 I had some left over gluten free almond short crust pastry sitting lonely in the fridge, so I thought to myself, why not to make something nice and fragrantly fruity for this Easter Afternoon. I ran my eyes through the fridge, and on the bottom shelf there was a punnet of juicy and sweet raspberries. So, I took those out, grabbed couple of braeburn apples from the fruit basket and an idea of adding some fragrant sage popped in to my head, and to be honest, it work extremely well with apple and raspberries.
So, go ahead and make yourself this beautiful frangipane, you do not need many ingredients which can be found in most kitchen cupboards.
INGREDIENTS
Gluten free almond short crust
175g Gluten free flour
1tsp Xanthan gum
65g Ground almonds
100g Dairy free spread (like Pure or Trex, cold)
55g Icing sugar
2 Large egg yolks (lightly beaten)
1tsp vanilla extract or paste
Almond cream
120g Dairy free spread (room temperature)
120g Unrefined golden Caster Sugar
2 Eggs
1 Egg yolk
55g Gluten free self raising flour
155g Ground almonds
2 tbsp finely chopped fresh sage leaves ( can use dried too, but then should add 1tbsp)
2 medium sized apples (I find Braeburn variety bakes very well) cut in half, seeds removed
Raspberries (quantity really depends on how much you want to put in the tart)
Some icing sugar for dusting after baking
METHOD
For this tart I used 23cm tart tin.
Firstly let's prepare our pastry. For this I used food processor as do not want to work it with fingers as vegetable spread is not as solid as butter. But if not using food processor, can work the dough with the knife by cutting the spread in to the flour to keep it cool as possible.
Place the gluten free flour and Xanthan gum in the food processor or large bowl if using it. Place the spread in small pieces and cut with knife or rub using finger tips to create breadcrumbs like consistency. If using food processor, gently pulse to 'breadcrumb' the mix. Now add icing sugar, ground almonds, egg yolks and vanilla. Pulse again until the ingredients will mix and the pastry will come together and form the soft dough. If not using food processor, mix everything using a palette knife. And if you find it hard, can gently mix the dough using your fingers.
Place the dough in the plastic freezer bag , or wrap in the cling film, flatten little bit with a palm of your hand for it to chill quicker and place in the fridge for at least 2 hours or freezer for 30 min if want use it quick. Ideally would be to prepare the dough day before and let it rest in the fridge over night.
Take the dough out of the fridge/freezer, unwrap and place on the lightly floured sheet of cling film, dust with some flour and place other sheet of cling film on top (i find it easier to work it like that). Roll out around 3mm thickness and slightly larger sheet than your tart tin for it to cover the sides too. Take off top sheet of cling film and lifting the dough with the bottom sheet still in place, turn it food wrap up in the tart in. Press gently the corners and sides to line the tin evenly, take away the cling film. Cut off left over dough leaving the sides slightly over hanging the top. Collect leftovers and put back in the fridge, you can use it to cut out some leaves or other shapes to decorate the top of the tart. This, ofcourse is not necessary. Prick the base with a fork and place the tin in the fridge to rest for 30 minutes. While the dough is chilling preheat the oven to 190'C.
Take the tin out, place parchment paper on top, pour baking beans in it and pop in the oven for 20 minutes to bake it. Take it out, remove beans and let it cool completely. Leave the oven on 190'C setting.
Now prepare your almond cream.
Measure sugar and spread in the bowl and mix with a mixer until creamy and fluffy. Add the eggs and the yolk one at a time, beating well after each addition until they all are well incorporated. Now take a spatula and gently fold in flour and ground almonds together with chopped sage.
Transfer the almond cream in the tart case, spread evenly.
Cut halved apples into thin slices and arrange a X like shape on the almond cream. Arrange the raspberries and if you want some cut out decorative leaves from left over pastry.
Put in the oven and bake for around 60minutes until all cooked through. If you think that apples or edges start to brown too much- cover the top with the foil.
After it's done, take out of the oven, and place on a wire rack to cool completely before removing from the tin.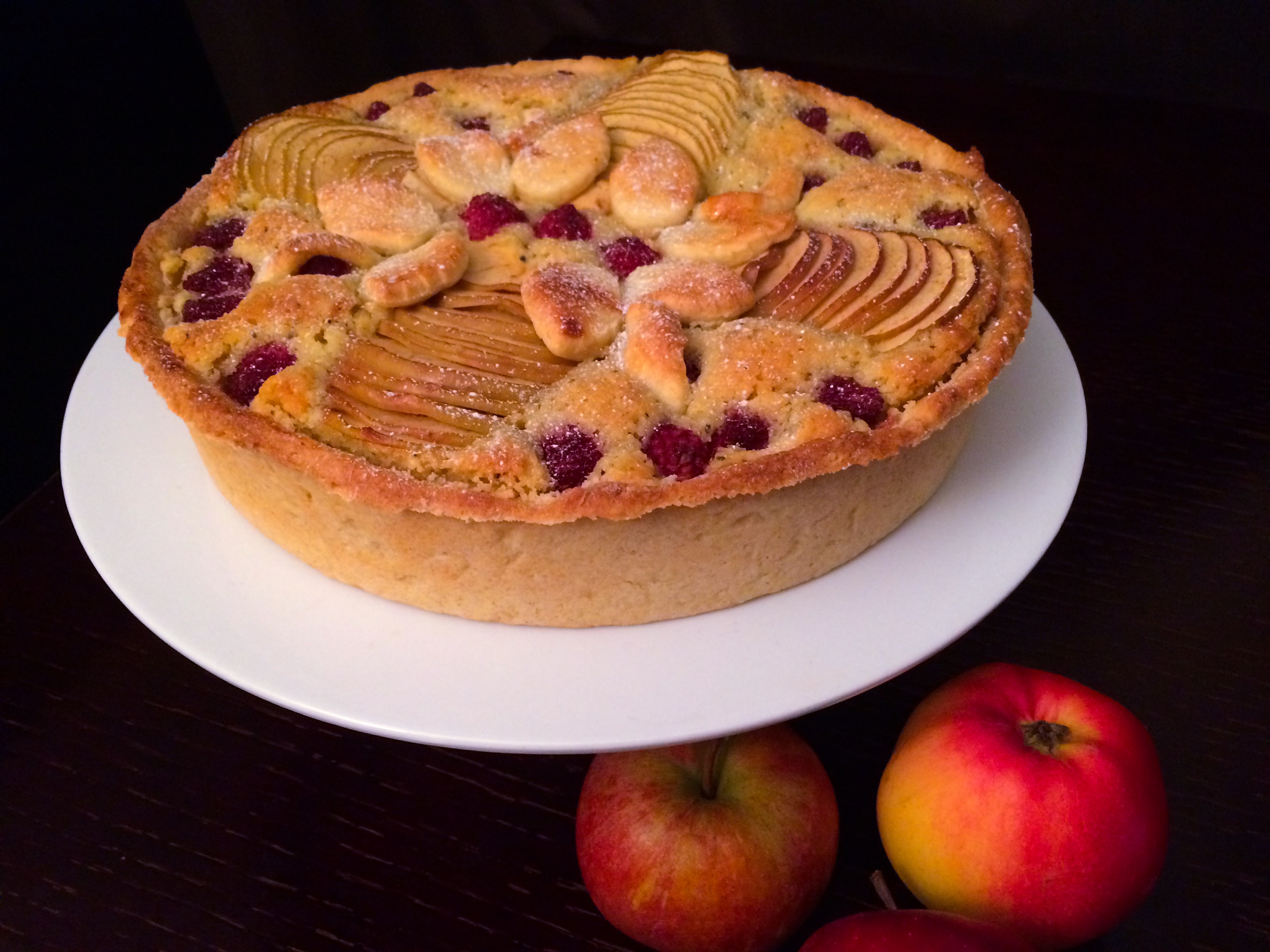 Dust with icing sugar before serving.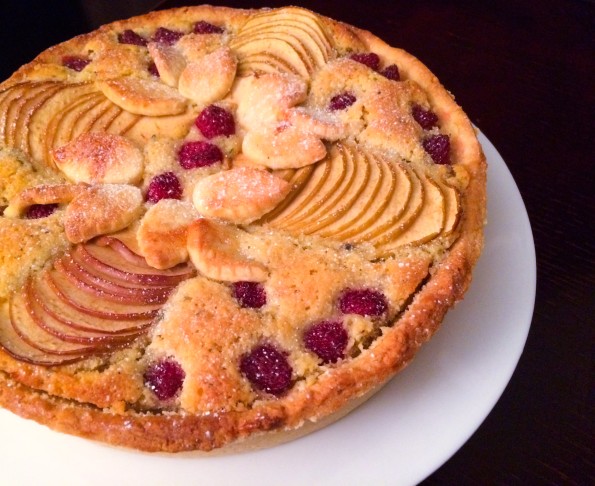 0
0
2
Please share