Bread Week
Morning All,
Just though I'd give you a few thoughts of my own on last night's episode (episode 3) of GBBO – Bread week.
The remit this week started with making a 'Quick Bread'.   The quick bread method has an interesting history and originated in the United States.  Chemically produced carbon dioxide was introduced as a leavening agent for baked goods less than 200 years ago. In 1846, Austin Church and John Dwight created the first commercial baking soda in New York City and in 1856, a Harvard University professor received a United States patent on a baking powder. During the Civil War in the USA, quick breads became more popular than ever. Women who used to be at home all day to tend a rising loaf were suddenly given many new duties away from home. They needed bread that would be ready in a hurry and so the quick bread was born! Interesting facts about the quick bread are no yeast are ever used, there is no proving, no kneading, no tin…all that magic happens once you put it in the oven.
For my version, I once again went against the grain (cause that is the UgneBakes way – I like to challenge senses and make people think a bit more about baking as we know it) and opted for a 'sweet bread' (not to be confused with Veal Sweetbreads which I do actually rather love too).  For my Chocolate/Pecan Quick bread with Salted Caramel I opted to use both baking powder and baking soda as leavening (raising agents) as it gives a much greater rise in the bake and I find it makes the texture fluffier (clever stuff) – the norm would be to only use one leavening agent!  When it came to the judging, Mary was very quick out of the blocks stating she could smell baking powder – HOWEVER, once her and Paul tasted it they very briskly changed their mind stating that it was well baked and it tasted 'beautiful' (humble 'pie' anyone, haha!?).  The part (due to program editing) that you as viewers would not have seen is a discussion between Paul and Mary where Paul highlighted to Mary that the 'baking powder' she was smelling was actually the Raw Cocoa powder the loaf was laced with!  Got to 'love' the good ol' editors for leaving that out!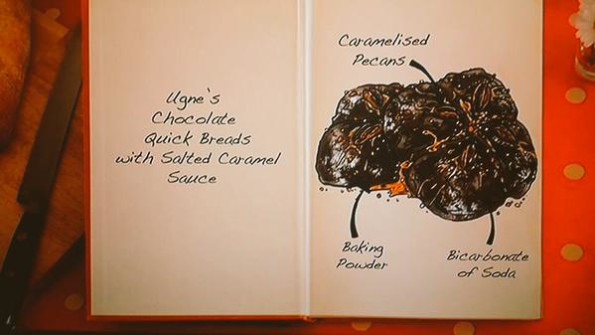 The recipe for my quick bread from last night's episode can be found Here
The technical challenge was to make a traditional French Baguette!  The perfect baguette should have a good crust, an irregular-open structure.  The first prove of a Baguette is critical to get a good rise and then once baking it the steam will do the business in the oven to create that crisp on the outside and the fluffy texture inside!  With minimal instruction, as is the case with the technical challenge, it was a real challenge for sure.  Needless to say the results which us Bakers got did vary.  Overall, I was happy with my bake, considering I have never attempted Baguette, apart I think I could have gotten a better crust on the outside, but hey-ho it is done now and that is what the Bake-off is all about, the challenge!
The showstopper this week was a very big challenge.  It was to create a 3-D Bread Sculpture with 3 different flavoured breads.  Now to bake 3 different flavoured breads isn't hard enough to get right – add the 'tension' of creating a 3D Sculpture from it (not forgetting Judges glaring and Cameras watching your every move)…starting to get the picture now?!  Even though it was a tough call I really raised to the challenge and opted for a festive 'Easter' Basket.  The Bread Basket was made out of sweet milk bread flour, I then did some cardamom roses decorated with coloured sugar and bunnies out of Truffled Brioche with a maple glaze and crispy bacon.
Overall the judges was satisfied with the bake and said everything was baked really well.  Mr Hollywood didn't really get to grips with my Truffle flavoured Brioche – he loved the brioche itself but mentioned for him the truffle was slightly overpowering the delicate brioche flavour.  If we look at Truffle or any fungi for a moment you either love it or 'loaf' it – same with foie gras, you either with it or not!    I recall Martha Collison (previous series Baker) did Eclairs with a maple/bacon glaze and Paul did not get on with that either (similar trend then).  It all comes down to our individual palates at the end of the day.  I will continue doing them in this fashion as they are extremely YUMMY!
So there you go, another week has gone and unfortunately Dorret's cookie has crumbled this week.  I was truly saddened to see the Lady go and I wish her all the very best.  Well done to Ian for being Star Baker once again…and Paul …that Lion…that Lion will be talked about for many years to come, good job!
Next week it is Desert week:  Crème Brulee, Spanische Windtorte and Baked Cheesecake!  Cannot wait and I shall 'see' you then in episode 4 of the 2015 GBBO.
Happy Baking!
x Ugne
0
0
0
Please share