Chestnut, Orange Banana Bread
(Gluten Free, and can be made Vegan)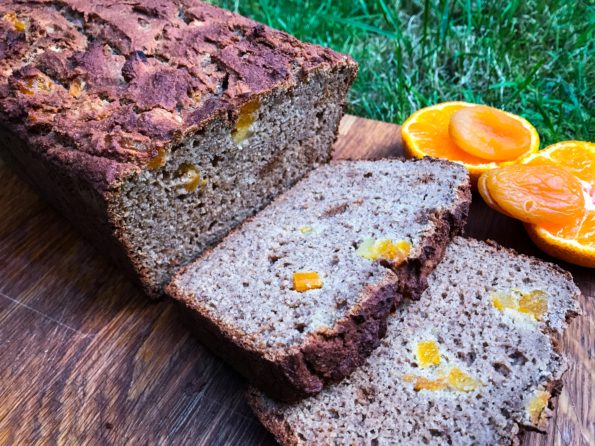 We all love little bit of banana bread on a daily basis… smothered in peanut butter, jam packed with chocolate chips, dried fruit orrr… smelling of Christmas in the middle of July hahaa 😀 Banana bread is such a forgiving and easy bake, you can add whatever your heart desires to make it even more wholesome, and even smother the top of it with Peanut butter caramel <3
This time, I made my banana bread using Meridian smooth almond butter and something very unusual- chestnuts. Their flavour work beautifully with hint of an orange and dried apricots.
~~~~~~
Wet ingredients
180g chestnuts, cooked
2 large very ripe bananas (around 280g)
130g Plant based yogurt
130g Meridian smooth almond butter
125g Meridian agave or Maple syrup
3 medium Free range eggs (for Vegan friendly version- use 3 flax eggs- 1tbsp ground flax seed soaked in 3tbsp water for 5min)
Pinch of salt
Dry ingredients
70g Coconut Merchant coconut flour
125g buckwheat flour
70g tapioca flour
1 tsp baking powder
1tsp baking soda
100g dried apricots (chopped in a small chunksd
Peanut Butter Caramel
120g Maple syrup (I use Meridian)
100g Meridian Smooth Peanut butter
pinch of sea salt
water to thin the caramel to desired consistency, I start with 100ml
METHOD
Firstly, preheat the oven to 180'C , grease and line medium sized bread tin with parchment paper (mine was around 24x13cm)
Now, in the food processor bowl pop all wet ingredients in and give it a good whizz until nice and smooth consistency with no bits floating is reached. You might need to scrape the sides of the bowl with a spatula to make sure all is incorporated.
Now in a separate large bowl pour your dry ingredients in, mix them with a wooden spoon and pour your liquid from blender. Gently fold in chopped apricots and pour the batter in the prepared tin.
Bake for around 1hr , or until skewer inserted in the middle will come out clean. Cover the top of the bread with a foil after around 40 min or so if you think it is browning too much.The least thing you want, is dry banana bread, there fore, try not to bake it more than an hour.
When done, remove from the oven, let it stand in the tin for 10-15 minutes and then lift it out using parchment paper and place on the wire rack to cool completely.
Even though you cant see it in the picture, i love to top my banana bread with a peanut butter caramel. You can opt out from this step, but if you wish to take it to the next level- make it!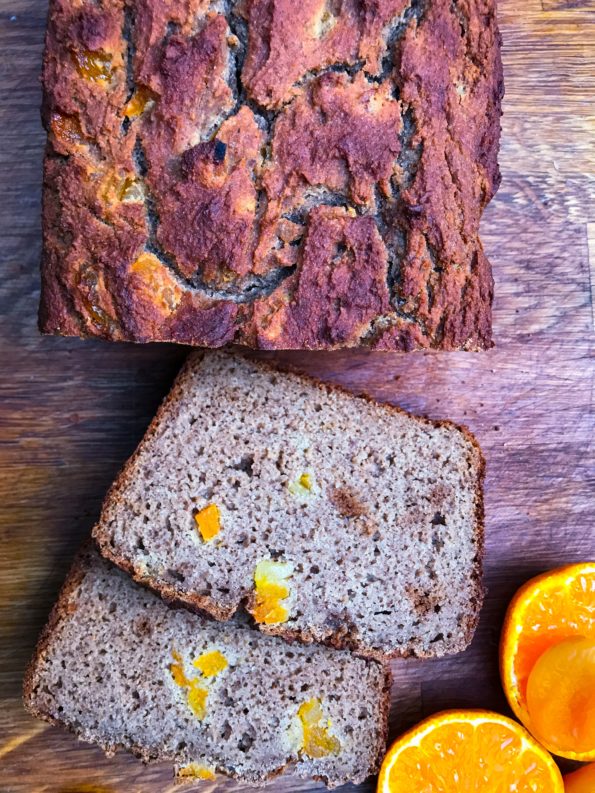 For the Peanut Butter Caramel: In a small sauce pan, add all of the ingredients and turn the heat to medium. Whisk well as it warms up and the ingredients become smooth. Once it comes to a boil, whisk continuously for about a minute or so until it starts to thicken up. That's it! It happens quickly. Add some more water if you wish your caramel to be more like a sauce like
If using almond butter, it takes a tad longer to thicken up. Keep in mind, the longer you cook it, the thicker it will get. It will thicken up a ton as it cools as well. Remove from the heat and let it slightly cool before serving. If using on pancakes or you want to thin it out, add a little water to desired thickness.
Note: this caramel will thicken even more as it sits, so just gently reheat it or add some water to thin it out some, if desired. I added water to mine the next day.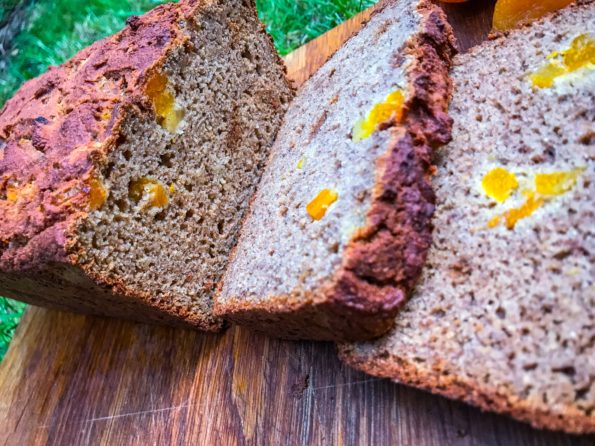 0
0
1
Please share