Chia seed and Goji Berry Overnight Oats
(Dairy free, cane Sugar free, High in Protein)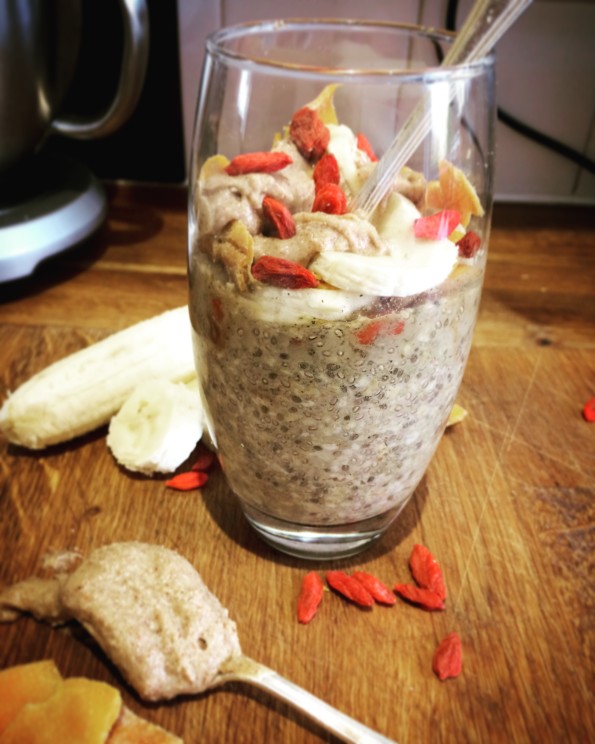 These gorgeously creamy and packed with fibre and protein oats are true delight with morning coffee.Glorious smell of almonds coming from Meridian Almond Butter is absolutely Devine! If you are in the rush in the mornings, just pop all ingredients in the glass or bowl, cover and pop in the fridge over night. Add as much and whatever topping you feel like before eating. I prefer to have it with generous tablespoonful of Meridian Nut Butter ^_^
~~~~~
INGREDIENTS:
40g oats (gluten free if you are gluten intolerant)
20g Chia seeds
20g Goji Berries
20g Protein (I used That Protein Pumpkin and Chia Super Protein) but any protein powder will do
40g Meridian Smooth Almond Butter
150ml Unsweetened Almond Milk (I used Alpro)
1tbsp Agave syrup
Extra handful of Goji berries, dried mangoes and sliced bananas together with table spoon of almond butter.
METHOD:
In the taller glass or jar put the dry ingredients, spoon in nut butter, add the milk and agave syrup, stir well with a spoon so the oats and the rest ingredients are covered in almond milk. Place  the lid or cling film over the top and pop in the fridge over night.
When you are ready to eat, take glass out of the fridge, and add the toppings you desire, I like to put spoonful of Almond butter on top, chop some dried mangoes and scatter goji berries and chopped bananas over the top, and voila- nutritious breakfast sorted.
Absolutely delicious ^_^ will be sharing some more ingredient and flavour variations
Enjoy
0
0
1
Please share