Chocolate Mousse with Raw Chia Apricot Jam and Brazil Nut Caramel
(Vegan, Sugar free, Gluten free, Dairy free)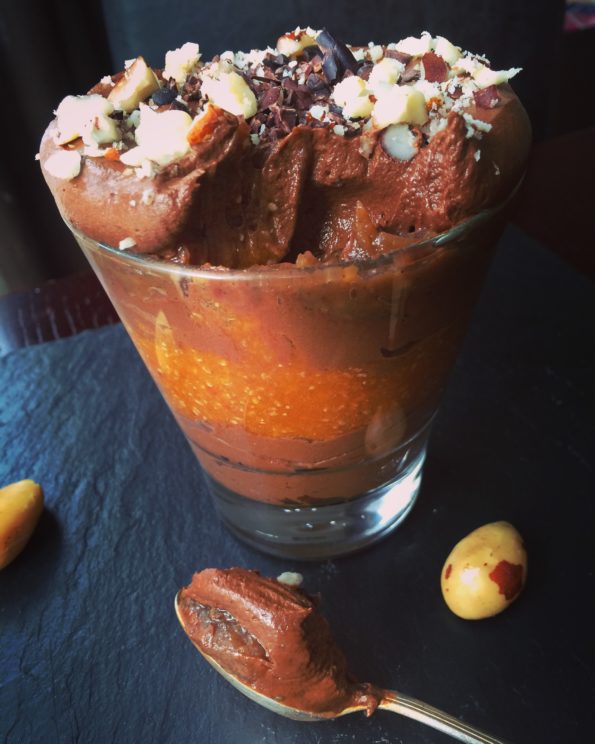 This beautiful dessert can be served on dinner party and people won't even notice that it was made not using any dairy or sugar. It consists of 3 different but equally luscious complimenting each other layers. Brazil nut caramel can be made with different sorts of nut butters in Meridian range (I absolutely love peanut butter caramel to be frank). Brazil nut is rather oily, so you might want to take off the excess nut oil on the top of the caramel when it's cooled.
And as for jam, if you will be making peanut butter caramel, you absolutely must make fig jam to go with it mmm… on a nice piece of wholemeal bread… anyway… coming back to the recipe and mousse it self- here is the recipe for you to give it a go.
You can easily make layers separately and use them for different deserts
~~~~~
INGREDIENTS
Jam
220g Ripe apricots
2tbsp chia seeds
Agave syrup to taste (I used Meridian)
Brazil nut caramel
150g Meridian Brazil nut butter
80g Meridian Maple syrup
30g water
Pinch of sea salt
Chocolate Mousse
100g Dark chocolate (dairy free)
2 ripe avocados
150g cream from the can of coconut milk kept in the fridge over night
100g Meridian maple syrup
Pinch of salt
1tsp of fine instant coffee (optional if making for children)
2tbsp unsweetened cocoa powder
METHOD
Firstly, let's prepare the jam.
Wash and de stone your apricots. Cut them in quarters and place in the blender friendly bowl. Add chia seeds and whiz it all up until no apricot pieces left. Now add 2-3 table spoons of syrup blend again and taste, if more sweetness needed- repeat the process. Personally I like jam quiet tangy as caramel is rather sweet, so it gives nice balance. Cover with cling film and put in the fridge.
Now, let's get the caramel going. In a medium size pot put all ingredients and place on the hob over medium to low heat. Bring to the boil constantly stirring, slowly simmer for about 5 minutes until thick caramel like consistency. Try not to reduce it too much, as when caramel cools down, it will become even thicker. Leave it to cool completely before layering.
And lastly, the mousse. Melt the chocolate in the heat proof microwave bowl or double boiler. Let it cool completely. In the food processor put flesh of avocados together with the rest of the ingredients and cooled melted chocolate and blend for a minute until it is smooth. Stop the blender every few seconds to scrape the sides of the bowl with a spatula so all will blend evenly.
Prepare desired size and shape serving glasses and start layering. Firstly- mousse, then jam, after that mousse, followed by caramel and top it up with mousse again.  Of course, that is just a suggestion, you can layer as your heart desires.
Top the desert with crushed brazil nuts and cocoa nibs.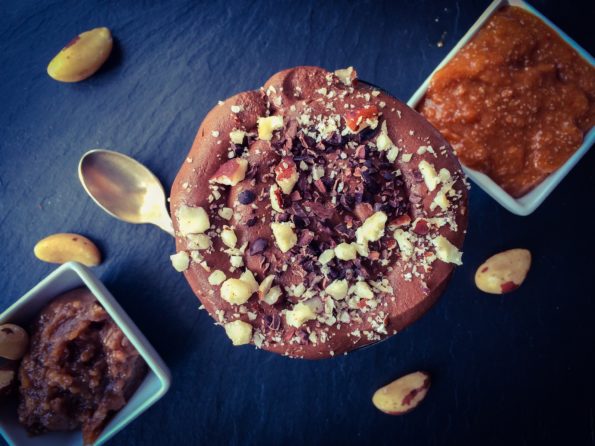 0
0
4
Please share