Chocolatey Peanut Butter Protein Bites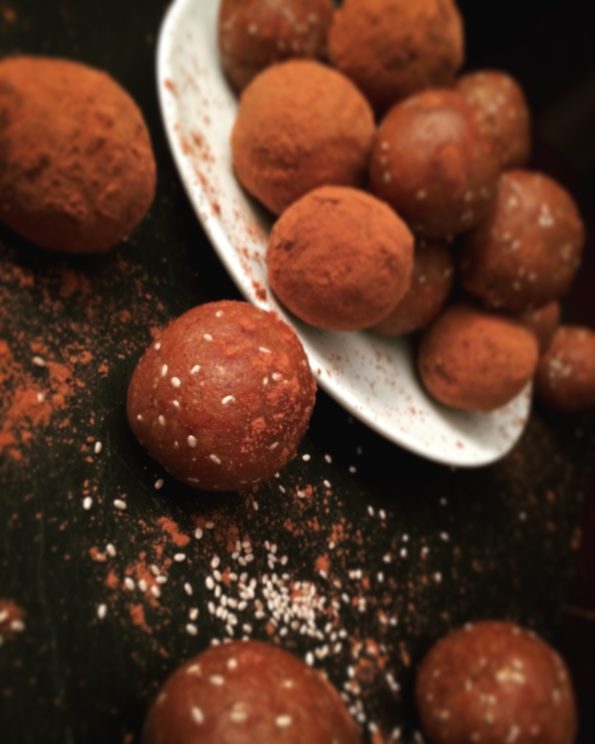 Great post workout snack for the people on the go. It is filling and has balanced amount of protein and carbohydrates to kill that hunger bug when needed.
INGREDIENTS
80g peanuts
80g almonds
115g Meridian crunchy peanut butter
45g Sukrin Peanut flour
1tbsp milled flaxseed
1scoop NRGFuel ChocolatePeanut flavour protein powder
1tbsp chia seeds
100ml distilled water or nut milk
And few drops of Sukrin Stevia drops to taste
METHOD
Firstly get your food processor out and put peanuts and almonds in it. Whizz on the high speed for a minute until flour like consistency.
Now add peanut butter, peanut flour, flaxmeal, protein powder and chia seeds, switch food processor back on and whizz al till combined. Add 10 drops of stevia, and whilst the machine is working, slowly pour water (or milk) and see all mix coming together in to sticky thick paste.
Prepare the clean plate, scoop little amount of mix with your slightly wet hands and roll a small ball in the palms. Place on the plate and proceed with the rest. I got around 25 bites, but it will definitely depend on the size you will make.
Place the plate in the fridge for them to firm up, then transfer to air tight container to keep fresh. Can stand in the fridge for 4-5 days.
You can roll them in cacao or crushed nuts after making a ball, but for me personally plain are just as tasty.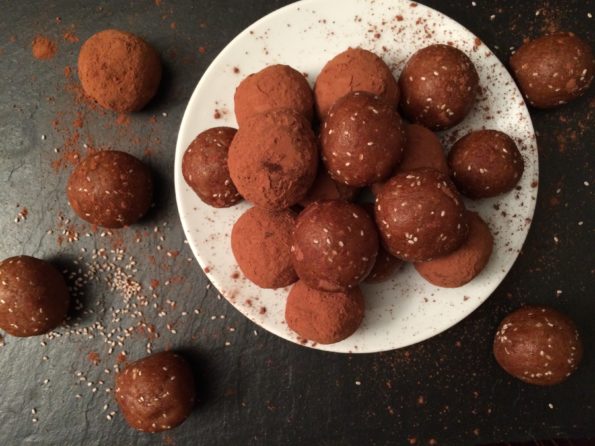 0
0
2
Please share