Coconutty  Healthy Granola
(Vegan, gluten free, sugar free)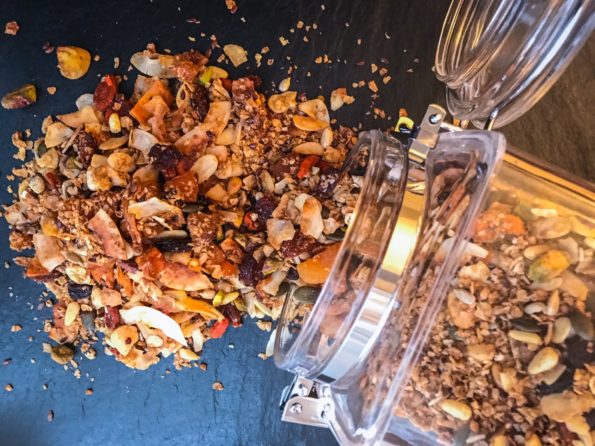 Beautiful and crunchy homemade granola is the best and most wholesome breakfast you can make for your family. It takes just over half an hour to make and is extremely tasty. Full of fibre, packed with nuts, seeds and dried fruit will give you the best start of the day. Great when topped with plant based yogurts and some maple syrup. Or layer with some chia pudding.. the possibly are endless when you have this tasty food around. As  binder, instead of honey, i used Coconut syrup from CoconutMerchant .. i tastes really great and not overpowering coconut flavour. Give it a go- you'll love it!
~~~~~~~
INGREDIENTS
Dry ingredients
280g Rolled oats (gluten free if needed)
40g goji berries
85g mixed seed (pumpkin, linseed and sunflower)
45g dried mango (chopped)
90g chopped dried apricots
65g pine nuts
70g flaked almonds
40g brazil nuts (chopped)
55g Coconut Merchant coconut chips
80g sultanas
Pinch of salt
In the large bowl Mix all above ingredients.
Wet ingredients
50g Coconut Merchant coconut oil
50g Coconut Merchant coconut syrup
1tsp vanilla extract
1tbsp Meridian foods maple syrup
Place all in the heat prove bowl and melt in the microwave and pour over the prepared granola. Mix well with dry clean hands until everything is coated evenly.
METHOD
Line baking sheet with parchment paper, spread the granola and bake for 12-15 minutes mixing it couple of times over the time. When done, leave to cool on the baking tray and transfer to air tight container- enjoy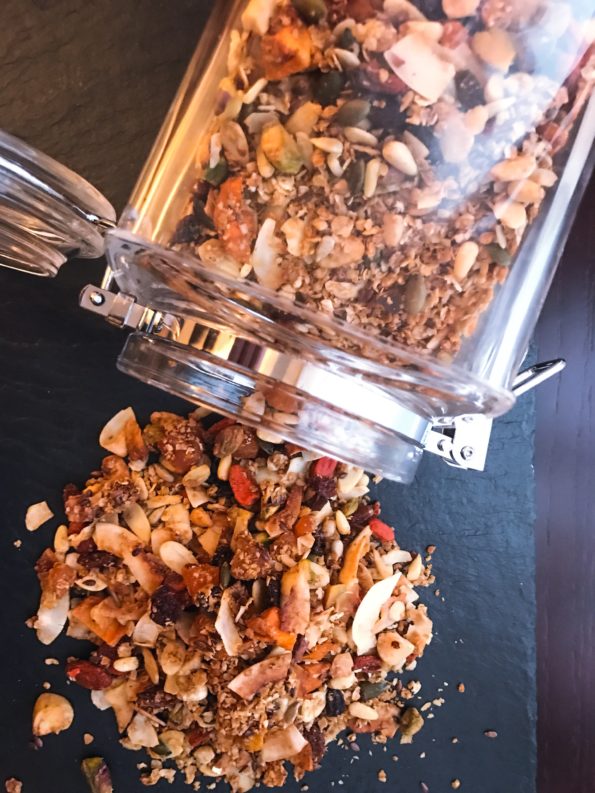 Keeps well in the air tight container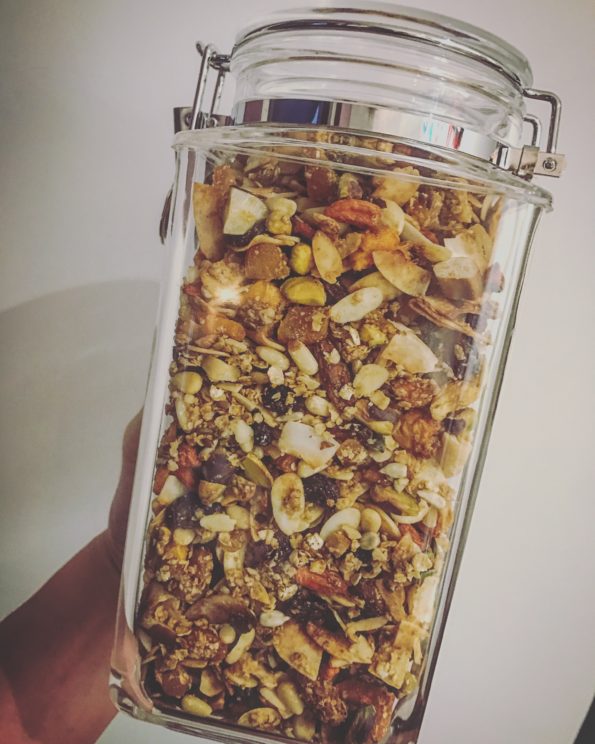 0
0
1
Please share