No Bake Wholesome Protein Bars
(dairy free)(sugar free)(high protein) low carbohydrate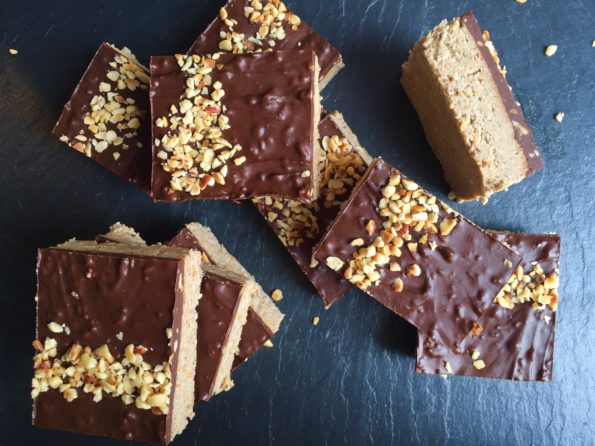 You know me by now, I'm always on the lookout for a healthy snacks for the whole family. Especially when fitness is such a big thing featuring in our life styles, these bars are one of our favourites. Seeds and nuts give healthy dose of healthy fats which helps to level blood sugars, as extra added protein gives that little bit more filing goodness. These bars are best kept in the fridge for whenever you come home after good workout in the gym or running track. I can't really call these bars raw as some of the products i am using were prepared in high cooking temperatures, so I chose the name- 'no bake'
~~~~
INGREDIENTS
140g raw peanuts
60g brazil nuts
55g sunflower seeds
55g almonds
55g pumpkin seeds
55g flax seeds
30g chia seeds
Pinch of salt
70g of protein powder (i chose nutty peanut and chocolate flavour from NRGFuel)
30g rolled oats
Blend all above ingredients well in food processor for about 3minutes

55g raw coconut oil (melted. I used Coconut Merchant)
140g peanut butter(I used Meridian)
40g Truvia or other calorie free sweetener. Or if you want, can use liquid sweetener as agave or maple syrup
Switch on the food processor and blend all ingredients for a minute until well combined. Now prepare square 2×20 baking tin with parchment paper and tip all mix in to it. Press down evenly with the palm of your hands using another sheet of parchment paper. Put the tin in the freezer for 30 minutes to firm up.
For the topping
100g dark chocolate, min 74% cocoa solids (melted and cooled)
100g natural crunchy peanut butter (I used meridian)
Little bit of sweetener if required
Place melted chocolate in a small bowl together with peanut butter and mix well with a spoon. Add sweetener if required.
Pour over set base and pop in the fridge for couple hours. Slice to desired size bars.
Best kept in the fringe in air tight container till eating.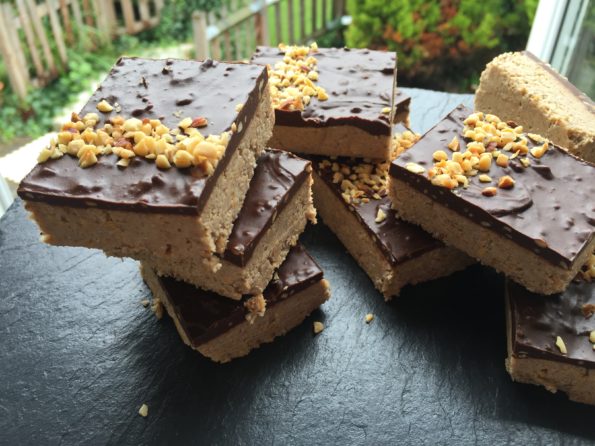 0
0
2
Please share