Nutty Protein Muffins with Protella filling
(gluten free, sugar free high protein and low carbohydrate)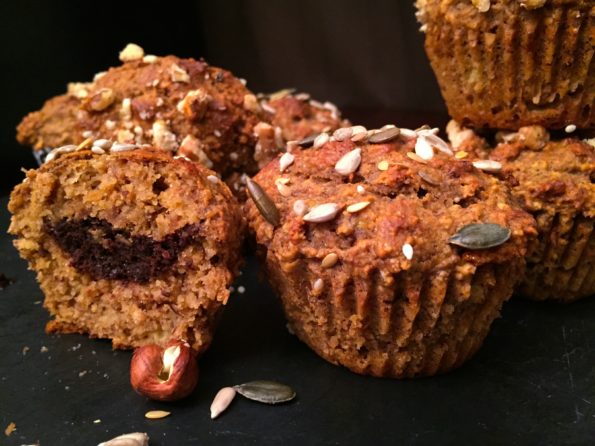 Gorgeous, moist and unbelievably healthy treat for diet or just general healthy living loving people 🙂
INGREDIENTS
Dry ingredients
100g rolled oats
35g ground flaxseed
35g peanut flour ( I used Sukrin)
70g fine fat reduced coconut flour ( I used Sukrin)
55g Vanilla flavour NRGFuel protein powder
1tsp baking soda
1tsp baking powder
Pinch of salt
55g Coconut Merchant Coconut sugar (if you conscious about your calorie intake, you can replace this with calorie free sweetener, like Sukrin brown sugar replacement)
Blend all ingredients to flour in food processor.
Wet ingredients
2eggs+1egg white
2 very ripe large bananas (around 280g, mashed with a fork)
1tsp vanilla extract
85g fat free yoghurt
95g Meridian nut butter of your choice ( I used mix of crunchy peanut an almond)
In a medium bowl mix all ingredients, add the dry ingredients and gently mix all together with a spatula until just combined.
Divide between 12 muffin cases (leaving 1/3 of batter for topping), spoon in a teaspoon of protella, recipe to which you will find HERE, and top it up with left over batter to cover the filling.
Sprinkle with seeds or nuts, or both if you wish and bake in 190'C for about 20 minutes. Do not over bake them as they will dry out!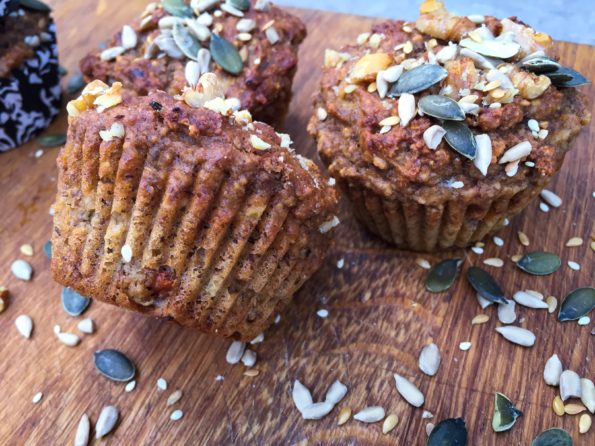 0
0
2
Please share