Orange and Almond Cake
(Gluten free, Diary Free, Sugar free, and Fat Free treat)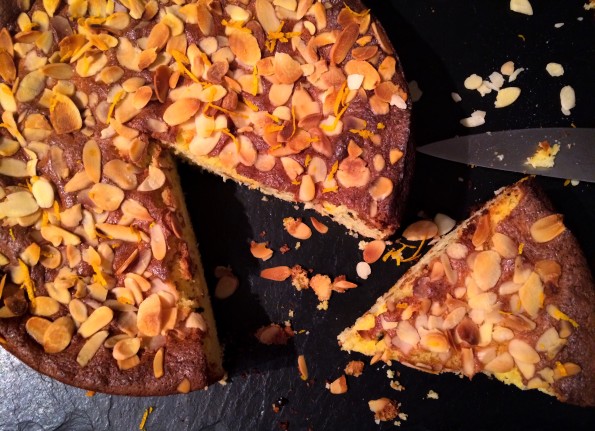 Living the fitness lifestyle is a 24/7 affair and yes even as someone whom are really determined to hit my fitness goals I have a sweet tooth too  and I love chocolate, but shhht, don't tell anyone!).   Everything in balance they say then again and there are times where it is good for the body and soul to indulge a little.
Yesterday, I had one of those days where my sweet tooth was nagging to be fed and I had some flaked almonds together with some almond meal in the Pantry which needed to be used…and oh…not forgetting  the abundance of fresh fruit which is always in the fruit bowl.  I have thought about doing a  Polenta cake for a while now,  but thought I'd substitute polenta for almond meal and how good this didn't work – it is very similar to a polenta cake, nice and moist but ever so much lighter than when using polenta.
It has no raising agents(as magic is to well beat the egg whites till they stiff to make the cake nice and fluffy), no caned-sugar (seeing that Truvia is used in this recipe), no dairy and the only fats is really the good fats in almonds (poly/mono – unsaturated). The outcome of this cake I am really pleased with as such, its perfect for kids and for a lighter slice of the good stuff with your cup'a'tea!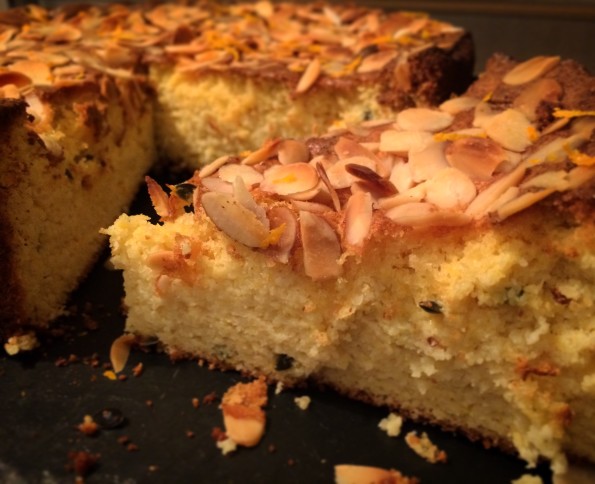 Enjoy!
INGREDIENTS:
350g Sweet Oranges( zest one orange, peel and segment the rest)
6 Eggs (separated)
150g Truvia
250g Ground almonds
Some flaked almonds for topping.
METHOD:
The secret to this amazing guilt free cake is getting the eggs to the right and well beaten consistency. When you see the ingredients, you most probably thought- no way you can get nice tasting cake out of this?!? But you will be oh so surprised 😉
So here you go, lets get cracking, and make this beautiful cake for your cuppa this afternoon.
Preheat the oven to 180'C/ Fan 170'C.   Line the bottom of 9in cake tin with parchment paper.
Zest one orange and peel the rest, separate segments. Pop them in to the pot, add 3 tablespoons of water and let it simmer on a very low heat for 30-40min until softened. Remove pips(if there's any) and blend to paste in the food processor. When it's done, run it through the sieve pressing and scrubbing well to get all the juices and orange meat out leaving you just skins in the sieve.
Now, separate the eggs, place the whites in the clean and dry stand mixer bowl together with 90g of Truvia and beat well on a medium to fast speed until very stiff meringue type peak forms. Honestly, forget about it and let it do it's job for 10-15 minutes at least.
In the other bowl beat egg yolks and the rest 60g of Truvia until light and pale and double in volume. We really want to incorporate as much air in the eggs as possible as it effects the rise of your cake.
When your egg whites are done, remove the bowl from the mixer, pour your egg yolks and orange, zest in and fold carefully not to loose the air in the beaten eggs. Then, add your ground almonds and fold them in gently to incorporate well.
Pour the batter in the tin, sprinkle with flaked almonds and pop in the oven for 50-55min. After first 25min, check the cake, if it is browning too quick, cover it with a piece of foil to prevent from burning. Check with the skewer, if it comes out clean- it's done!
Let it stay in the tin for 10 minutes then move on the wire rack covered with the towel turning the cake upside down. Peel the off the baking paper and let it cool completely.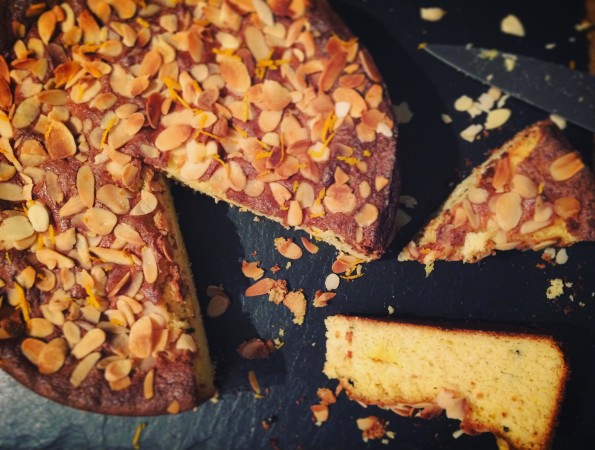 Place on the serving plate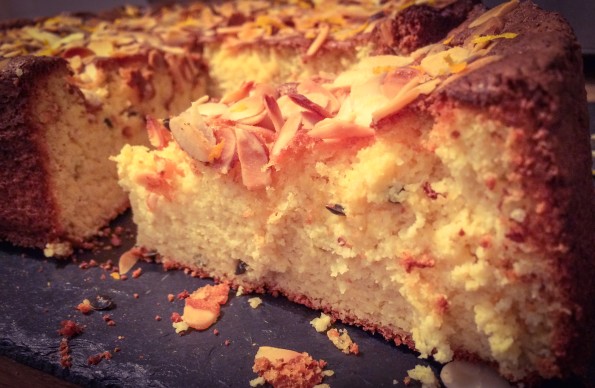 ENJOY 🙂
0
0
2
Please share