Peanut and Acai Berry Baked Cheesecake
High protein, gluten free and sugar free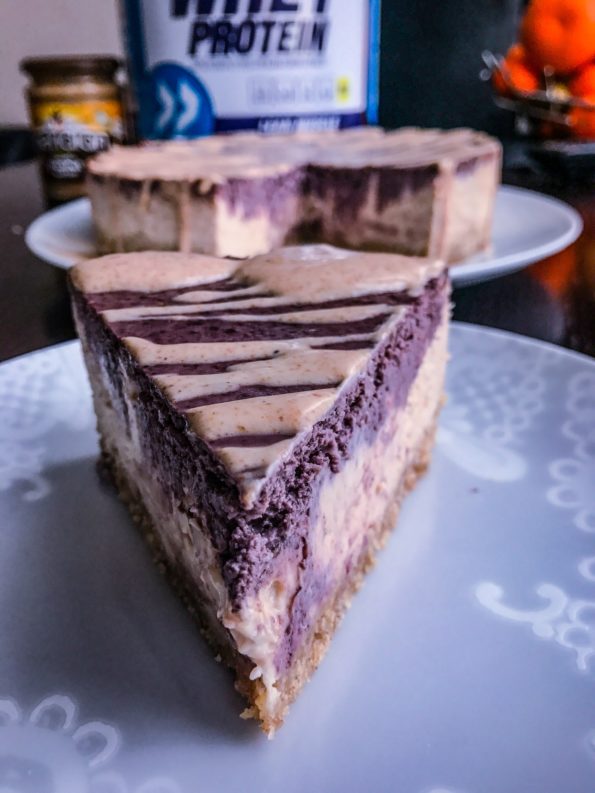 This is another take of my beloved peanut butter jelly combination. Gorgeously creamy and peanut buttery cheesecake topped with slightly sour Acai berry cheesecake. This match truly works wonderfully together. I bake my cheesecake to the stage when it is still wobbly in the middle, so when it sets in the fridge, you get this creamy melt in the mouth texture. It is a must try, trust my word 🙂
~~~~~~~
INGREDIENTS
Base
130g raw peanuts
50g gluten free oats (or regular rolled oats if no intolerances)
25g Vanilla NRGFuel Protein powder (add same amount of ground almonds for Protein powder free version)
Pinch of salt
½ tsp cinnamon
2tbsp Sukrin Gold
25g Coconut Merchant raw coconut oil (soft or melted and cooled)
3tbsp plant based milk
Filling
Peanut butter Cheesecake:
500g Fat free cottage cheese
140g Meridian Peanut Butter
50g NRGFuel Vanilla Protein powder (or corn flour if not using protein + add 1tsp vanilla extract)
1 large egg + 1 large egg white
45g Sukrin calorie free sugar alternative
Acai berry cheesecake:
250g Fat free cottage cheese
1 large egg
15g Organic Acai berry powder
30g Sukrin1 calorie free sugar alternative
20g NRGFuel Vanila Protein powder (or replace with corn flour if not using protein)
METHOD
Preheat oven to 170'C and line 20cm spring form cake tin with parchment paper. And grease lightly grease the sides with grape seed or coconut oil.
(I personally like to bake my cheesecakes in the water bath so they bake more evenly, and I do the following steps. But you really can skip this part and bake it just like that.) Tear couple of sheets of foil, put them one on to another and place the tin in the centre. When you lift the sides up it covers at least half of the outside. Press it around the tin tightly. Take deep rectangular baking tin, and put cheesecake tin inside it) Set aside.
Firstly, let's prepare the base for our cheesecake. Place all ingredients in the food processor and blend for a few seconds. Scrape the sides with a spatula, add the milk and blend another 10-15 seconds until combined. You don't want the base to be smooth texture; you want little texture- pieces of nuts still left. Pour the mix in to prepared tin and press tightly and evenly on the bottom of the tin with your finger tips or back of the spoon. Set aside.
For the peanut filling, place all ingredients in the medium size bowl and blend with a hand blender until smooth. Set aside.
Now take another bowl, place all Acai cheesecake ingredients in it and blend with clean hand blender until smooth.
Take the tin with base and pour peanut butter cheesecake filling in it. Tap the tin lightly on the kitchen counter to even the surface. Take a table spoon and spoon on and around the acai cheesecake mix to cover the peanut butter one. Do it carefully so both layers would not mix together.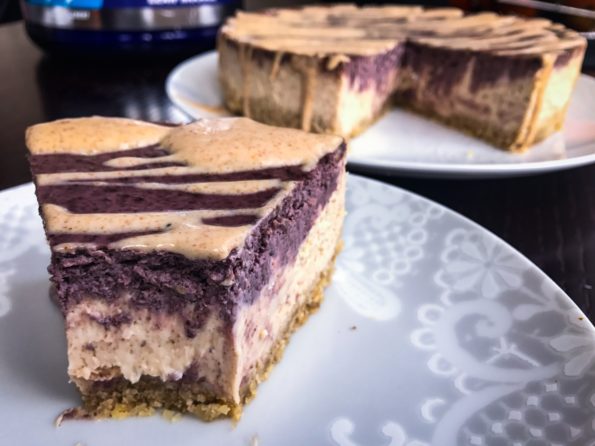 Now place the tin in the preheated oven and bake for 50-55min. When you take it out and give title shake, middle still wobbles.
If you using water bath, put the tin in the oven and carefully fill it with water so it covers at least couple centimetres from the bottom of cheesecake tin and bake same time- 50-55minutes.
When baked, let it cool in the tin and let it set in the fridge over night.
When ready to eat, run around the edges of the tin with a sharp knife to loosen the cheesecake, place on the serving plate.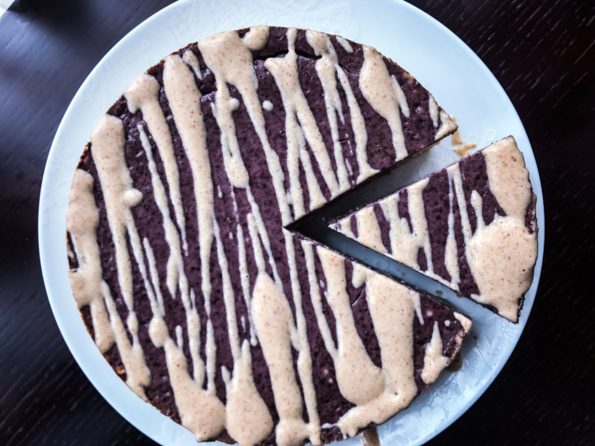 In a small bowl mix together some Meridian Smooth peanut butter with plant based milk and Meridian Maple syrup and drizzle over the cheesecake.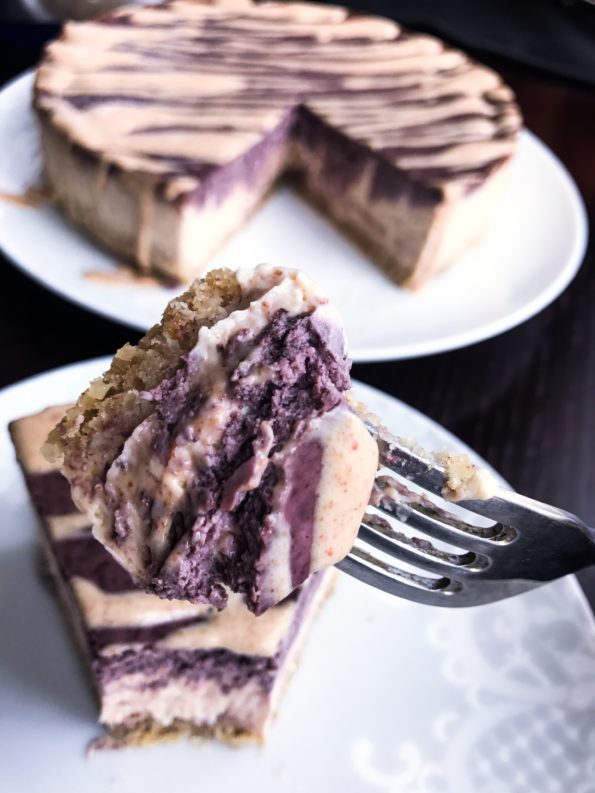 Voila, Done!