Protein Chestnut and Pear cheesecake
(low fat, high in protein and sugar free)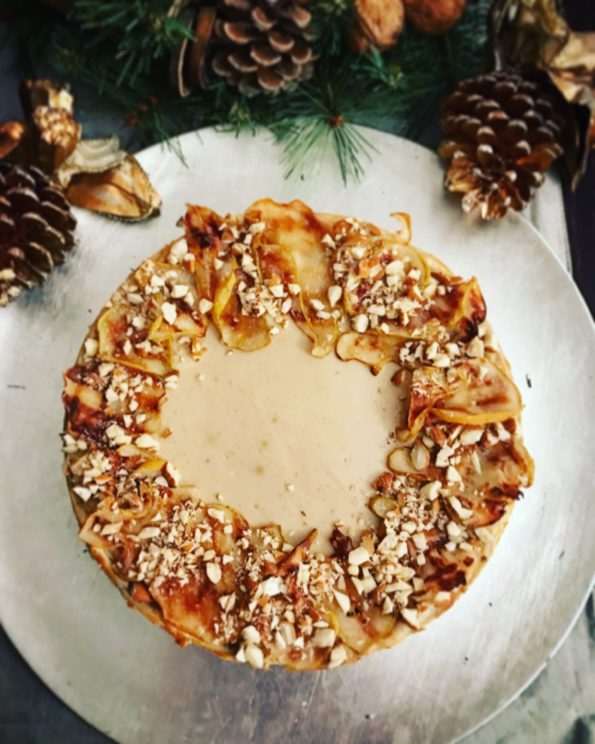 The Festive season is once again upon us..it the time of the year when all those gorgeous and tasty sweet treats are literally everywhere to be found around us. But what if you want to keep your diet intact (well at least until Christmas day that is) yet you still would like to mildly indulge. In order to not ruin all that hard work which you have done at gym, I came up with this stunning,  baked protein (very low carb) cheesecake, which, to be honest, you can even put on the Christmas table if you wish to cheat the calories and still have something incredibly delicious! So, let's get started and crack on with this creation as it is very easy to make!
INGREDIENTS
For the base
95g rolled oats
15g Truvia, or other calorie free sweetener
35g NRGFuel super whey isolate, chocolate flavor (this protein contains extremely low amounts of carbs and very high in protein!! Whoop, just what we need)
90g Meridian Crunchy almond butter
20g Coconut oil (melted), I use my favourite Coconut Merchant Extra Virgin coconut oil
2-3 tbsp water
For the filing
2 pears (variety really doesn't matter)
1 tsp ground ginger
500g fat free cream cheese
2 large eggs
35g NRGFuel vanilla flavor casein
150g fat free yogurt
200g chestnut puree
Sukrin Vanilla flavour Stevia drops to taste
Decoration
1 pear, very thinly sliced length wise around 2-3mm thickness
And some toasted almonds, finely chopped
~~~~~~~
METHOD
Preheat oven to 160'C and line 20cm/8in spring form cake tin with parchment paper.
Firstly, place all base ingredients in to the food processor and blend until well combined. Transfer in to prepared tin and press well on the bottom and little bit on the sides so the filling will not leak.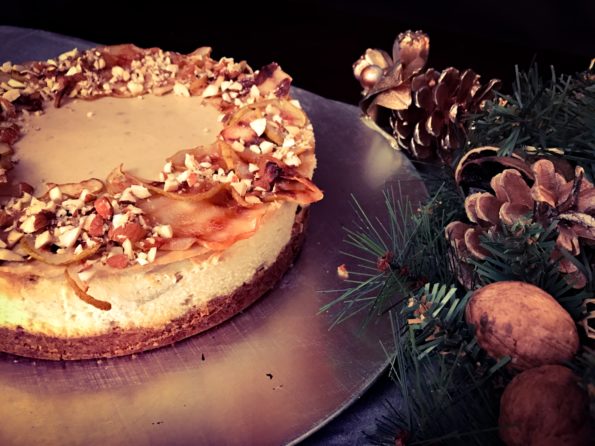 Now pop the base in the oven for 15minutes. Until it's baking, prepare your pears.
Peel and core the pears. Slice them in to 0.5cm thickness strips and put in a bowl. Sprinkle ginger, toss them to coat and set aside.
The base should be baked. Take it out of the oven and let it cool slightly until you prepare the crème cheese filing.
Arrange the sliced pears on the baked base.
In the clean food processor bowl place all filling ingredients and blend until nice and smooth. Pour the filling over the pears and bake in the preheated oven for around 50min to an hour. The middle of the cheesecake still has to be wobbly, that means when it sets in the fridge, it will be nice and creamy.
When cheesecake is done, take it out of the oven and let it cool completely in the tin. Then place it in the fridge for at least 3-4 hours (preferably overnight) to set.
Now, when your cheesecake is nicely set, take it out of the fridge, run around the cake tin edges with a knife to loosen it and transfer on to a serving plate.
Now, on a griddle pan or just an ordinary non stick pan preheated on a medium heat place sliced pears in it and brown them gently turning both sides occasionally. When they nicely dehydrated and browned- take them out of the pan on to the paper towel.
Chop the almonds and set aside.
Take the cheesecake, arrange pears around the edge and sprinkle with chopped almonds. To be honest, this pas is not necessary, if you making this cake just for yourself, no need to decorate. It tastes great as it is.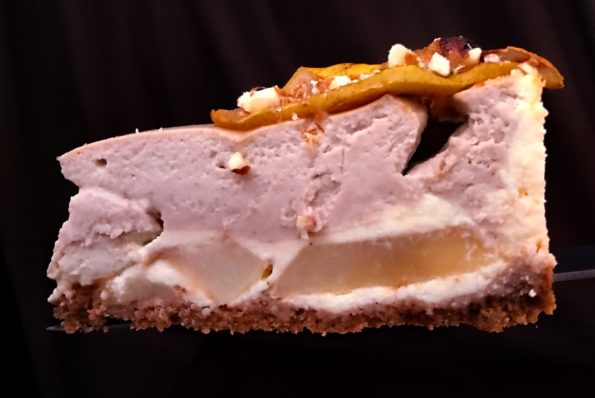 Beautifully creamy cheesecake bringing Christmas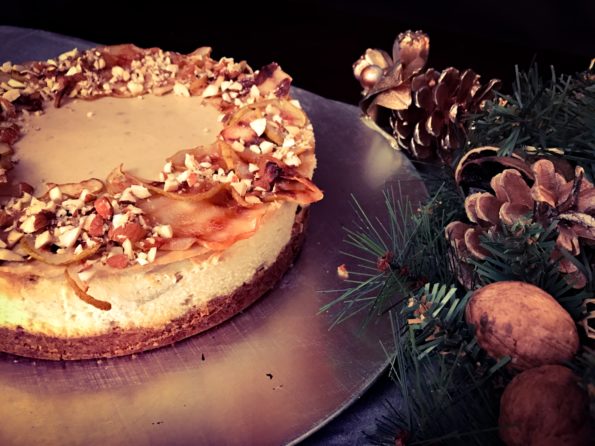 0
0
0
Please share