Protein Pecan and Coffee Cake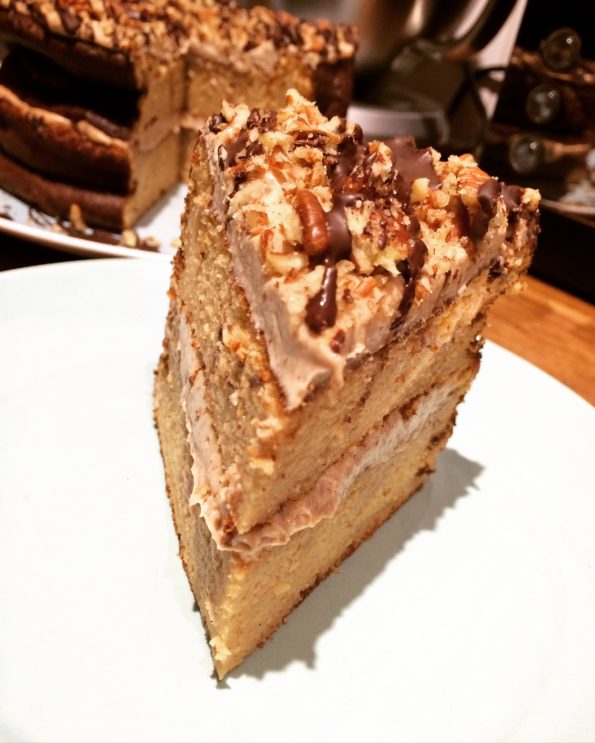 This low carbohydrate, low fat and high in protein cake I made for my partners Birthday, who is very soon due to compete in bodybuilding competition and can't indulge in the naughty stuff. When I put this cake in front of him, he literally could not believe that it is really rather innocent treat in the naughty disguise. So there, if you want to surprise someone, or indulge your self- go ahead, make it!
~~~~
INGREDIENTS
5 large eggs
220g Natural fat free yoghurt
110ml very strong espresso coffee (cooled)
50ml grape seed oil (I used Meridian), but can use coconut oil too
1tsp vanilla extract
95g Protein powder (I used NRGFuel Vanilla flavour)
60g coconut flour ( I used Coconut merchant)
85g sweetener of your choice (I used Sukrin Gold)
2tsp baking powder
Pinch of fine sea salt
50g finely chopped pecan nuts
Frosting
55g protein powder ( I used NRGFuel vanilla flavour)
200g low fat crème cheese
80g fat free natural yoghurt
85g pecan butter from new Meridian speciality range
Handful chopped pecan nuts and some dark chocolate melted for decoration.
METHOD
Preheat the oven to 170'C. Prepare two 20cm spring form tins by lightly oiling them and lining bottom with the baking paper.
Firstly, in to two clean bowls separate egg whites from yolks. With a mixer beat the egg whites till stiff peak forms. Set aside till later.
Now in other large mixing bowl put your egg yolks together with yoghurt, coffee, vanilla extract and oil. (if using coconut oil, melt and cool it before using). Whisk it all with a hand whisk to incorporate very well. Add all dry ingredients and once again mix well until combined.
Now grab a spatula, place a dollop of beaten egg white in the batter and gently mix in to loosen up the texture. Now add the rest of the add white and very gently mix it in the cake mix. Carefully not to over work it as all the air bubbles in the beaten eggs whites will go flat.
Divide the dough evenly between prepared tins and bake for about 40-45 minutes, or until wooden skewer inserted in the centre will come out clean. If you see that the cake is browning too much (which usually tends to happen with protein powder based bakes) cover the top with some foil.
When baked, take the tins out of the oven, leave the cake to cool for 10 minutes in them before moving sponges on to the wire rack to cool down completely.
When you are ready to assemble the cake, prepare the frosting. Place all frosting ingredients in to the medium bowl and mix well to create thick creamy texture. If you see that it might be too runny- add more protein powder. If it came out very thick- add table spoon or two of yoghurt to thin it out.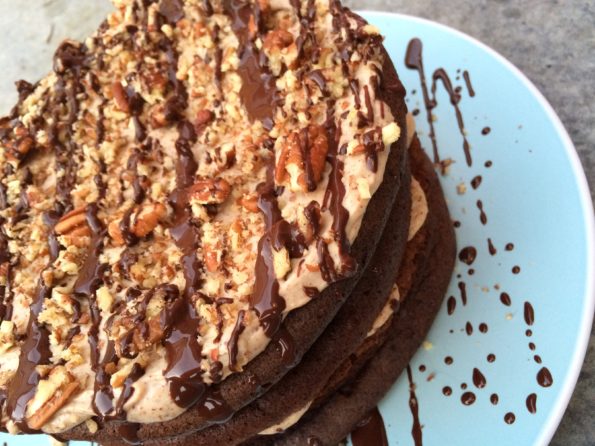 Place one sponge on the serving plate, spread half of the frosting on it and place second sponge on top- bottom side up, spoon on remaining frosting and spread nicely all over the top. Sprinkle on top some chopped pecan nuts and drizzle with melted dark chocolate.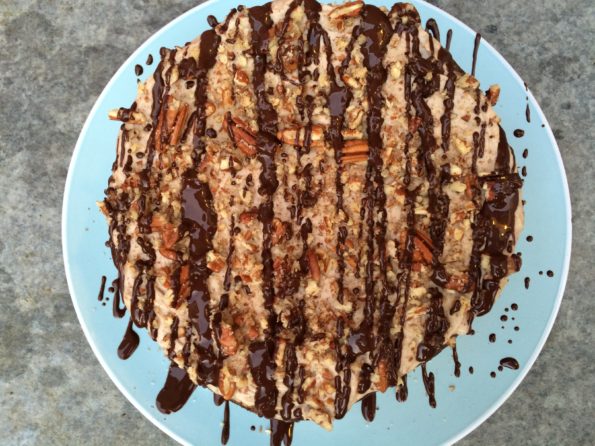 Enjoy .. 😉
0
0
2
Please share