Protein Rose and Grapefruit Drizzle Cake
(Light, moist, gluten and sugar free)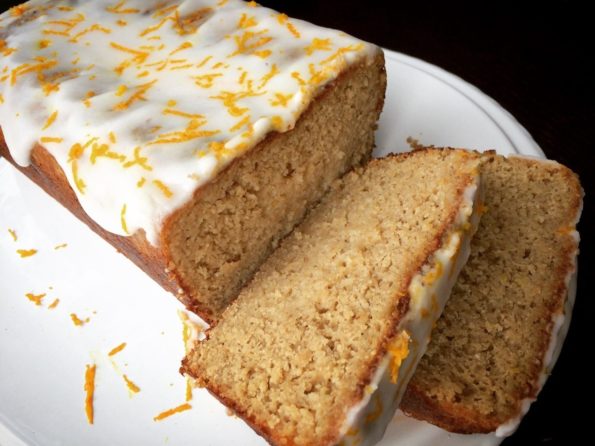 Moist, refreshingly zingy cake with mild flavour of rose in the background to give it that little bit extra flavour. It is incredibly tasty cake full of protein and containing as little carbohydrates as you possibly could eat feeling least guilt.
~~~~
INGREDIENTS
For the cake
105g oats (blended to flour)
85g NRGFuel vanilla flavour protein powder
55g coconut flour (I used Coconut Merchant)
1tsp soda
1tsp baking powder
Pinch of salt
3large eggs + 1 egg white
175g fat free yoghurt
35g extra virgin coconut oil- melted
50g Truvia, or other calorie free sweetener of your choice
Zest of one grapefruit
Few drops of rose essence
For the syrup
Juice of 1 grapefruit
35g Truvia
3 tbale spoons of water
For the glaze
90g Powdered sugar replacement (I used Sukrin)
Squeeze of lemon juice and zest of half a lemon
METHOD
Preheat the oven to 160'C and line medium sized bread tin with a parchment paper.
In a large bowl place all dry ingredients –oat flour, protein powder, coconut flour, soda, baking powder and salt. Give them a mix with a wooden spoon.
In the second bowl place the remaining ingredients and whisk them until combined with a hand whisk.
Now pour the egg and yoghurt mix in to the bowl with dry ingredients and whisk all with a hand whisk or wooden spoon until well combined.
Pour the dough in the prepared tin and bake in the preheated oven for 45-50 minutes, or until skewer inserted in the middle of the cake will come out clean.
When your cake is about to finish baking, place syrup ingredients in the small saucepan and bring to the boil. Remove from the heat and set aside.
Take the cake out of the oven, and while still hot and in the pan- pour the prepared syrup all over the top and let it stay in the pan until completely cooled.
When the cake is cooled, lift from the tin using the parchment paper and place on a serving plate.
In a small bowl place powdered sugar replacement, squeeze little bit of lemon juice and mix with teaspoon or fork until you get creamy and thick paste consistency. If you see that the mix is too runny- add m ore sugar, if it is very thick and little more squeeze of lemon juice.
Spread the glaze over the top of the cake and grate some zest for decoration.
0
0
4
Please share