Raw Cashew and Chia Protein Bars
(Vegan, Gluten free, Refined sugar free, Low fat)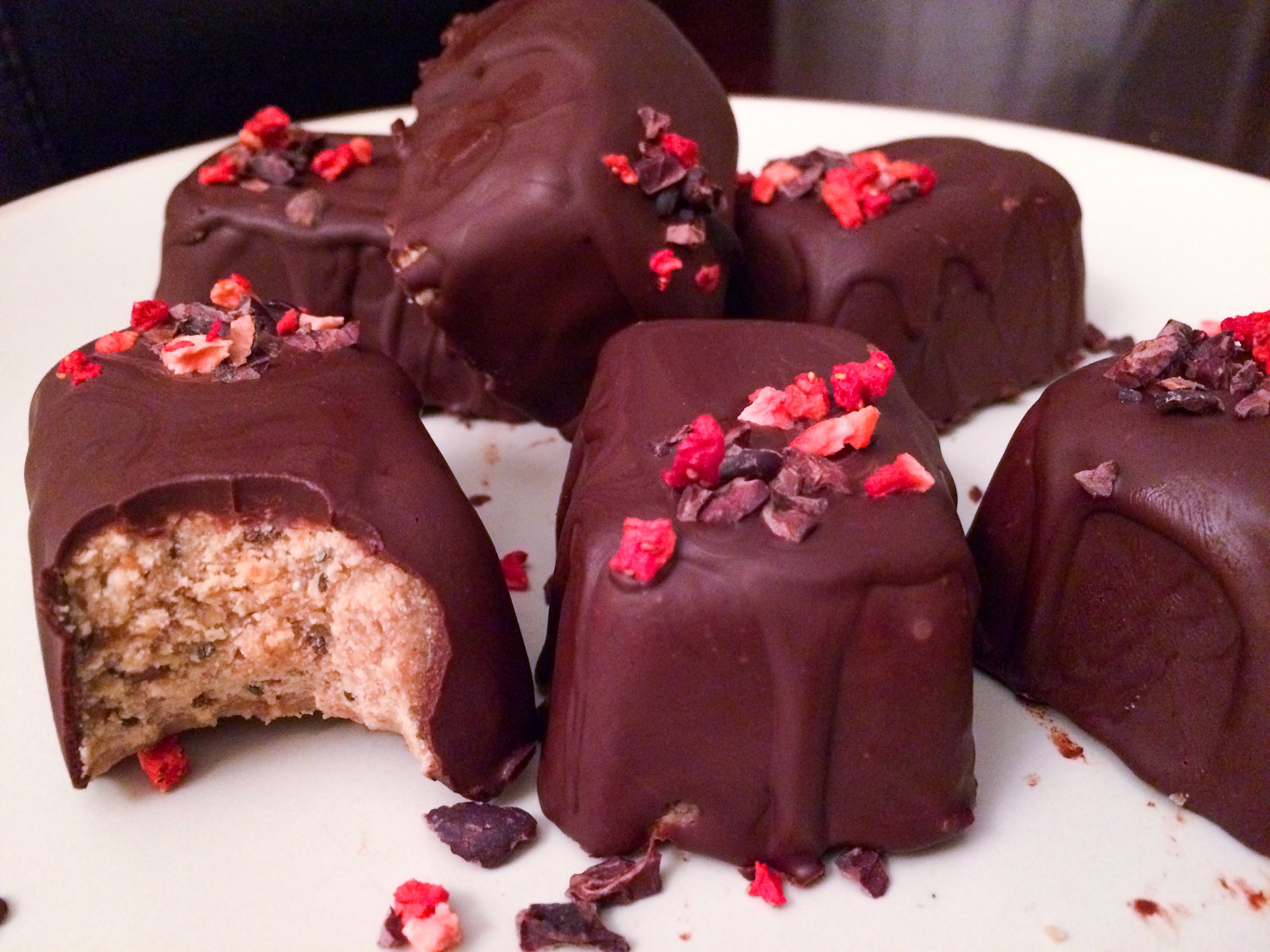 You know me, I like those little pleasures in life called treats. As I can't indulge myself with naughty sugary stuff (which is awfully difficult especially when my beloved packed of Haribo Starmix desperately shouting my name out of the cupboard) I create foods which are more healthy, more nutritious and not so waist line damaging.
Due to my training, my one and only personal trainer who I am fortunate to live with hahaha watches every move of mine with his eagle eye, and doesn't let me slip of the path towards my goals, that is good…sometimes… As it makes me fluff my brain and come up with something that can be incorporated in to diet conscious   people's lifestyles.
So, this evening I had a nice and small handy snack packed with protein, as well as carbohydrates so needed after active session in the gym, or even as a quick filler if you missed a meal. It is raw, used only natural products And very quick to make.
~~~~~
INGREDIENTS (makes 6 bars)
85g Oats (gluten free for GF option)
5 Soft dates
55g Vanilla Protein Powder of your choice
25g That Protein Pumpkin and Chia Protein
75g Meridian Crunchy Cashew Butter (my new love after PB ❤️☺️)
70g Raw cold pressed Coconut Oil (melted)
Around 3tbsp Unsweetened Almond milk or water (need to look by the texture)
100g Dark Chocolate
1tsp Coconut oil
METHOD
For my bars I used special small cake tin with individual holes. But you can use small bread tin, or any shaped dish and just cut the the bars with a sharp knife by hand.
So, let's crack on. In the food processor place oats, protein powders, cashew butter and blitz them until well combined. If you don't have ThatProtein on hand, substitute with 15g Chia seeds and use 75g Vanilla protein powder instead.
While the food processor is still working, slowly pour melted coconut oil. When all is combined, switch off the machine and check if the mix sticks together well when pressed in the palm of your hand. You might need to add 2-3tbsp of almond milk or water and run the mixer again to combine it well.
Now, line your preferred tin with a food wrap, and pour the mix in. Press down very well all around and in the corners to pack it properly for it not to be crumbly when set. Place in the freezer for an hour.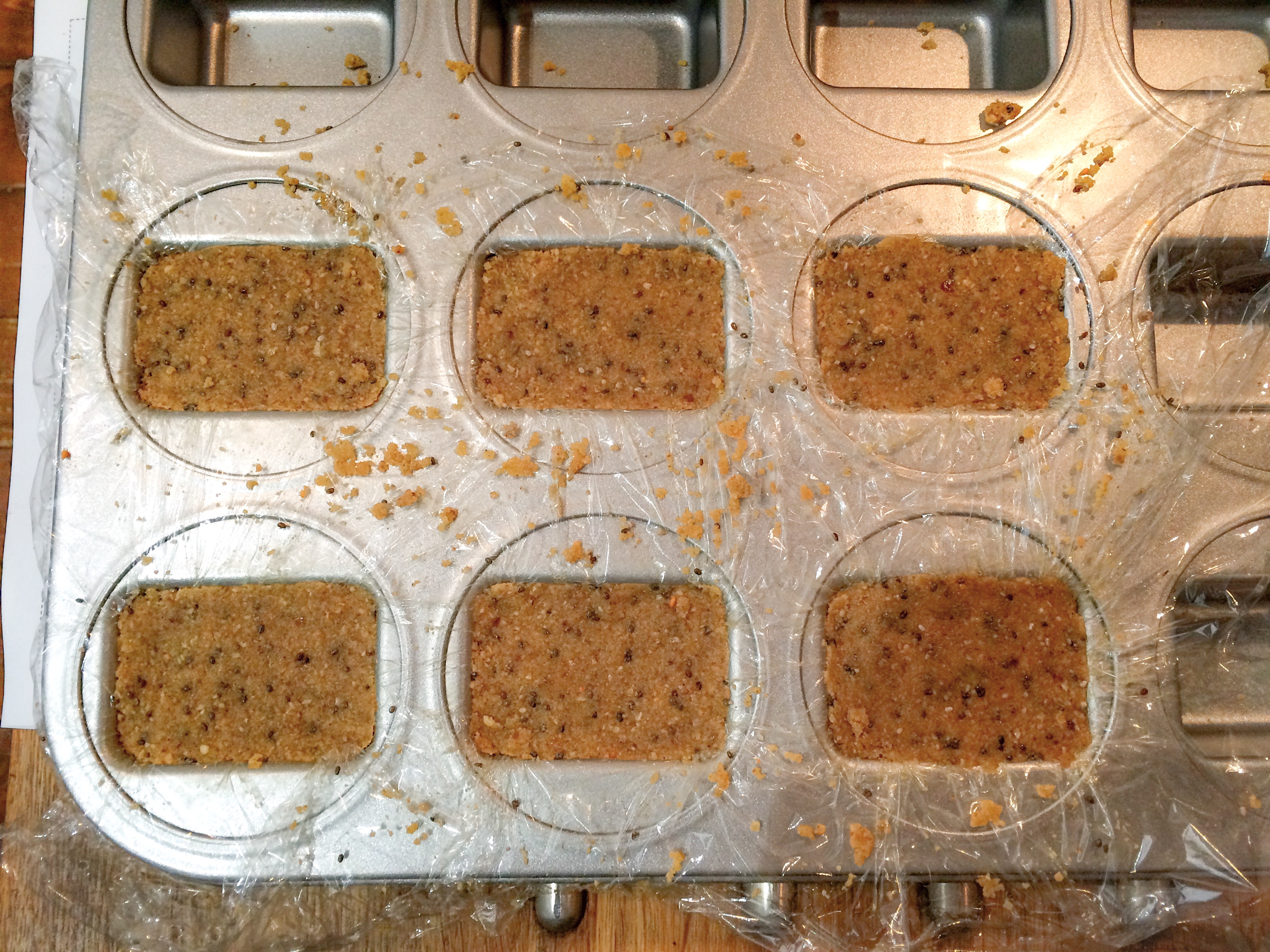 When hour is nearly done, melt the chocolate with coconut oil in the microwave and set aside to cool.
Remove the tin with bars, peel off food wrap and slice to desired size. As I used special small cake tin, they were ready sized.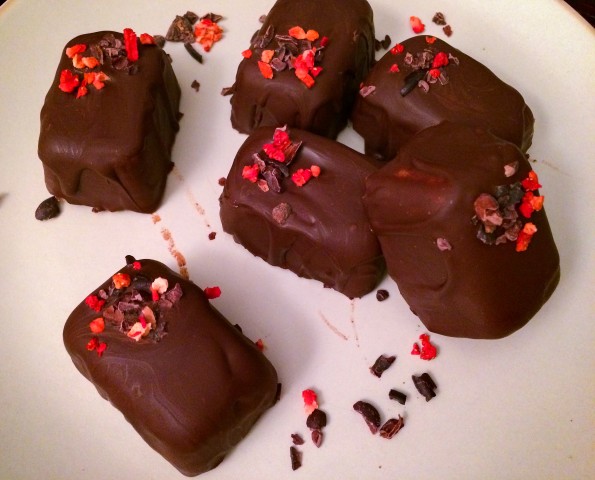 Place on the wire rack and pour over the chocolate, decorate with some cocoa nibs and freezer dried raspberries and put in the fridge for at least 30 minutes for chocolate to set.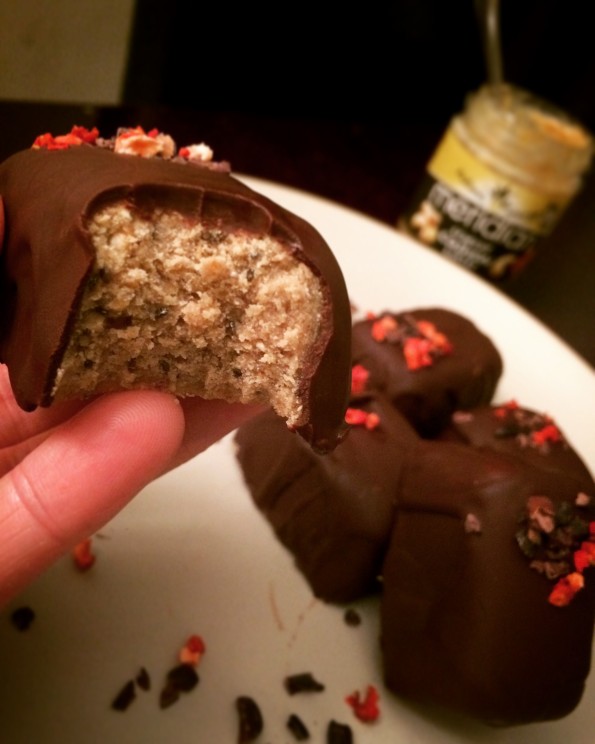 Enjoy
0
0
3
Please share