Raw Chocolate Peanut Caramel Cake
(Raw, Paleo, Sugar free, Vegan, Gluten free)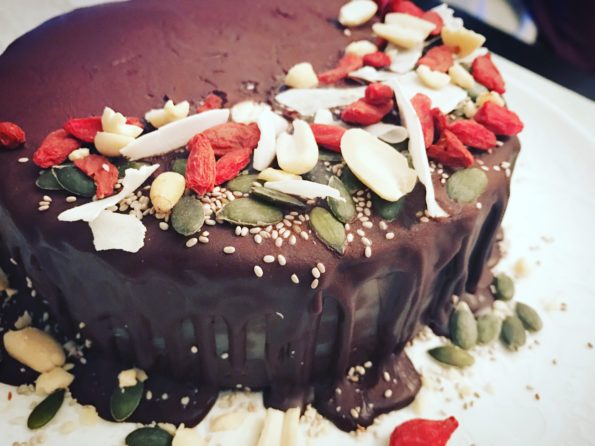 So, we approached New Year. But as for all the resolutions we make, mine haven't changed- still working towards better and healthier me. And as we all know- that starts from within. Healthy, organic and natural foods are essential building healthy body. There fore, raw, unrefined and unprocessed ingredient options are much more advisable.
For the Chocolate brownie base
50g Brazil nuts
60g Almond nuts
75g soft medjool dates
2tbsp Meridian maple syrup
40g unsweetened cocoa powder
Peanut layer
40g extra virgin coconut oil (melted and cooled)
200g cashew nuts (soaked in warm water for at least 2hrs, and drained)
200g Meridian smooth peanut butter
75g Meridian maple syrup or agave syrup
2tbsp cocoa powder
Caramel
235g soft medjool dates
2ytbsp Meridian date syrup1tbsp extra virgin coconut oil
1tbsp of water
Chocolate glaze
2tbsp Coconut merchant Extra Virgin Coconut Oil
2tbsp Meridian Maple or Agave syrup (this may vary if you wish sweeter tasting chocolate)
3tbsp cocoa powder
~~~~~~
METHOD
For the cake, use whatever size spongiform tin you like. Mine was small- 12cm diameter. Line the bottom of the tin with parchment paper.
Also you will need food processor to get all ingredients to nice and smooth consistency.
Firstly prepare the base by placing the nuts in the food processor and blend them to flour. Then add the rest of the ingredients and blend till combined and sticky consistency (keeps the shape when pressed together) pour the base in to the tin and press tightly with the back of the spoon or using your fingers. Pop the tin in the freezer until you prepare the peanut middle layer.
Clean the food processor and add soaked and drained nuts to it. Switch on the blender and process till nice and creamy consistency. Don't forget to scrape the sides with the spatula in between to combine all evenly. Now add the rest of the ingredients and pulse again till creamy consistency. When done- transform in to the spring form on the base prepared. Spread evenly and press tightly. If there will appear access nut oils- just drain them off. Place the cake back in the freezer and leave to set for at least hour before topping it with the caramel.
When the cake is ready and firm, place all caramel ingredients in to clean food processor bowl until nice and creamy. Depending on how soft your dates are, you might need to add another table spoon or two of water. But have in mind- you don't want your caramel too runny.
Place it over peanut layer, spread evenly and place back in the freezer to chill.
Melt your coconut oil, grab a whisk and mix in syrup with cocoa powder until even consistency. Let it cool.
After couple of hours in the freezer cake should be ready, remove it from the tin and pour gradually the chocolate glaze. Top with seeds and nuts, or with whatever your heart desires.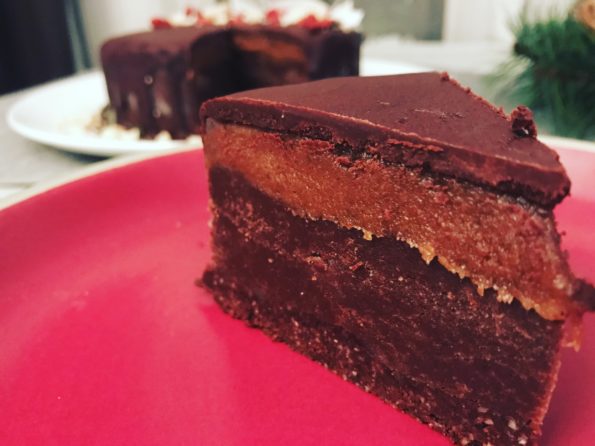 Just look at that caramel….. ^_^ Enjoy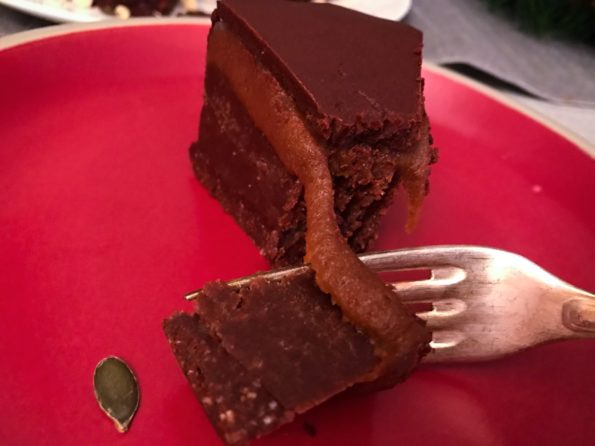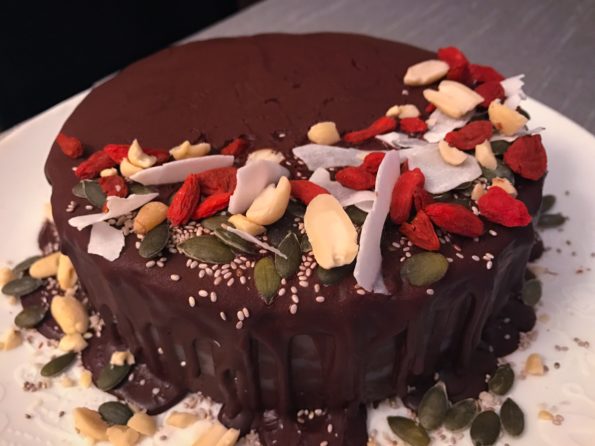 0
0
1
Please share