Raw Tahini Pecan Cake
(vegan, paleo, gluten free and sugar free)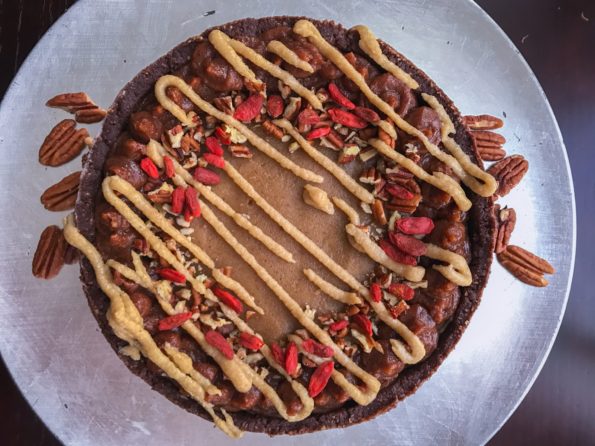 I present you beautifully creamy, sweet and full of organic goodness Raw cake. I made it with my beloved Meridian products. Slightly crunchy chocolate and pecan base filled fit sweet and creamy tahini and date filling. Bliss is understatement. Definitely a must try this weekend
INGREDIENTS
For the base
70g soft pitted dates
50g Coconut Merchant desiccated coconut
140g Pecan nuts
65g Meridian pecan butter
65g Coconut Merchant coconut oil
30g raw cocoa powder
2tbsp Meridian Maple syrup
For the filing
220g raw cashew nuts (soaked overnight or at least 4 hr in hot warm water)
90g soft dates
145g Meridian foods light tahini
55g Meridian smooth almond butter
1tsp vanilla bean extract
Pinch of sea salt
60g Coconut merchant coconut oil (soft, or melted and cooled)
2tbsp Meridian Maple syrup
70ml unsweetened plant based milk, like Alpro or home made one.
For the topping I used handful of blended soft dates with 2 tbsp of Meridian date syrup and some water. You need need to check consistency to be like thick cream.
And take 2 heaped tbsp of light tahini, mix it with little bit maple syrup and pipe or just drizzle over the cake. Decorate as your heart desires.
METHOD
Firstly prepare your tin by lining the bottom of it with parchment paper (mine was 16cm spring form tin) and grease the sides slightly with coconut oil.
Grab food processor and place all base ingredients in it. Blitz for 20-30seconds until all combined. You don't want to make the base creamy, we will need some crunchy nuts to give texture to the whole cake. Transfer in to the tin and press evenly and firmly on the sides and bottom of the tin. Place in the freezer for 30minutes and let it firm up until you will prepare your filling.
Clean your food processor. And place your soaked and drained cashew nuts in it. Blend them for a minute until smooth. Now add the rest of the ingredients and blend until nice and smooth consistency. Don't forget to stop blender and scrape the sides with the spatula couple of times for all ingredients to incorporate evenly.
Take the base out of the freezer and pour the tahini filling in the base. Spread evenly and place back in the freezer for couple hours (if want to eat it same day) or place in the fridge overnight for next day indulgence.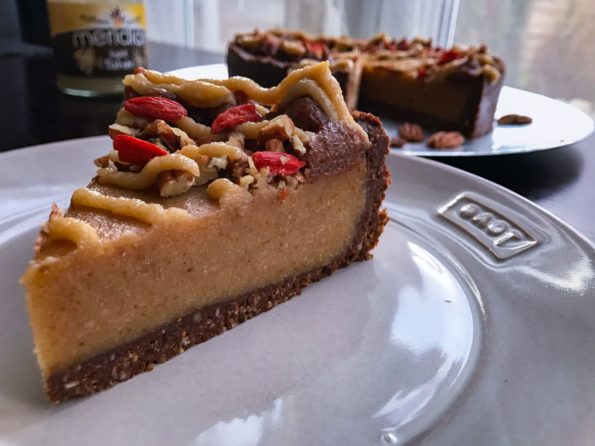 Loosen the cake with the knife going around the edge of the tin and remove on the serving plate. Prepare your decoration bits- date caramel and tahini cream, and decorate the cake as your heart desires.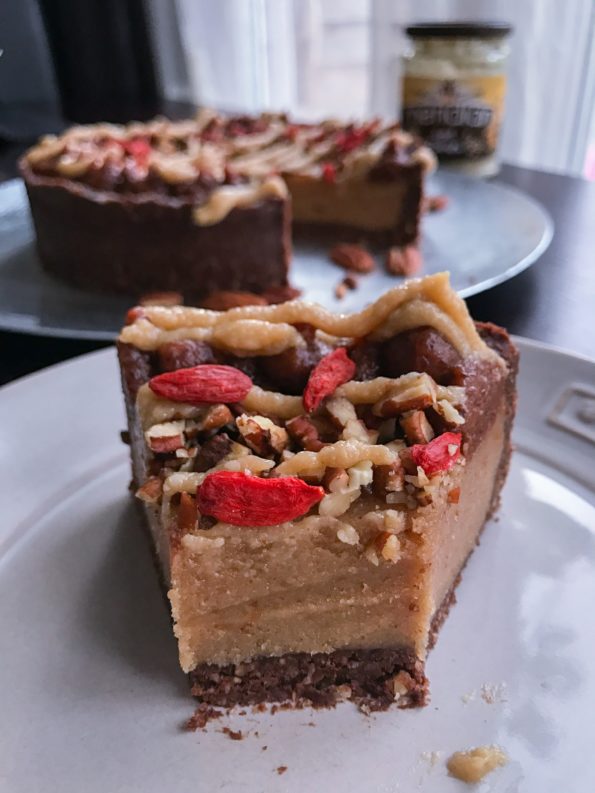 Enjoy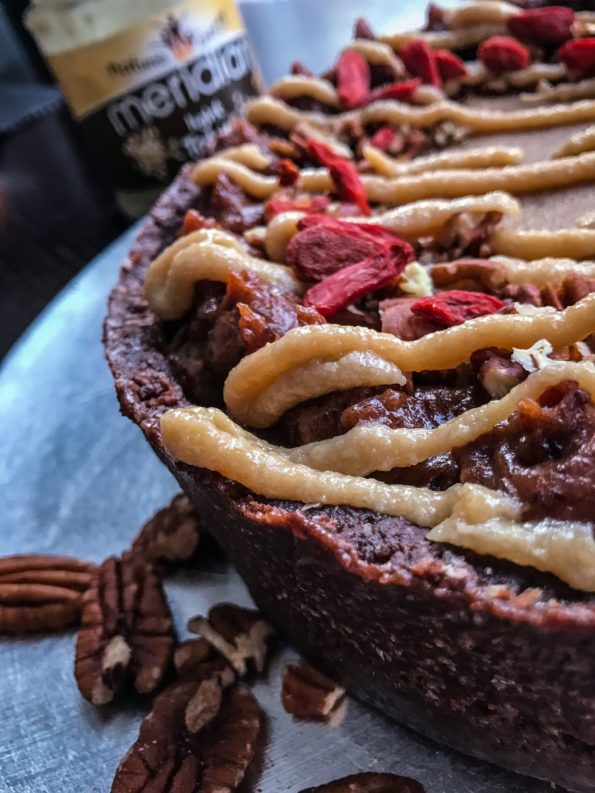 6
0
5
Please share