Tropical Victoria Sponge
(White Sugar free and Dairy free)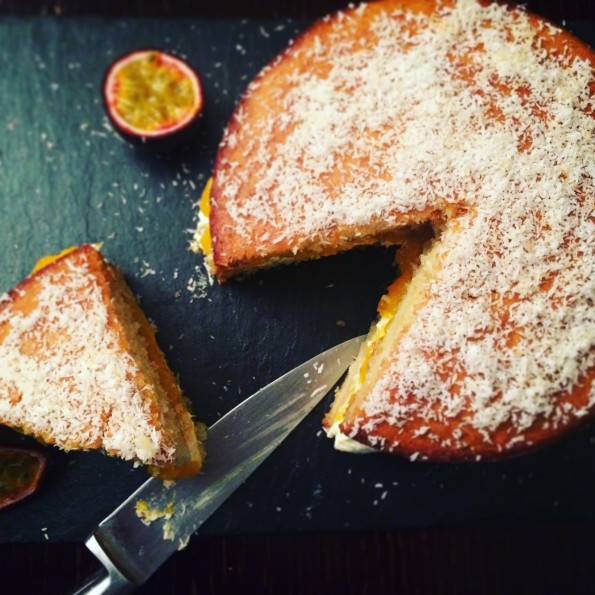 With days drawing in and Autumn well and truly on its way I often find myself day dreaming about long, lazy days  spent sun bathing on a fantastic tropical beach far away from the grey skies of 'Old Blighty'!  These thoughts brought a great of a recipe to mind, yes, I thought that I will bring the tropics to Britain in form of my "Tropical Vic' Sponge Cake".
It has an ever so  delightful fluffy coco-nut sponge with a luscious serving of home cooked Mango Jam and is  nicely rounded off with fresh passion fruit pulled swirled through whipped cream – a true delight and more than likely the next best thing other than that tropical beach I keep going on about (even though that would be nice!).  In my opinion this is a good alternative to the traditional Vic Sponge and the coconut in the sponge makes this more flavoursome in my opinion. This cake is free from refined sugar and can also be made dairy free by substituting the cream filling for 'dairy free' cream/butter.
~~~~~~
INGREDIENTS
For the sponge:
260g plain flour
60g designated coconut
2tsp baking powder
250g dairy free spread ( used Pure sunflower spread)
150g Truvia
4 medium eggs
1tsp vanilla
150g creamy coconut milk
For the Mango Chutney:
3 ripe Mangoes
50-100g Truvia (it really depends how ripe your mangoes are)
zest of 1 unvaxed lemons
For the Cream Layer:
150g Trex  (this can be replaced by 200g normal whipping cream)
50g coconut milk (chilled over night in the fridge)
100g Truvia (if using normal sugar, reduce quantities to 50g)
4 pasion fruit
METHOD:
Preheat the oven to 180'C, grease and line two 8in cake tins with parchment paper, set aside.
In the stand mixer put your vegetable spread, Truvia and beat well until nice and fluffy. In the mean time sift the flour and baking powder in a separate bowl and set aside.
Add the eggs and vanilla to the butter mix, and let it beat for another couple of minutes. Then add your coconut milk and beat for another minute. Now, remove bowl from the mixer, and add your flour and coconut, gently fold in and it is ready to be divided evenly in to the tins.
Bake your sponges on the middle shelf for about 30-35 minutes or until wooden skewer will come out clean.
Whilst your sponges baking, you can prepare Mango chutney, by peeling and removing the stone from the fruit. Dice in to small chunks and place in the medium sized pot, sprinkle over with Truvia, lemon zest and boil on small to medium heat until nice and creamy, and all fruit came together in to jammy consistency. It took me about 15-20 minutes (of course, if your fruit is not very ripe, it will take it longer for them to break cook down). Set aside to cool completely.
When your coconut sponges are baked, leave them in the tins for 10 minutes or so to cool slightly, and turn out on to the wire rack to cool completely.
Assemble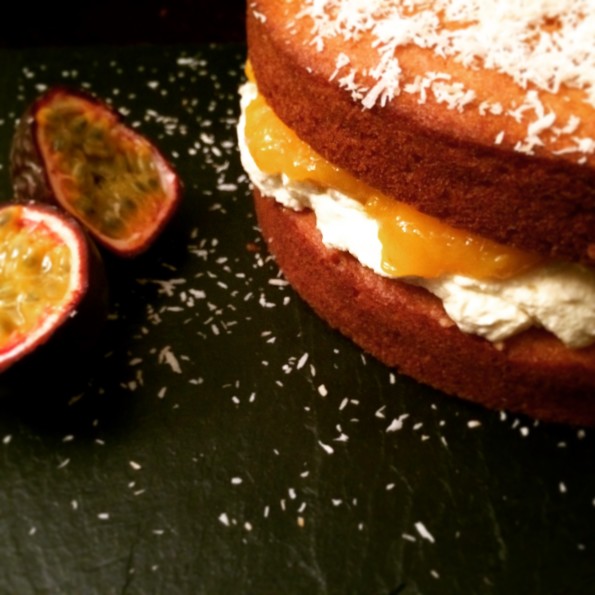 If you looking for a healthier and not so rich version of the cake, you can skip the butter/cream part and sandwich it just with mango Chutney. But if you decided to go all the way like I did- beat your room temperature shortening well in the stand mixer with a paddle attachment together with Truvia until nice and fluffy, approximately 10 minutes. Add the coconut cream and whip again for another minute. Remove bowl from the mixer and gently fold in  your passion fruit pulp in the butter. (if you using whipping cream, whip the cream just until it starts to firm up, be careful not to over work it as it will curdle)
Assemble the cake by putting one sponge on the serving plate, add your cream/shortening, top it up with mango chutney, plce another sponge on top and sprinkle with some roasted coconut.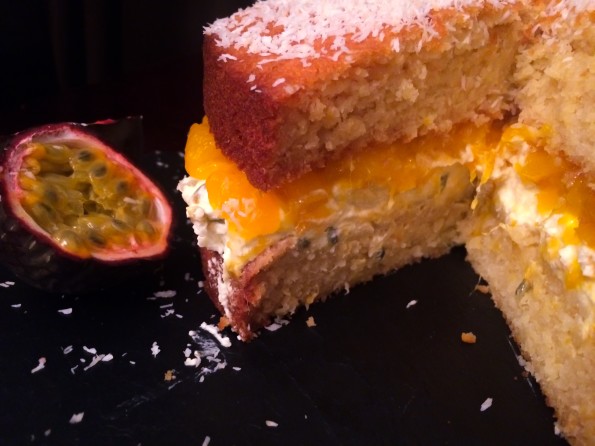 Enjoy