Vanilla and lemon Pronuts with Chocolate glaze
(Gluten free, sugar free, high in protein low carbohydrates and fats)
Makes 8 doughnuts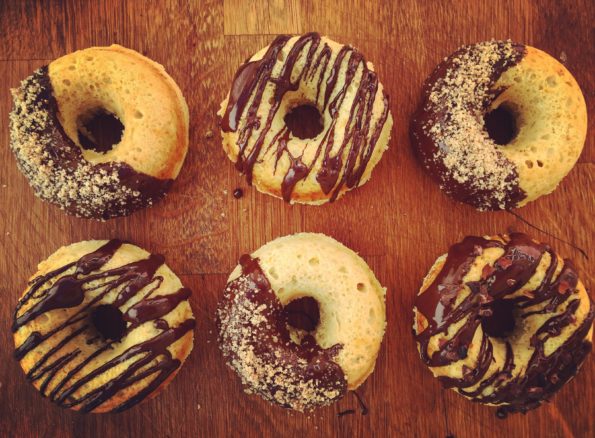 Doughnut is one of those guilty pleasures we crave when on diet. But there is a solution- healthy and packed with protein version of them. Beautiful and light doughnuts with nice vanilla and lemon flavour satisfy your sweet tooth when counting the calories. This recipe makes around 8 doughnuts, so please adjust if required more or less.
Little advice- try to eat them same day of making to enjoy fluffy and light treat.
~~~~
INGREDIENTS (makes 8 doughnuts)
Dry ingredients:
50g of NRGFuel vanilla protein powder
0.5tsp baking powder
0.5tsp baking soda
60g almond flour (I used Sukrin)
20g coconut flour ( I used Coconut merchant)
90g rice flour
10g potato starch
40g Truvia
Zest of 1 lemon
Wet ingredients:
2eggs + 1egg white
1tsp vanilla extract
150g fat free greek yoghurt
Juice from half a lemon
100g dark 70% chocolate (melted) for coating  + some ground nuts and cacao nibs for decoration
This is optional, if you counting your macros you can avoid glazing and eat them as they are, promise, they will taste awesome.
METHOD
Preheat oven to 190'C
In one medium sized bowl mix all dry ingredients, in another medium bowl mix with a fork all wet ingredients.
Now pour wet ingredients in to dry and mix all very well with a hand whisk or spatula. Just do not over mix, just until all evenly combined.
Divide the batter between 8 moulds and pop in the oven for 10-12 minutes.
If using, melt the chocolate, coat the doughnuts as desired top them up with nuts, cacao nibs or just leave plain and lemony.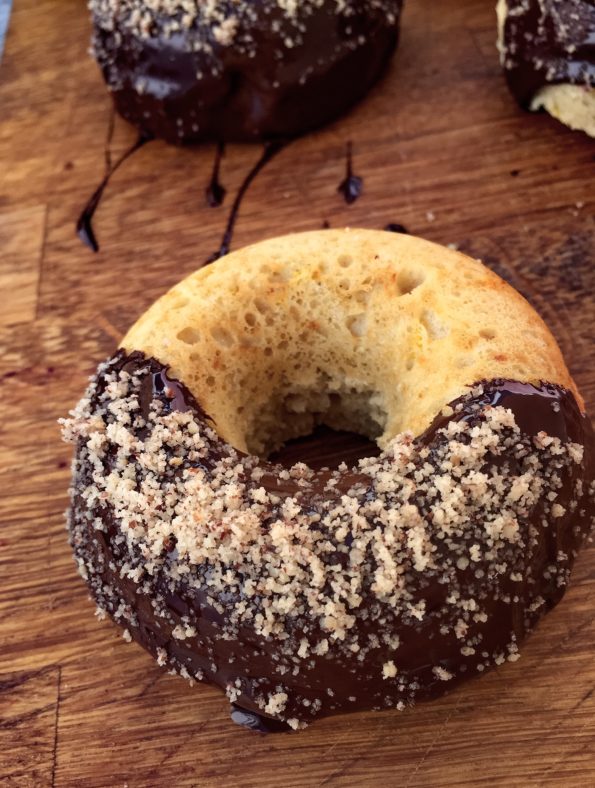 Or, mix Meridian smooth peanut butter with some maple syrup and table spoon of melted coconut oil and smother on the top… mmm….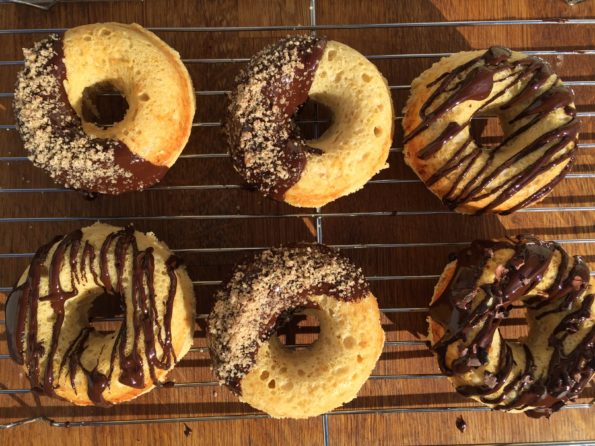 0
0
2
Please share