No Bake Sweet and Salty Granola Bars (can be made as balls too)
Vegan, gluten free, refined sugar and dairy free)
(makes around 12 bars)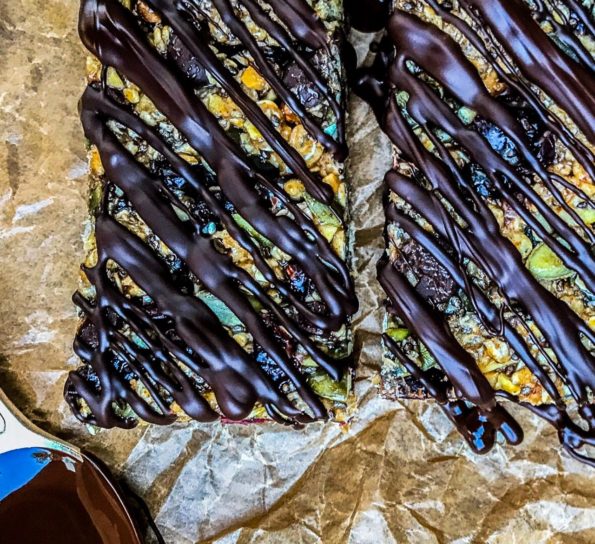 These bars are absolutely moreish. Easily put together and filled with wholesome ingredients. They are gorgeous snack on the go not only for grown ups, but also for the kids. Sweet and salty mix goes perfectly together, with sour cranberries cutting through that contrast of flavours makes it even better. Crunchy nuts and rice pops mixed together with soft and gooey fruit with little chunks of dark chocolate is just mach made in heaven.
To be honest, i love using some salted peanuts to give that extra saltiness to the bars.
INGREDIENTS
170 g brown rice syrup (or honey if not vegan)
55g Meridian smooth almond butter
25g soft Coconut Merchant coconut oil
70g gluten free oats (or ordinary oats if no allergies)
30g crispy rice cereal, like rice crispies
100g chopped nuts (like walnuts, almonds or salted peanuts and hazelnuts)
Pinch of fine salt
120g dried cranberries
70 g pumpkin seeds
2tbsp chia seeds
60 g dairy free dark chocolate chips
100g dark chocolate to melt and drizzle over the bars (optional)
METHOD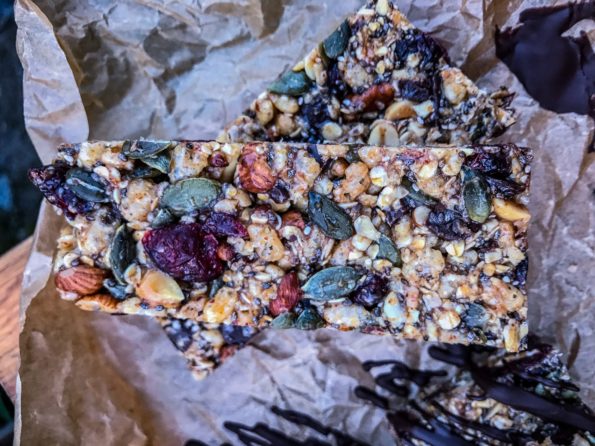 Line an 8×8 (20×20 cm) baking tin with a sheet of parchment paper, leaving a few inches of overhang on the sides to allow for easy removal. Generously spray the foil with cooking spray and set aside.
Add brown rice syrup, smooth almond butter, and coconut oil to a microwave-safe bowl and heat on high until ingredients are fully melted and combined, about 1 minute. Remove from microwave and allow to cool.
Combine remaining ingredients in a large mixing bowl, stirring until evenly distributed. Pour wet ingredients into dry ingredients and mix until fully incorporated.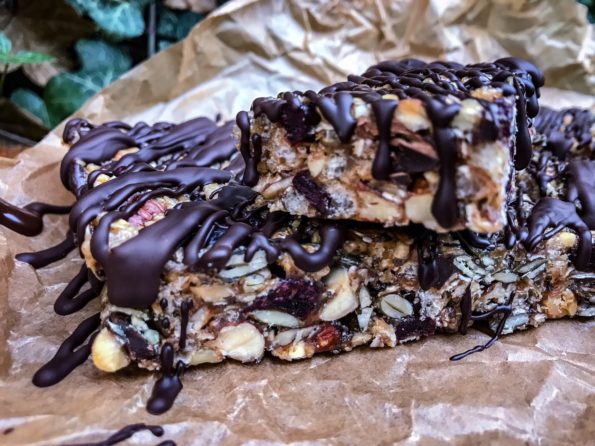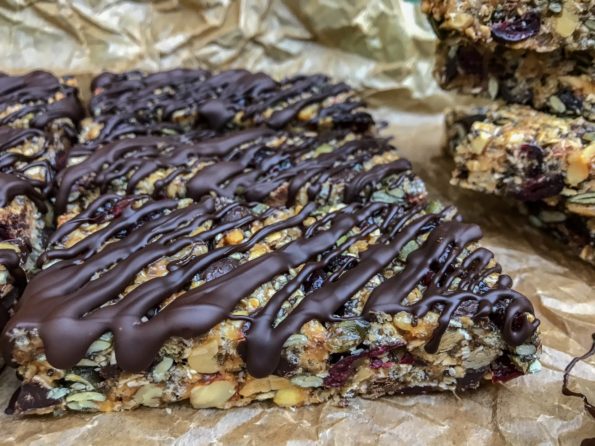 Transfer mixture to prepared pan and use a spatula or your hands to spread it evenly, making sure to press down firmly. I took separate sheet of parchment paper, placed it in top and pressed with the palm of my hand.
Ideally would be the best to let them sit in the fridge over night, but for an hour or should be fine to. When bars have set, remove from pan using the foil overhang, and use a sharp knife to cut into individual bars.
Drizzle with melted chocolate and indulge.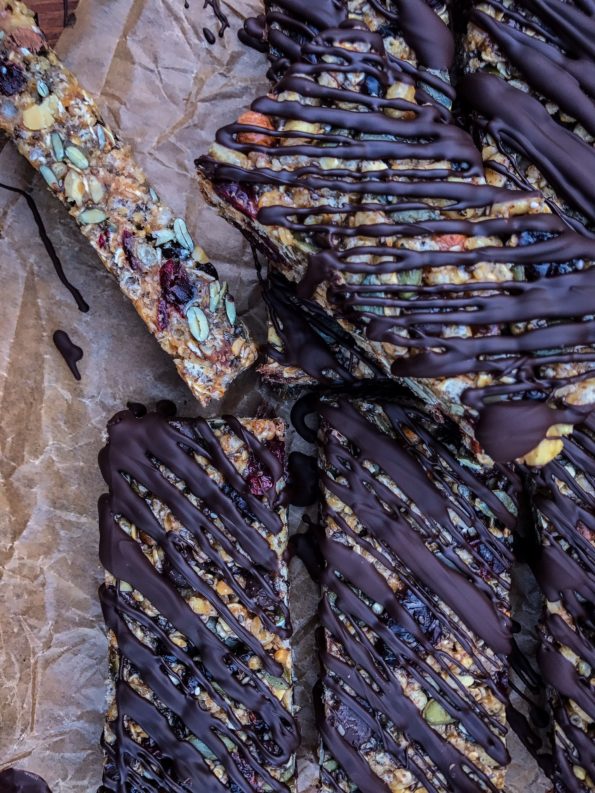 Store bars in the fridge or freezer for best results.