Vegan Nutty Granola
Makes just over 800g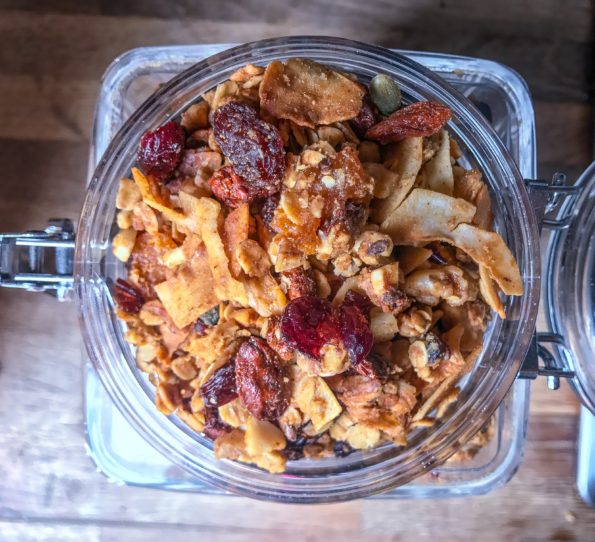 Oh yes…. granola baby… lovely, fragrant, crunchy and sweet …packed with nutty protein, seeds and fibrous fruit. I always make my own, because I can vary what I put in to it, whatever you add, it will always taste 100 times better then shop bought alternatives.
Most importantly- it takes only minutes to put all your ingredients in to the bowl, never mind baking it… so you can't pull- 'I have too busy life to make these things' card again 😏
When you make this granola, you don't have to go with the exactly same variety of ingredients- please be my guest and improvise what you adding!
~~~~~
INGREDIENTS
Dry ingredients
400g jumbo rolled oats (or gluten free oats)
80g seed mix (sesame, pumpkin and sunflower)
65g Coconut Merchant coconut chips
80g chopped nut mix
80g sultanas
60g crushed walnuts
100g dried cranberries
80g goji berries
100g dried apricots (chopped)
Teaspoon of cinnamon
Wet ingredients
50g freshly squeezed orange juice
120g Meridian smooth peanut butter
80g Meridian Maple syrup
100g Coconut nectar from CoconutMerchant (honey like flavour)
50g Coconut Merchant extra virgin coconut oil
30g brown rice syrup or coconut syrup
METHOD
Preheat oven 150'C and line big baking tray with parchment paper. You can use two smaller if you wish so mix will spread more even.
Grab large bowl, add all your dry ingredients in it, give it a mix and set aside.
In another heat proof bowl or a small saucepan melt all the wet ingredients mixing them one to twice to incorporate well.
Now pour it over dry ingredients and mix well with a wooden spoon so everything coated with wet sticky sweet peanut butter mix ❤️
Yip all out on to prepared baking sheet. Spread evenly and pop in the oven for 20min. Take it out and mix once or twice so granola will bake evenly.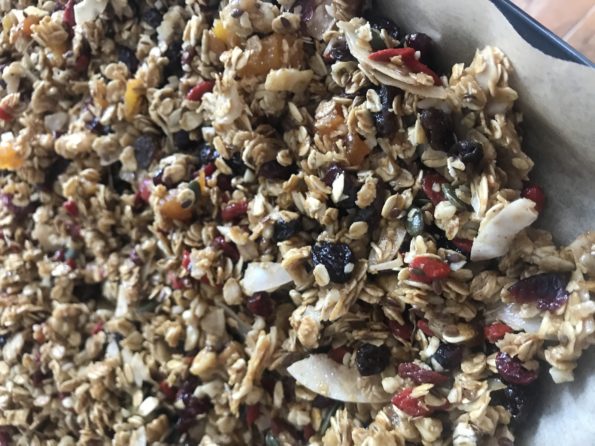 When done- remove out of the oven and let it finish drying and cooling on the sheet.
Store on air tight container… longevity? Well…. I dare you on that one, coz in my house it doesn't stay longer than 2 weeks 🙂 but a month or so will definitely be fine!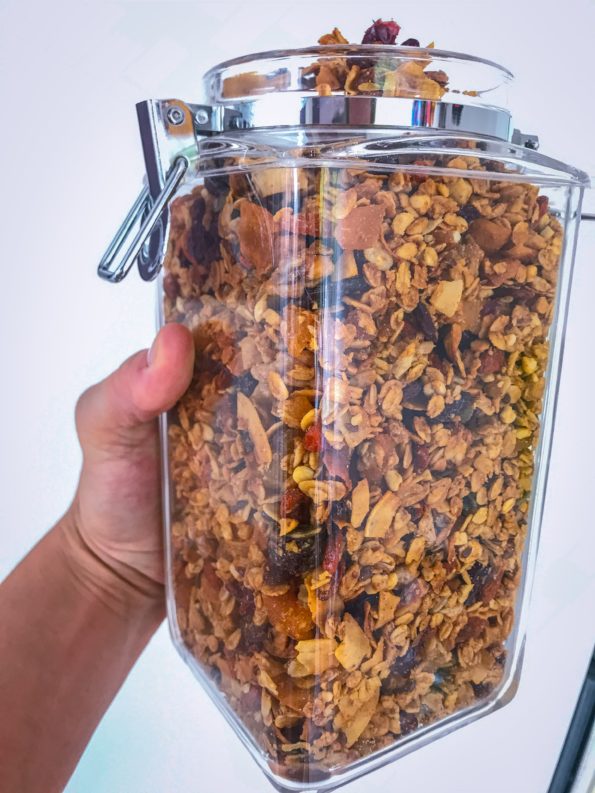 Have a fabulous breakfast