Vegan Orange and Chocolate Banana Bread
(Gluten free, refined sugar free)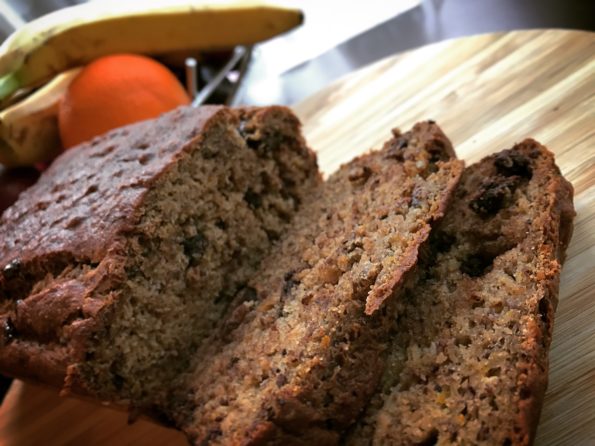 This beautiful and moist banana bread has gorgeous scent of an orange and makes it even more special when found some chocolate chunks in it… Little tip when making banana bread- always use quality gluten free flour mix and make sure to use up those over ripe bananas. In my banana bread i do not use any refined sugars, I will substitute them with coconut sugar, which as well will give nice rich flavour.
~~~~~
INGREDIENTS
200g gluten free flour
2tbsp milled flaxseed, heaped
1tsp Xanthan gum
75g ground almonds
290g very ripe bananas
1pinch fine sea salt
1tsp baking soda
1tsp baking powder
110g coconut sugar (I used Coconut Merchant)
100ml grape seed oil ( I used Meridian)
150ml unsweetened almond milk (soured with a 1tsp of vinegar)
Zest and juice of an orange
100g dark sugar free chocolate (chopped) or chocolate chips
METHOD
Preheat oven to 170'C and line medium sized bread loaf tin with parchment paper.
In a large bowl place all dry ingredients and mix them well to combine.
In a separate bowl mash your bananas, pour soured milk, orange juice and zest together with oil and mix with a spoon to combine.
Now pour wet mix over the dry mix, add your chopped chocolate and gently fold everything until just combined. Make sure not to over mix, as it will stop your bread from rising and being fluffy.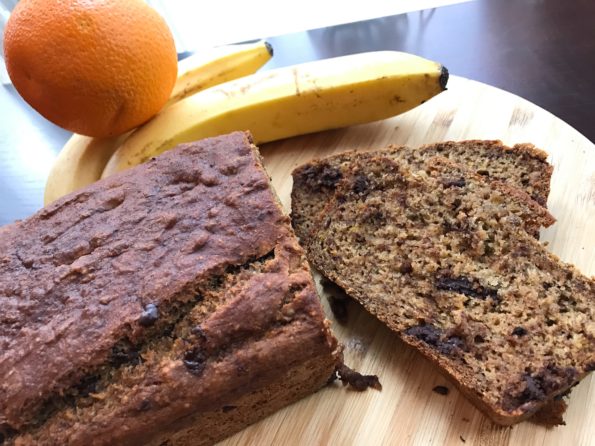 Now transfer the batter in the prepared tin and bake in preheated oven for around 45min, or until skewer inserted in the middle will come out clean.
Cool completely before slicing.
Enjoy 🙂