Welcome to UBFitness ,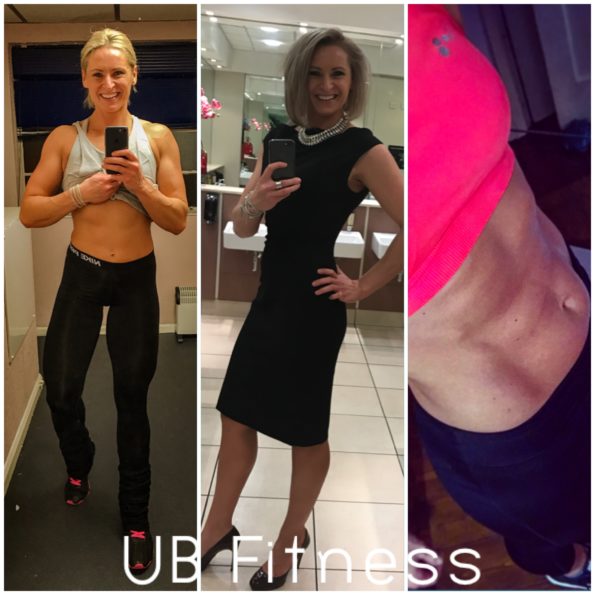 This is the exciting and new Nutrition & Fitness system of infamous #ugnebakes – star of the Great British Bake-off, popular public figure and top-selling Author.  This system was created by a modern and dynamic woman and focused on women just like her!  Not convinced just yet…ah ok…please read further!
You may remember Ugne as the Leggy  Blonde lady from the 2015 Bake-off whom had the global media in a storm due to her love of baking cake  (and eating it!) whilst keeping in phenomenal shape; and being all-round fit and healthy.   All this does not happen by coincidence, it calls for knowledge (a science in itself) and more important so how to apply that very specific knowledge to your personal situation in order for you  to achieve a healthier and fitter YOU!
As a very busy mother, partner, Author, public figure and business woman,  she still find time during her manic schedule/diary to keep in in shape and fit – she sees the gym is her 'MY' time and it offers her a sanctuary where she can focus on herself more so work on being a better 'her'.
So with all that said, Ugne is  now offering you the an exclusive opportunity to work with her personally to get you in the shape of your life…whilst yes, eating cake and other treats – she will construct your training program and your nutritional plan around your personal lifestyle/circumstances.  Having been rated amongst industry professionals a one of the UKs leading free-from nutritional experts, few can match Ugne for designing tasty yet Nutritional meals whilst working with your preferences to create this.
UBF's services will be available world wide as well as one to one #training sessions from a gym in South Woodford. Consultation can take place via the internet or skype if long distance coaching required via those means.  I am currently working on my second book so I have limited spaces available.
My services, at very affordable rates, include:-
– Post-natal fat loss and fitness for ladies (especially for ladies whom struggle to lose the extra fat post giving birth)
– Fat loss
-Muscle gain ("tone")
– general health and fitness consultation
– 1-2-1 Training sessions
Ugne will be taking on clients now but spaces are VERY limited, so please contact her as soon as you can to avoid disappointed!  Please share this with any of your female friends/family whom may be interested in her services.
Ugne can teach you about the secrets of nutrition her way, fitness and in general a healthier yet balanced lifestyle.  So, whatever your fitness goals are she can help to get you there …she will be there  every step of your personal fitness journey.
In order to get you started all you need to do is send her a short email with what it is you wish to achieve and Ugne personally will respond with the options and costs involved in accordance to your goals.
For the Men:-
We have an associate whom we can refer you to whom are a Fantastic trainer himself! So please enquire via email.
The programs will require effort , willpower and costs from you, thus serious Enquiries only please – NO TIMEWASTERS please, thank you.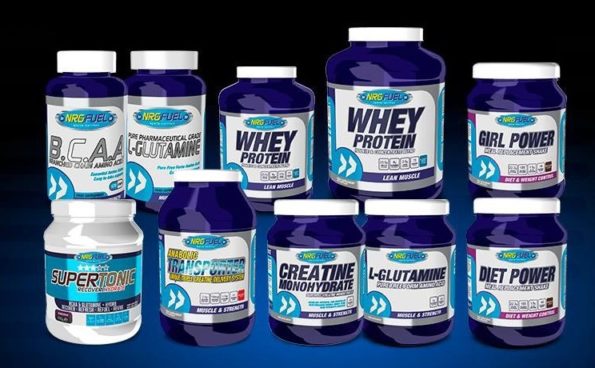 NRGFuel Sports Nutrition has been producing the finest Sports Nutrition Supplements for many, many  years and they know the fitness industry and the requirements of their field well. They are committed to creating top quality and innovative products to help men and women, just like you,  across the world achieve their fitness goals.  Whether you require the highest quality whey isolate or a supplement which will support your weight management, they can cover all your fitness supplementation needs.  They use only the finest ingredients to create their world-class products to keep you #strongerforlonger
Not only do I make use of their fantastic products in my day-to-day fitness lifestyle, but being known as one of the UK's pioneers of Modern Free-From and Protein Baking/Desserts I always need to stay on-top of my game by using only the finest quality "Protein" in my 'work'.  Ever since teaming up with NRGFuel, I have exclusively used their Protein products with confidence in all my produce with great outcome!
Below is a 15% discount code which YOU can use when checking out on their website. 
'ugne15'
Ugne Bubnaityte (Great British Bake-off 2015, Member of NRGFuel Team Lean and Published Author)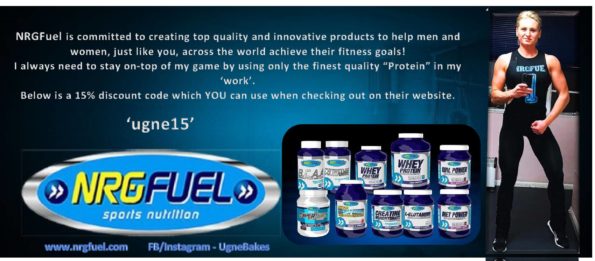 Contact me on: ugnebakes@gmail.com

0
4
0
Please share