Chocolate and Peanut Butter Protein Donuts
(High protein, refined sugar and flour free)
Makes 12 medium size donuts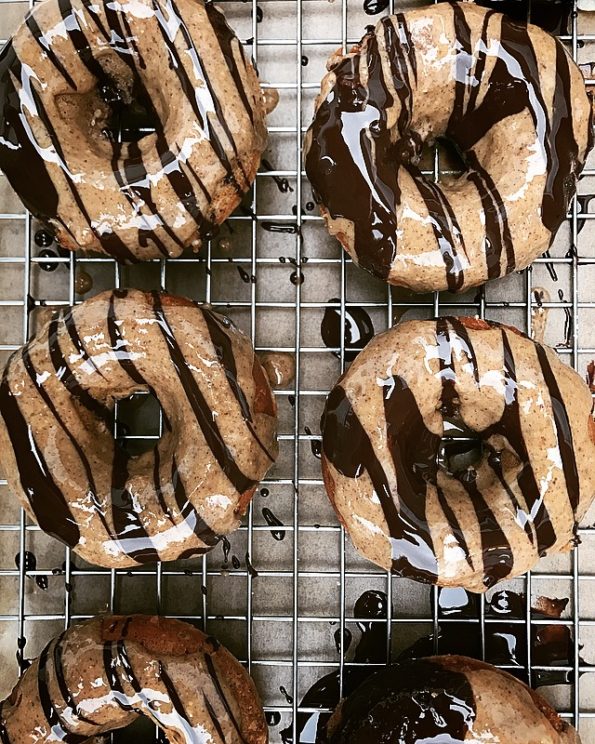 Or other words- pronuts 😁 These extremely easy to make and tasty donuts will definitely stay in your healthy menu. Doesn't matter if you are working out in the gym or just like to make healthy treats for your self- they fit for all! These pronuts are moist (that is why it is essential not to over bake them) packed with peanut flavour and full of protein. As they are flourless, and carbohydrates source is oats- that makes them perfect post workout snack!
~~~~~~
INGREDIENTS
Dry ingredients
90g oat flour
1tsp baking powder
60g NRGFuel chocolate whey isolate
65g Sukrin Almond flour (or ordinary ground almonds will suit as well, just macros will slightly change then)
Wet ingredients
160g very ripe banana
Pinch of salt
1egg + 1egg white
130g Meridian smooth peanut butter
80ml unseeetend plant based milk like Alpro
25g Meridian maple syrup
For the glaze
5 heaped tbsp of Meridian smooth peanut butter (you might need more if wish to coat the donuts more) + 1tbsp Coconut merchant coconut oil and some sweetener
50g dark sugar free chocolate melted with 2tsp of Coconut Merchant coconut oil
METHOD
Preheat the oven to 180'C and grease well the holes of the donut tin.
Now, in a large bowl mix all your dry ingredients and set aside.
In the food processor or a bowl suitable to use with hand blender  place all wet ingredients and blend to smooth liquid.
Pour it all in to dry ingredients, gently fold everything in until all flour well incorporated and spoon on the batter in to the prepared tin. Don't fill the to the top, do 3 thirds as the doughnut will rise and we don't want to fill in that special hole what makes donuts- a donut 😁.
Now pop the tin in the oven and bake for no longer than 10 minutes. If you will overbake them, donuts will be dry and not tasty.
When done, let them sit in the pan for a minute, and then remove gently on to the wire rack to cool down completely.
Until those are cooling, prep your glazes. In a separate small bowls melt your peanut butter and chocolate glazes in the microwave.
Firstly coat using spoon the pb topping and then drizzle chocolate over the top.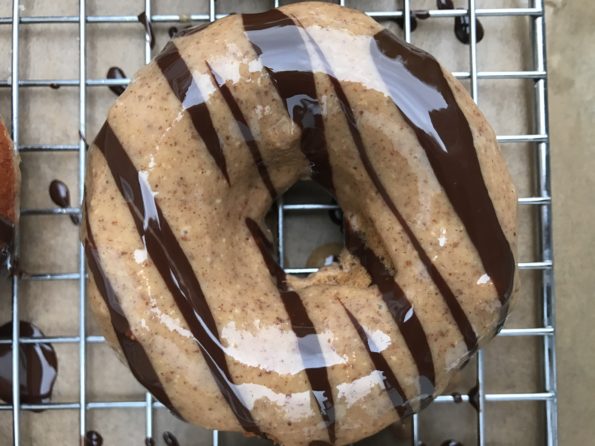 Enjoy 😈 you can thank me later
ALTERNATIVE- if you strict on the calorie intake, replace Maple syrup to 30g calorie free sweetener like Truvia or Sukrin and increase plant milk to 110g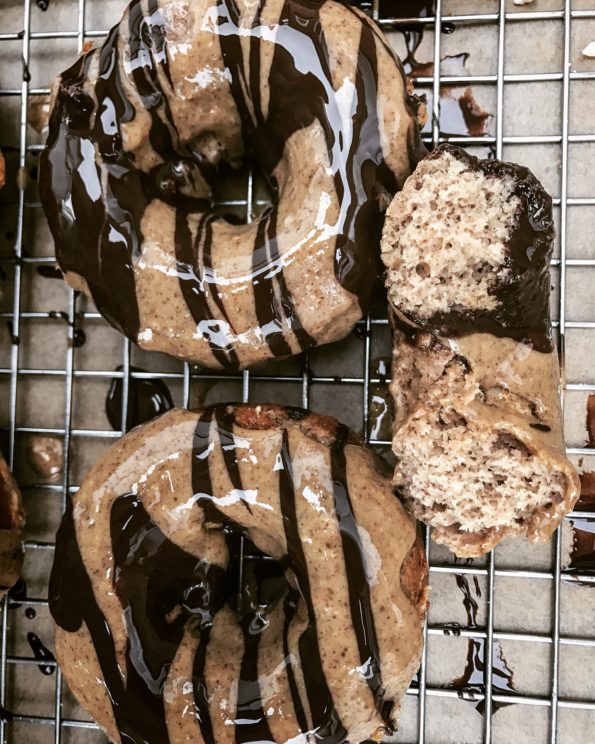 Macros Per Donut without frosting:
Carbohydrates: 6.5g
Fats:  6g
Protein:  12g
Calories: 87cal
For NRGFuel products head on to www.nrgfuel.com and enter code 'ugne15' in the checkout for 15% discount!!!