Dark Rum Prune and Orange cookies
(Gluten free, dairy free)
Makes around 30 cookies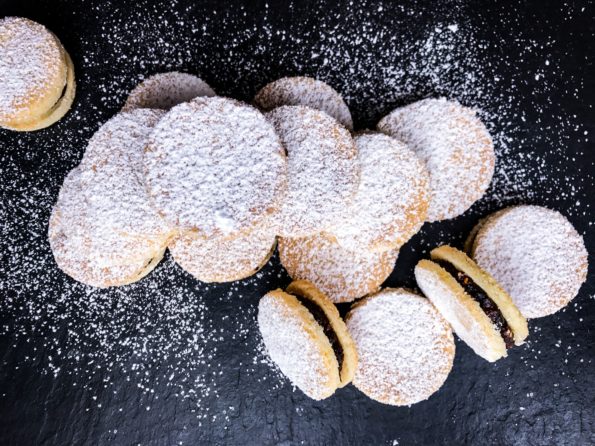 These fabulous delicate cookies are made free from dairy and gluten Sable Breton. But of course, if you not suffer no from any allergies, you can use butter and ordinary flour to make them too.
The beautiful sable Breton cookies are crumbly and light in texture with slight hint of an orange goes really well with dark rich boozy prune filling.
Great grown up treat, can be made any shape or size.
~~~~~~~
INGREDIENTS
For the prune filling
200g ready to eat soft dried prunes
65ml dark rum
Juice of 1 lemon
25g cocoa nibs
1tbsp Chia seeds
Sable Breton Cookies
310g gluten free flour (or 250g all purpose plain flour)
0.5tsp Xanthan gum (opt out if using ordinary flour)
0.5tsp baking powder
Pinch of fine sea salt
190g room temperature Trex or Unsalted butter if have no allergies
75g free range egg yolks (around 4 large eggs)
160g fine golden castor sugar
Zest of an orange
METHOD
Firstly prepare the filling by blending all ingredients in the food processor. Transfer in the piping bag and set aside in the room temperature until cookies are ready.
Now for the Sable Breton. Take medium size bowl and using spatula mix Trex or butter very well until pale. Add the sugar and give it a good whisk for couple minutes. You don't want to incorporate too much air in the cookies, they will be light anyway. Now add egg yolks one at a time and beat with same spatula until all incorporated. Grate in the orange zest.
In a separate medium bowl sift flour together with baking powder, Xanthan gum (if using) and salt.
Now little bit at a time add flour mix to the butter mix and mix all well until all incorporated. Take 4 sheets of parchment paper, and place half the dough on one sheet, cover with other and roll out to the desired thickness (around 3-4mm). Repeat same with the other half of the dough. Now place both sheets in the fridge to chill for 2-3hours.
Preheat oven to 180'C. Take one half of the rolled dough, peel off the top paper, place it on the baking sheet and in the oven. Bake for 8-10 minutes or until golden brown. Repeat the same with the second batch.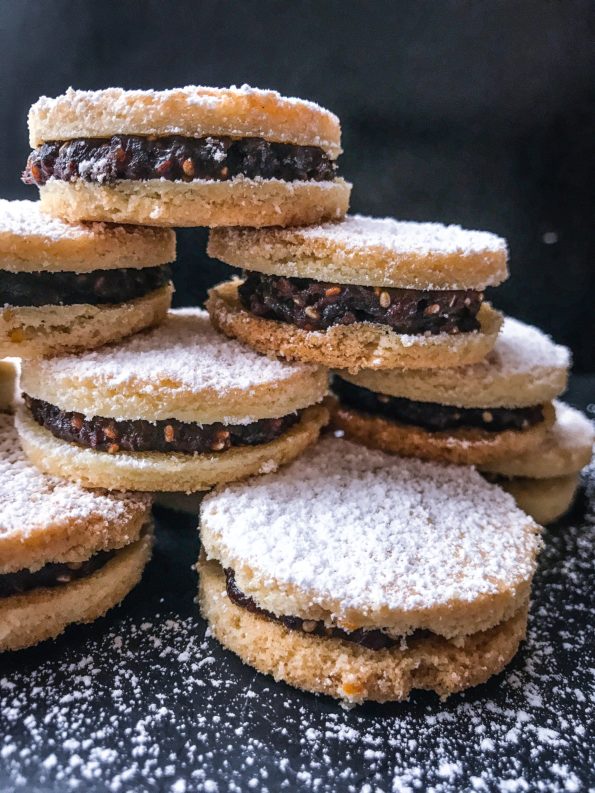 When baked, take a desired size cookie cutter (I used 4cm diameter) and cut out the cookies straight away by gently placing them on the wire rack to cool down.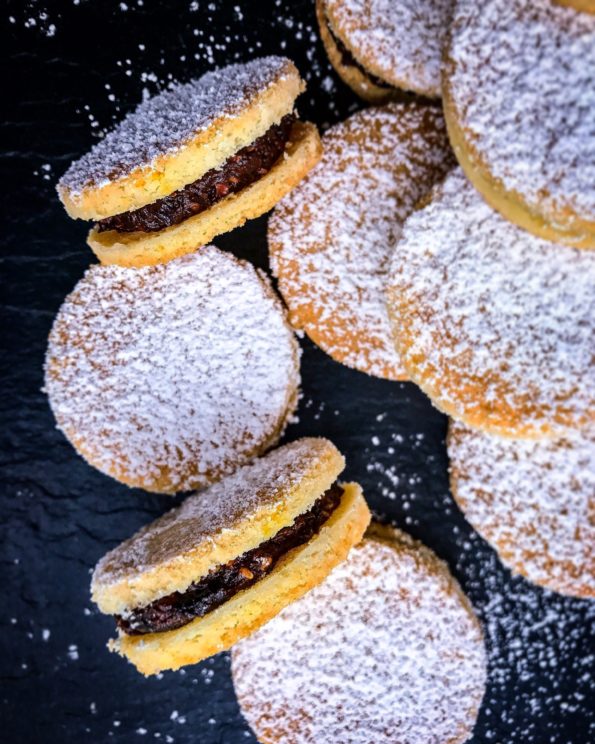 Pipe out little bits of filling on cookies and sandwich them together. Sift some icing sugar over the top.
Enjoy
0
0
2
Please share