Hazelnut and Lavender Chocolate Cake
(Gluten and Sugar free, low fat)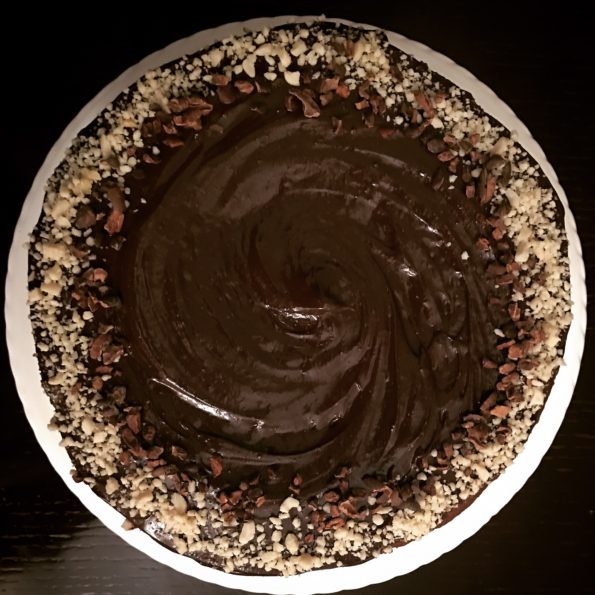 This incredibly fudgy chocolatey cake is super moist, super tasty and bursting with hazelnut aroma and has a hint of lavender. If you don't have lavender buds on hand, you can easily give them a miss, the cake won't taste any worse 😉 As there is no butter added, it's not too rich, but due to the Hazelnut butter, it not loses the moister and is light. You can make it Vegan, just replace greek yoghurt with Alpro just plain, and eggs with flax eggs.
INGREDIENTS
Wet ingredients
170g Meridian Hazelnut Butter
3 large eggs
125g fat free yoghurt
2 medium very ripe bananas (peeled and mashed)
1 tsp vanilla extract
Dry ingredients
155g ground almonds
45g unsweetened cocoa powder
60g buckwheat flour
1tsp baking powder
1tsp baking soda
120g Coconut Merchant coconut sugar
Pinch of fine sea salt
1tbsp culinary lavender buds
Ganache
100g sugar free dark chocolate
30g Meridian Macadamia nut butter
1tbsp Meridian Maple syrup
And around 3-4 tbsp Unsweetened almond milk to thin the ganache out.
~~~~~~
METHOD
Preheat oven to 180'C and line 19-20cm cake tin with parchment paper.
In one large bowl mix all dry ingredients, and in the other medium bowl blend with a hand blender or use just a fork to combine well all wet ingredients. Pour the wet mix in to the dry mix and fold all together with a spatula. Make sure everything is evenly combined and no dry mix pieces left.
Now pour the batter in the prepared tin and bake in preheated oven for 45-50 minutes.
When done, leave to cool in the pan for 10 minutes, and then transfer on the wire rack to cool down completely before applying ganache.
Now, until the cake is cooling, prepare the ganache, in the heat proof bowl, break the chocolate to small chunks, add the macadamia butter and maple syrup and melt in the microwave on a medium heat mixing it every 30 seconds to melt evenly.
When chocolate melted, add the almond milk to thin it out and set aside to cool.
Advice: if after adding milk you see that your chocolate curdles slightly when mixed, don't be frightened, just add one more table spoon of milk and keep stirring- you will see it coming back to all humongous texture.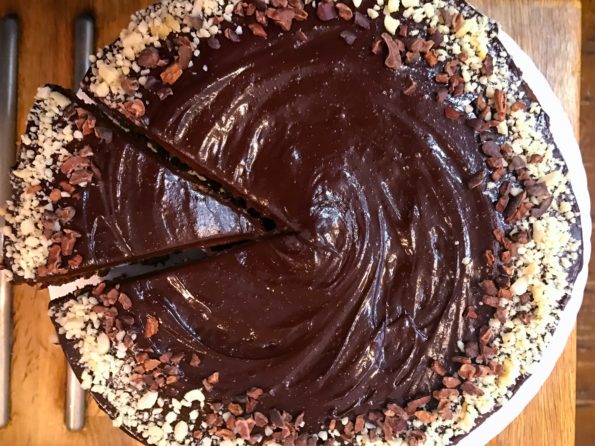 Transfer the cake on to the cake stand or serving plate, spread the ganache evenly on the top of the cake and sprinkle with some crushed hazelnuts and cocoa nibs…. Or just leave it as it is J it will be tasty either way.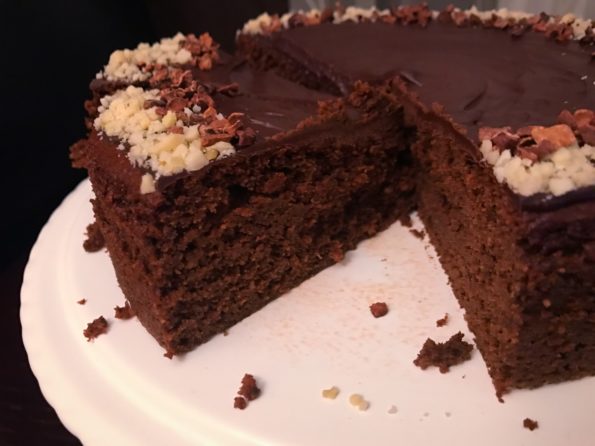 Delish