Fudgy Nutty  Brownies  with Cashew and Meringue Frosting
(gluten and refined sugar free treat with no added fats)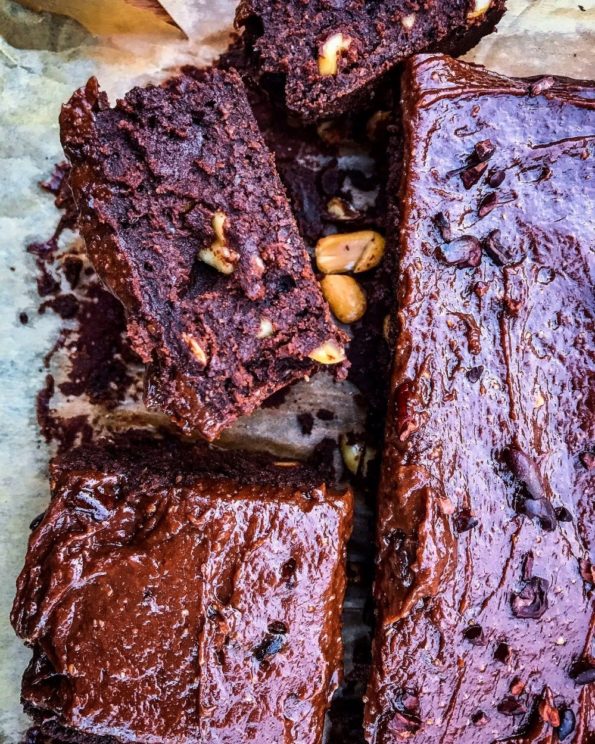 These brownies are utter chocolate lovers delight. Packed with rich chocolate, nutty flavour combined with salted peanut chunks- utter bliss. To top it all up- more gorgeous nuttyness from Meridian cashew caramel gives that extra moisture and adds to already irresistibly good flavour.
And why not to top all this goodness with some sugar free marshmallow fluff? Absolute extravaganza with less calories and naughtiness than you might imagine 😉 These brownies has no butter or oil added, only pure natural nut fats and protein. Sweetened with Meridian date and Maple syrups, gives that one more extra reason to bake and eat!!!!
Like I always say- healthier bakes don't have to be compromised in flavour 😉
For the brownie
Dry ingredients
100g ground almonds
50g cocoa powder
45g Sukrin peanut flour
Pinch of salt
0.5tsp baking powder
Wet ingredients
100g Meridian agave or maple syrup
60g Meridian Date syrup
200g dark 80% cocoa solids chocolate
70g Meridian Macadamia nut butter (can use cashew butter too)
80g coconut cream (scraped from can of coconut milk stood in the fridge over night)
4 free range eggs (room temperature, slightly beaten)
130g salted peanuts (chopped)
For the cashew frosting
4 table spoons of Meridian smooth cashew butter
5tbsp Meridian Maple syrup (might vary depending on desired consistency)
2tbsp cocoa powder
3tbsp coconut cream (scraped from the can of coconut milk)
For the Sugar free Meringue
60ml water
1 Tbsp gelatin
2 lare egg whites
230ml Meridian honey or maple syrup
1 tsp pure vanilla extract
Pinch of sea salt
METHOD
Preheat the oven to 170'C and line square 20x20cm tin with parchment paper.
In the large bowl mix all dry ingredients and set aside.
In another heatproof bowl break the chocolate and melt it over the bain marie. Remove from heat, add your syrups and mix well to incorporate. Now add macadamia nut butter, coconut cream and eggs. Give it another whisk and pour the mix in the bowl with dry ingredients. Mix well, but not over beat, mix will be rather loose. Now pour in your chopped nuts, mix again to distribute them in the mix evenly and pour the batter in to prepared tin.
Pop it in the oven for not more than 20 min, we want our brownies to be fudgy and wet, but not dry.
When done, leave to cool in the tin.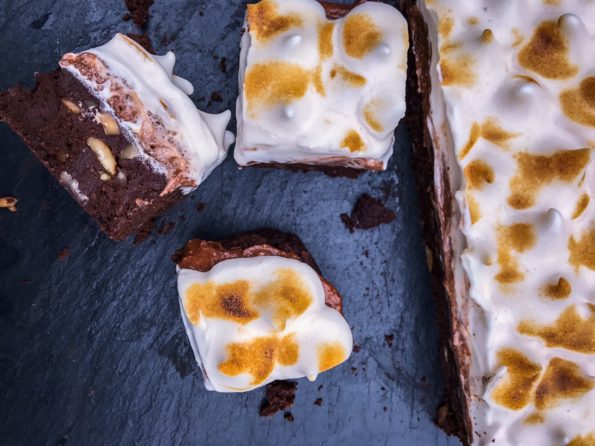 While they are cooling down, prepare the chocolatey nutty frosting and meringue.
Firstly, lets make our meringue.
In a small bowl add the water and then 1 Tbsp of gelatin. Allow to soak while working on the next step.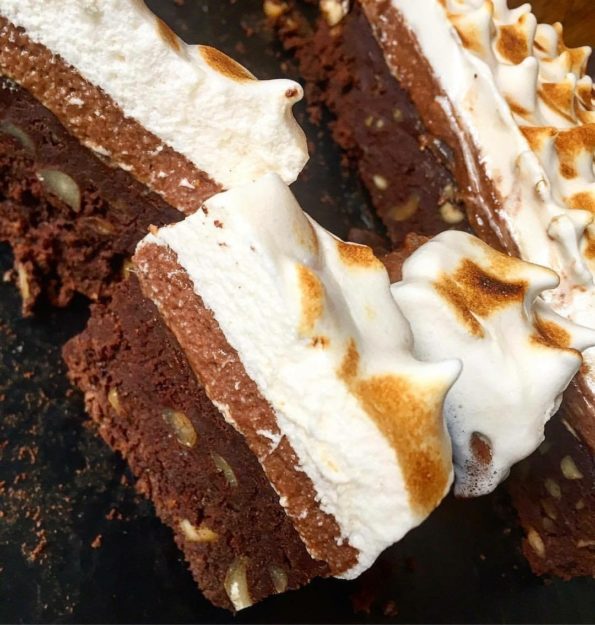 Separate the egg yolks from the eggs. Be careful not to get any yolk in with the egg whites or it will not work. Put the 2 egg whites in an extremely clean glass or metal bowl to insure it whips up nicely.
Beat the egg whites on high with an electric mixer or beaters until they become stiff, but not so stiff that the mixture becomes dry and separates.
In a small saucepan add the honey and/or maple syrup.
Heat the maple syrup/ honey just to boiling and then remove from the heat.
Add the bloomed solidified gelatin mixture to the egg whites.
Pour the hot syrup mixture to the fluffy egg whites and gelatin in a slow and steady stream while constantly beating.
Next add 1 tsp of vanilla and a small pinch of salt and continue to beat the mixture.
Keep beating until it forms peaks and resembles a thick fluffy spreadable frosting. This step takes about 10 minutes.
Once its ready, you'll need to spread it on your cake within 5-10 minutes or it will stiffen up and no longer be spreadable.
Now lets quickly whip up the chocolate frosting;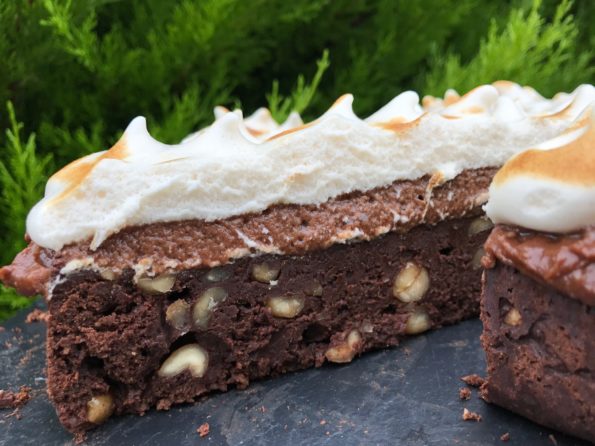 Place all frosting ingredients In a small bowl and whisk all with a whisk till nice and smooth.
Spread over the cooled brownie, lift it out of the tin and cut in to squares.