UgneBakes' signature Peanut Butter and Chocolate Ice Cream
(dairy free, refined sugar free, contains good fats)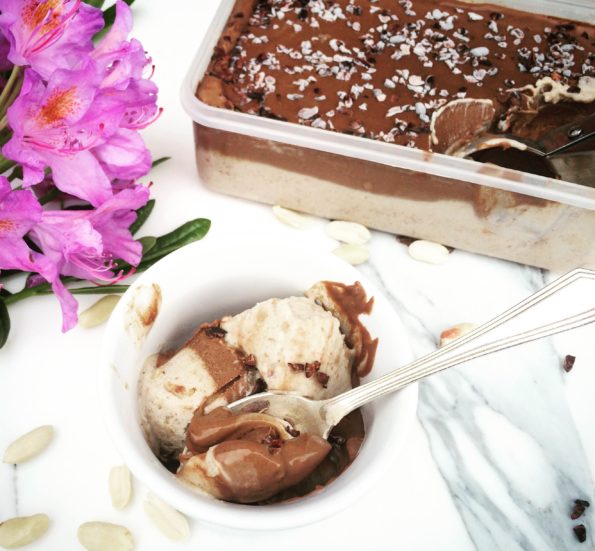 Ok, I am sharing one of my secret original recipes for my Meridian Peanut Butter ice cream which I cherished for a long time.
A very well known Patissier once commented about it:-
 "I have tried many ice creams in my life, and I can say, this can be served in best gelato shops in Italy!!"
It is comments like these that indeed make me feel extremely happy and proud of what I do and how I do it …so back to the ice cream… a combination of layers… A dark, rich and velvety chocolate ice cream, on a foundation of lush Peanut Butter Ice Cream making this one heavenly treat which has to be in every freezer.
No ice cream maker needed, just a container with a lid.
~~~~~
INGREDIENTS
For the Peanut Butter ice cream:-
1 can full fat coconut milk
125g runny honey (I used natural Meridian honey)
140g Meridian crunchy natural peanut butter
1tsp vanilla extract
Pinch of sea salt flakes
Chocolate ice cream:-
1 can full fat coconut milk (kept in the fridge at least over night)
75g agave syrup (I used Meridian)
30g unsweetened cacao powder (I used Kaizen Living organic cacao powder)
1 egg yolk
Some peanuts or/and cocoa nibs for garnish and texture (optional)
METHOD
Firstly prepare peanut butter ice cream. In a medium saucepan pour the can of coconut milk, add honey and peanut butter together with vanilla extract.
Place the saucepan over medium heat and bring it to the boil whisking occasionally to prevent it sticking to the bottom of the saucepan. As soon as the ice cream mix comes up to the boil, turn off the heat and sprinkle pinch of sea salt and whisk once more to incorporate.
Pour the mix in a prepared container, let it cool down to room temperature and the put in the freezer for a hour to firm up.
When you place the ice cream in the freezer, you can start preparing the chocolate ice cream layer.
Prepare a clean medium sized saucepan. Carefully, take the coconut milk can out of the fridge which was chilling over night (you do not want the cream to mix with the coconut water which should settle at the bottom of the can).  Use 300g of  the thick cream layer which set on the top of the can. Put it in the prepared saucepan together with the rest of the ingredients and place over medium heat.
Bring to the boil whilst continuously whisking with a whisk. As soon as it comes to the boil, switch off the heat and let it cool down completely in the pot.
When it's cooled, take peanut butter ice cream out freezer and carefully spoon the chocolate layer on top. Do not pour it on  as the peanut butter ice cream won't have completely frozen yet and we would not want them two to mix.
You can finish the ice cream by topping it (if you wish ofcourse) with roasted crushed peanuts or cocoa nibs… or both… and place in the freezer over night.
Serving:-
Let the container stand in room temperature for at least 15-20 minutes before serving as it will soften the ice cream and it will be easier to scoop out.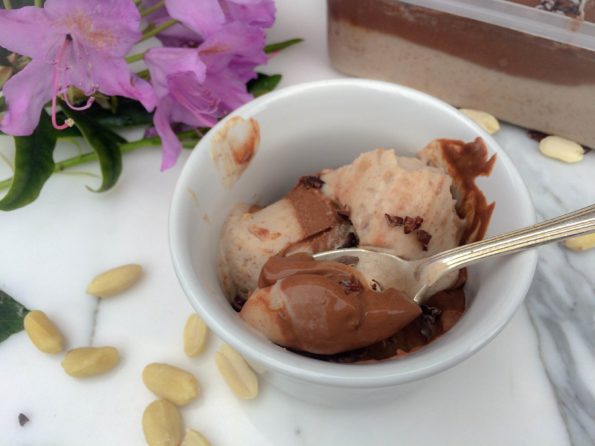 Hallelujah…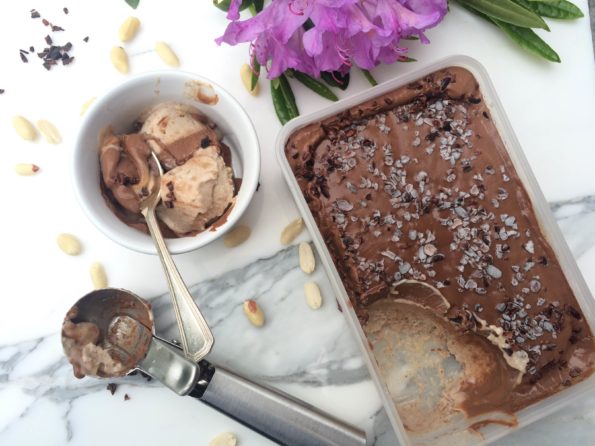 0
0
9
Please share