Raw lemon and Blackberry Cake
(Raw, Vegan, Paleo)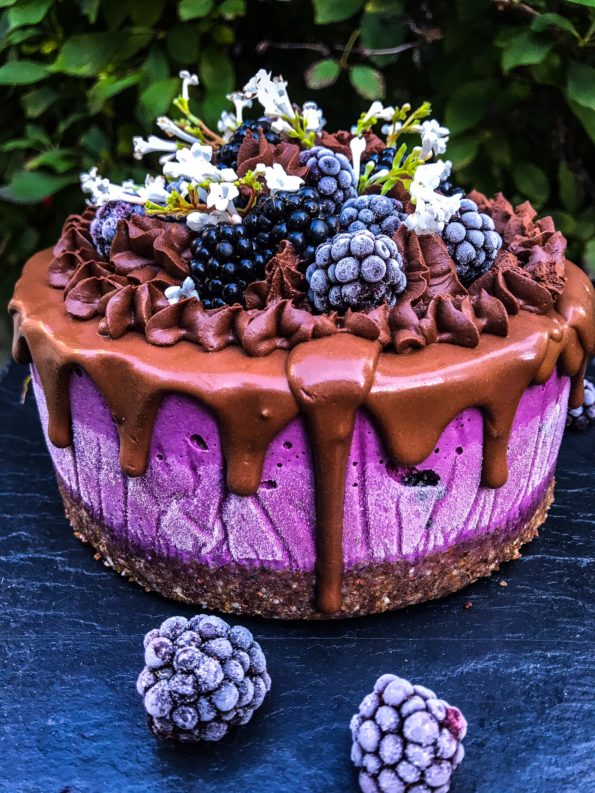 I absolutely love making these wholesome raw cakes and desserts. This raw cake is as usual- gluten free, no refined sugars… and.. I don't know why, but I want to call it ' Purple Rain' haha
I love making wholesome raw desserts, they are so flavoursome and packed with nutritious ingredients. This beautiful seasonal cake came to mind as have loads of blackberries in my back garden, and what goes better with them as lovely zesty lemon? This beautiful creamy cheesecake is sitting on a crunchy nutty base and topped with a silky raw chocolate ganache. Summery dessert for any occasion not only beautiful centrepiece on the table, but also bursting with amazing flavours
~~~~~
INGREDIENTS
For the base
70g dried mulberries
80g Hazelnuts nuts
100g pitted soft dates
40g cocoa nibs
Pinch of salt
1tbsp Coconut Merchant coconut oil (melted and cooled)
Zest of unwaxed lemon
For the filling
200g cashew nuts
200g Brazil nuts
250g Fresh Blackberries
Juice of one large lemon
110g Meridian Maple Syrup
60g Coconut oil, I used Coconut Merchant (melted and cooled)
Keep extra handful (around 100g) of blackberries to add it in the middle
Raw Chocolate ganache
60g cocoa butter
60g cocoa powder
4tbsp Meridian maple syrup
7bsp nut milk
Some frozen or fresh blackberries for decoration
METHOD
Line small cake tin with parchment paper, so it will be easier to remove cake when set. I used around 16cm diameter one.
Firstly, in the food processor bowl add all base ingredients except coconut oil and give it a whiz for a minute until all combined. Add the oil and blitz again, don't forget to scrape the sides of the bowl to get all the bits. Stop the food processor and press the mix between your fingers, it should stick together and keep shape.
Pour it in the prepared tin and press well with the back of the spoon all around the base of the tin. Pop it in the freezer to set for 30 min or so until you will prepare the filling.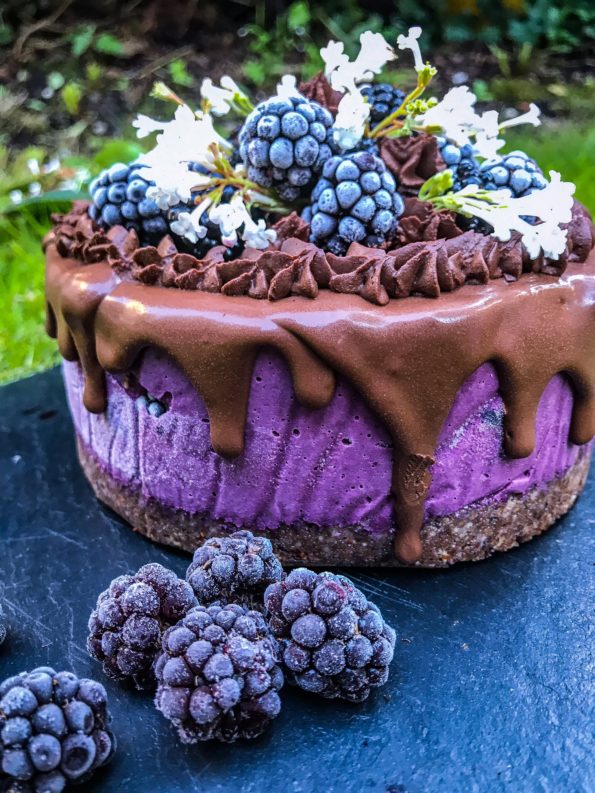 For that, clean your food processor bowl. Drain your soaked nuts and put them in the food processer, switch it on and blend well until creamy. You might need to scrape the sides of the bowl couple times so all bits are incorporated. Now, add rest of the ingredients except coconut oil and blend very well till even creamy consistency. Now pour your cooled oil and whiz it again for few seconds, just until it combined.
Pour half of the mix in the tin, spread evenly, then skater reserved blackberries over it and top up with the remaining one. Even the top with the spoon and pop the cake in the freezer for 4-5 hours, but preferably over night to set.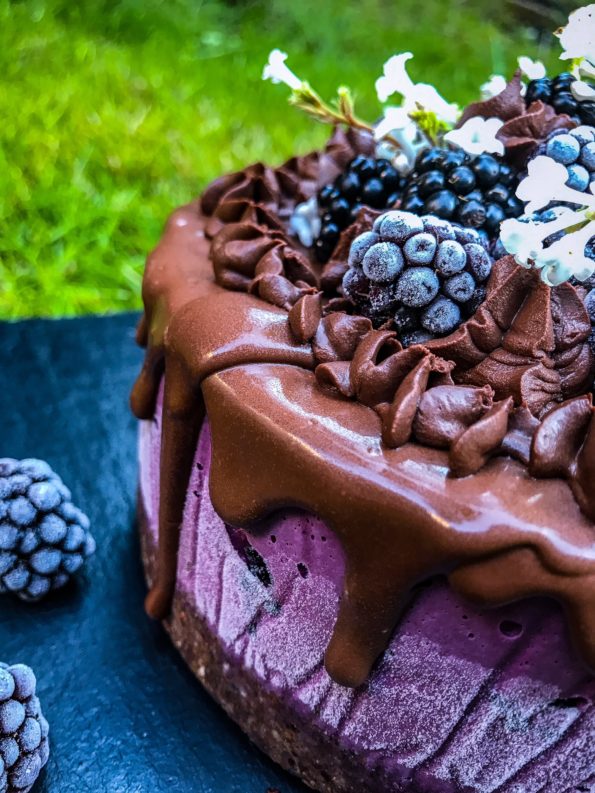 Prepare the ganache when ready to assemble. Melt cocoa butter over pan of hot water, add maple syrup and cocoa powder and mix well. Add nut milk and stir until you get the thick cream consistency. (amount of milk you will use may vary, so just play by the eye)
Take the cake out of the tin, peel the paper off and place on a serving plate. Using teaspoon create a drip effect and spread some ganache over the top. Now, place remaining ganache in the freezer for a 10-15 minutes to slightly set until thickens so you can pipe. In the meantime, keep your cake in the fridge.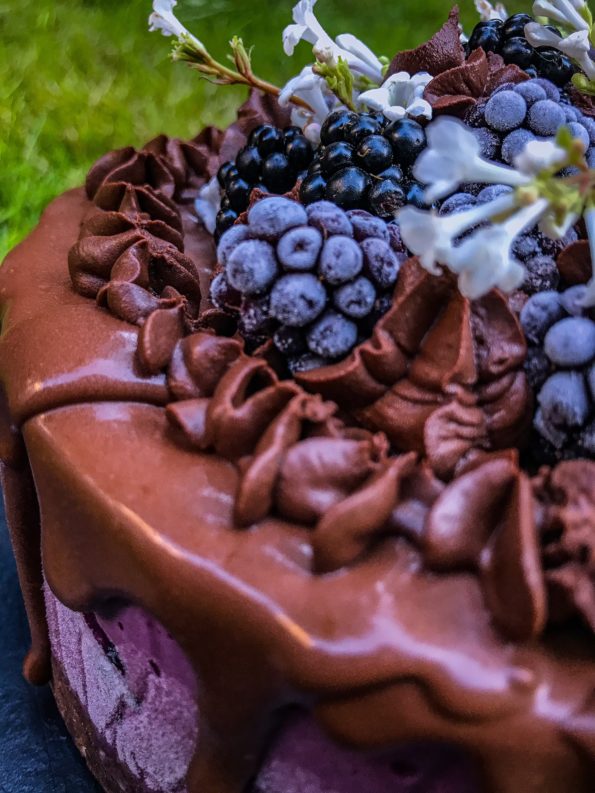 Pipe the pattern around the edge and decorate with some fresh berries and more piping ^_^
Orr….decorate somehow different, as your imagination lets you 😀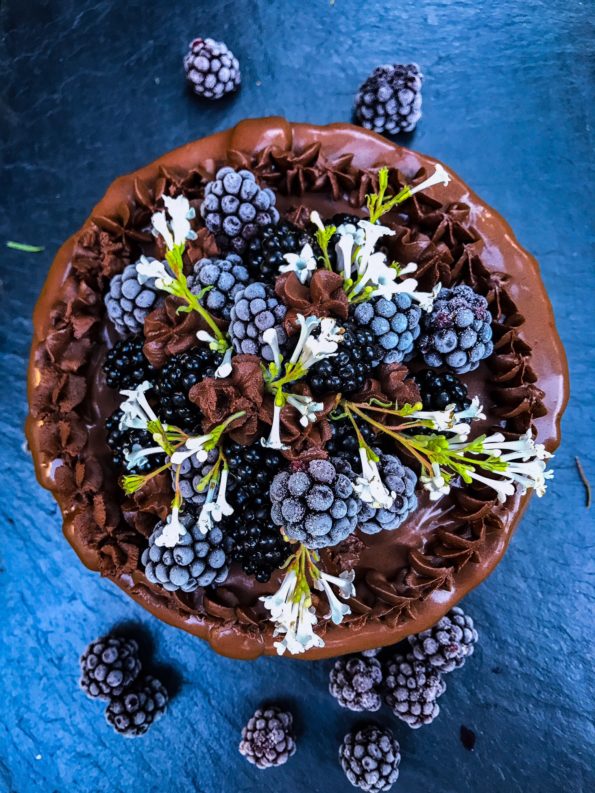 0
0
1
Please share